Looking for something to cook at your summer camping trip other than hot dogs? We got you. We asked our team members for their favorite, tried-and-true camp recipes that will help you break the monotony. Here are 7 fresh ideas:
All recipes sourced from Nite Ize staff
CAMP SKILLET NACHOS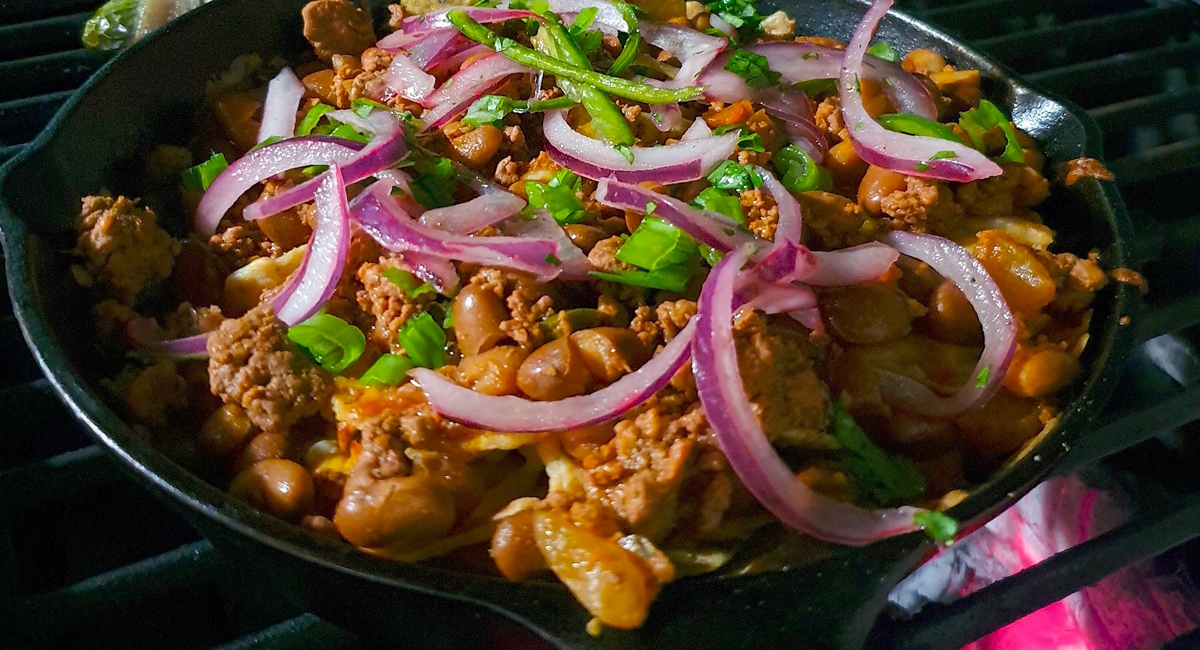 I recommend using a Dutch oven or cast iron pan with a lid for this camp time favorite that you can cook over a fire or stove. There's really no wrong way to make this meal and the ultimate the success of this dish all depends on your ability to layer your ingredients.
Here are my go-to base ingredients:
Tortilla chips
Black beans
Onion (sautéed)
Diced tomatoes (or your favorite salsa)
Jalapeño (I like pickled ones)
Avocado
Cheese, cheese, cheese! (Cheddar, Colby + Monterey jack mix)
Oil for cooking
As I mentioned, there is no wrong way to make these nachos, and you can decide whether to use fresh or canned ingredients.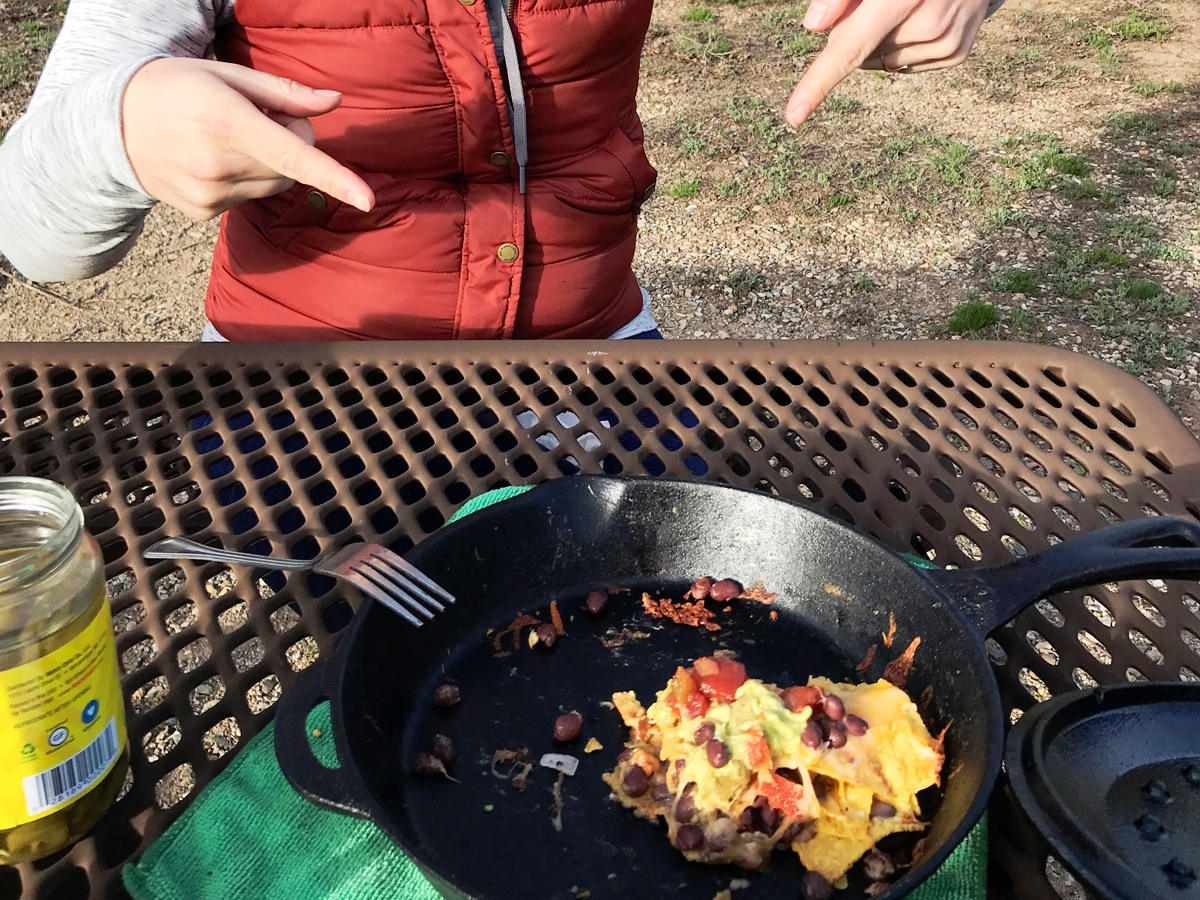 Start by giving your pan or Dutch oven a light coating of oil to prevent the ingredients from sticking. If you are going to be using a Dutch oven, then you'll also want to start a fire so that you have some hot coals to cook over after you've completed the following steps.
Next, cover the bottom of the pan with a layer of chips followed by a thin layer of the beans, onion, tomatoes/salsa, jalapeño, avocado and top with a layer of cheese. You can also add meat to your recipe and will need to cook this separately before preparing your nacho layers. Repeat this process of layering all of your ingredients until you are out of chips and toppings or once your pan is full. All that's left is to cook your nachos on a low-to-medium heat for about 10 minutes or until all the cheese is melted and the ingredients are warm. For best results, place coals on top of and below your Dutch over and if you are using a pan then you may want to preheat the lid before covering your nachos to help heat the ingredients from the top of the pan. Enjoy!
HOBO PIZZA PIES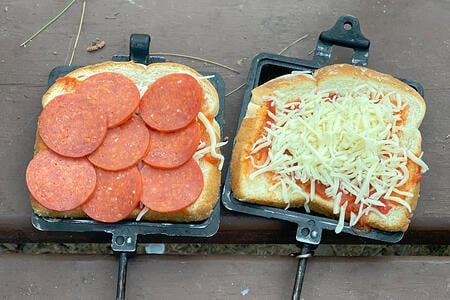 These hobo pies are easy to pack, and a cinch to prep. Plus, they're delicious cooked over a fire.
Ingredients:
White bread
Pizza sauce
Shredded mozzarella
Packaged pepperoni
Pam or butter
You'll also need a pie iron
Grease both sides of the pie iron with butter or Pam to create a good golden toast. Spread the pizza sauce, cheese, and pepperoni on each sandwich half. Close it up, then cook it over the open fire until it's toasty and melty!
CAMPFIRE BAKED POTATOES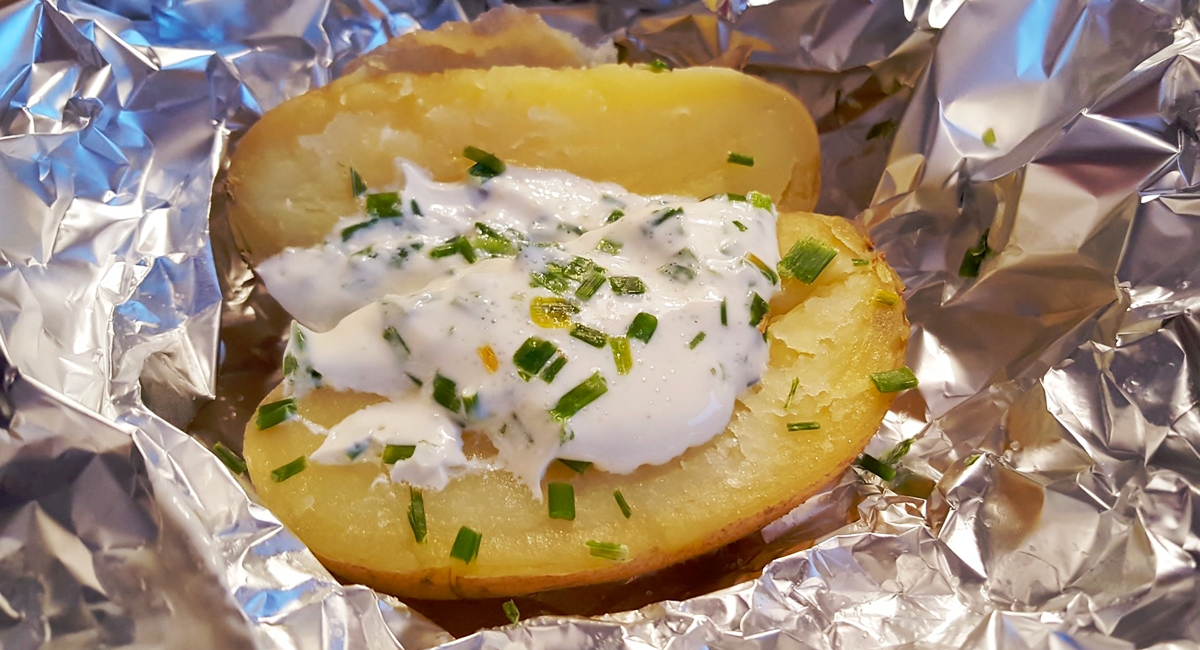 These baked potatoes can be cooked right in the hot coals of your campfire.
Here's what you'll need:
Russet potatoes
Butter
Salt
Aluminum Foil
Sour cream and chives for serving
First scrub the potatoes clean and dry them off. Stab the potatoes with a fork on all sides, and spread with an even layer of butter. Season skin with salt, then wrap each potato lightly with two layers of aluminum foil. Then, you can either bury the wrapped potatoes in the hot coals, or you can cook them on a wire rack above the flames. Cook for about 30-40 minutes, then carefully remove from flames with tongs and oven mitts. Unwrap and stick a fork in one to make sure it is cooked through. Split open and enjoy with butter, sour cream, and chives as desired (or add more of your favorite toppings like shredded cheese and/or bacon bits)!
AH-SO PORK TENDERLOIN
Just cover the loin with store-bought Ah-So sauce, wrap it in aluminum foil and toss it in the hot coals or over a grill. Serve with applesauce for that classic Peter Brady feeling.
MAKE-AND-TAKE CHILI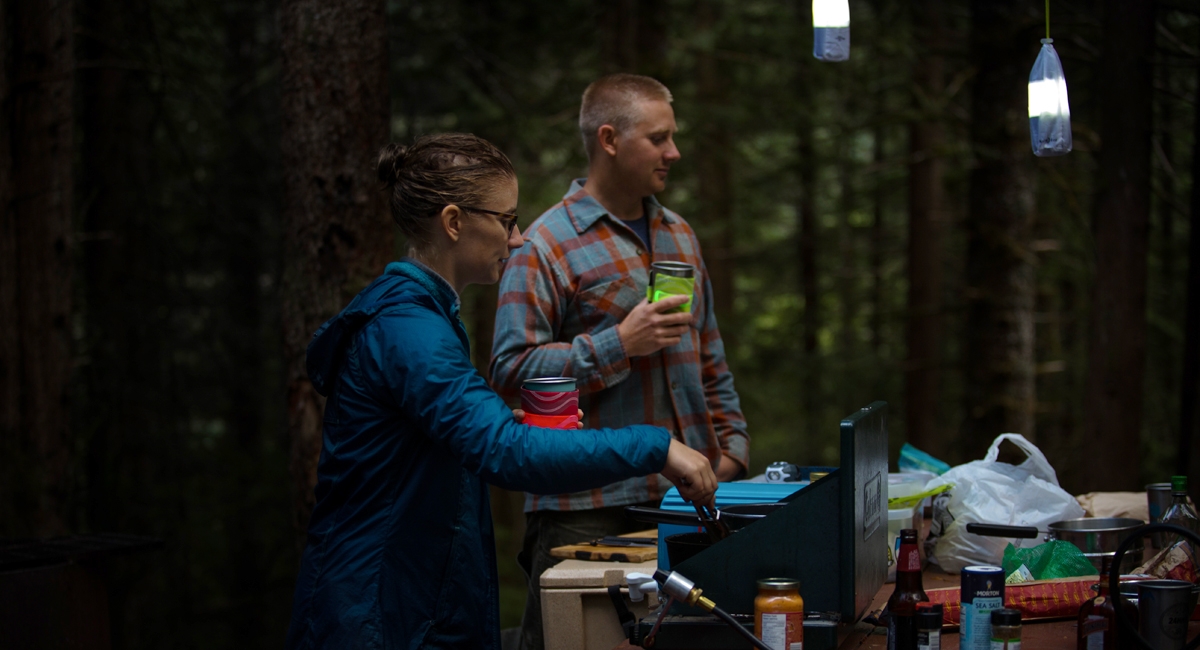 Okay, so maybe this is more of a hack than a recipe, but one of my favorite meals for car camping actually is made at home. I make my favorite chili, then store it in some tupperware and pack it up on ice in my cooler. Chili holds and reheats really well, so all you have to do is heat it up in a pot over your camp stove or open flame, then have your go-to garnishes ready for serving. This method is designed so you can spend less time stressing over meal prep and more time relaxing in the great outdoors.
CAMPFIRE BAKED APPLES
Don't let s'mores take all the glory. Here's a tasty camp dessert you might not have tried before.

Ingredients:
4 apples
2 Tbsp butter softened
1 Tbsp sugar
1/4 c. caramel plus more for drizzling
1/4 c. chopped pecans
1/2 tsp ground cinnamon
1/4 c. quick oatmeal
Slice off the 1/4 of the apples and scoop out the cores using a sharp pairing knife or apple corer. Cut the holes so they are about an inch wide. Leave the bottom 1/2" intact. In a small mixing bowl combine the rest of the ingredients, and stuff the apples with the mixture.
Place each apple on a piece of heavy-duty foil (about 12 in. square). Fold foil over apples and seal tightly. Grill, covered, over medium heat for about 20 minutes or until apples are tender. Remove from grill and open foil carefully to allow steam to escape. Serve and enjoy!
S'MORES WITH A TWIST
For a unique and simple spin on the classic campfire s'more, try using a Reese's peanut butter cup in place of the chocolate! Why didn't we think of that sooner?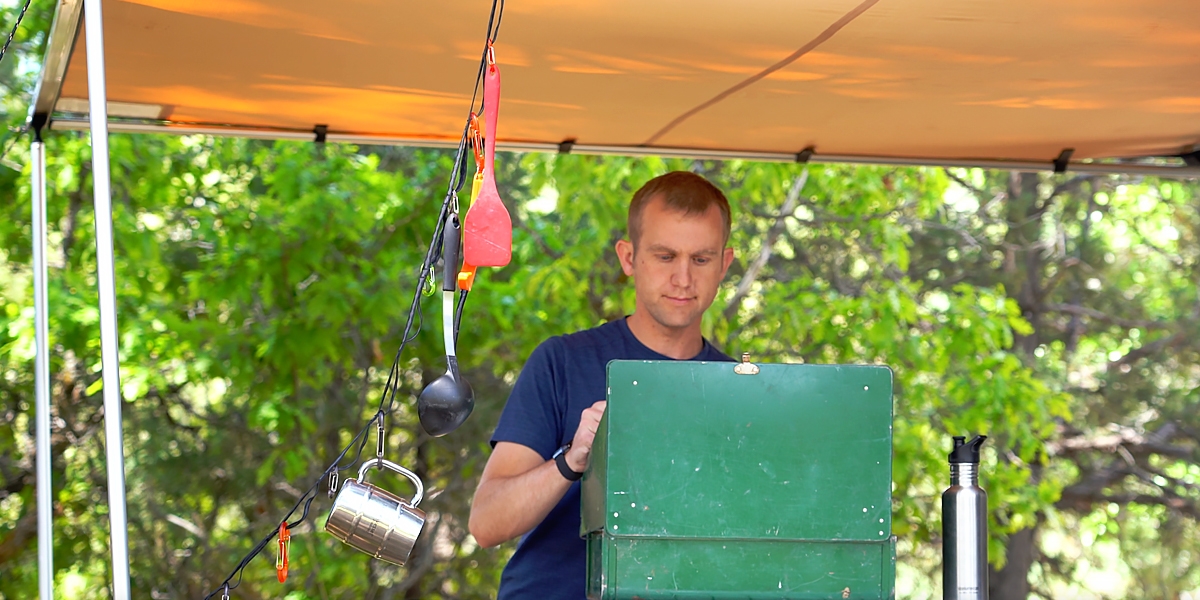 To help level-up your camp kitchen, use a GearLine Organization System to hang your utensils, mugs, and more. Not only is it great to keep everything conveniently in reach, but it's a great way to air dry utensils after washing. Be sure you get all that food residue off before you hit the hay as to not attract bears and other curious critters!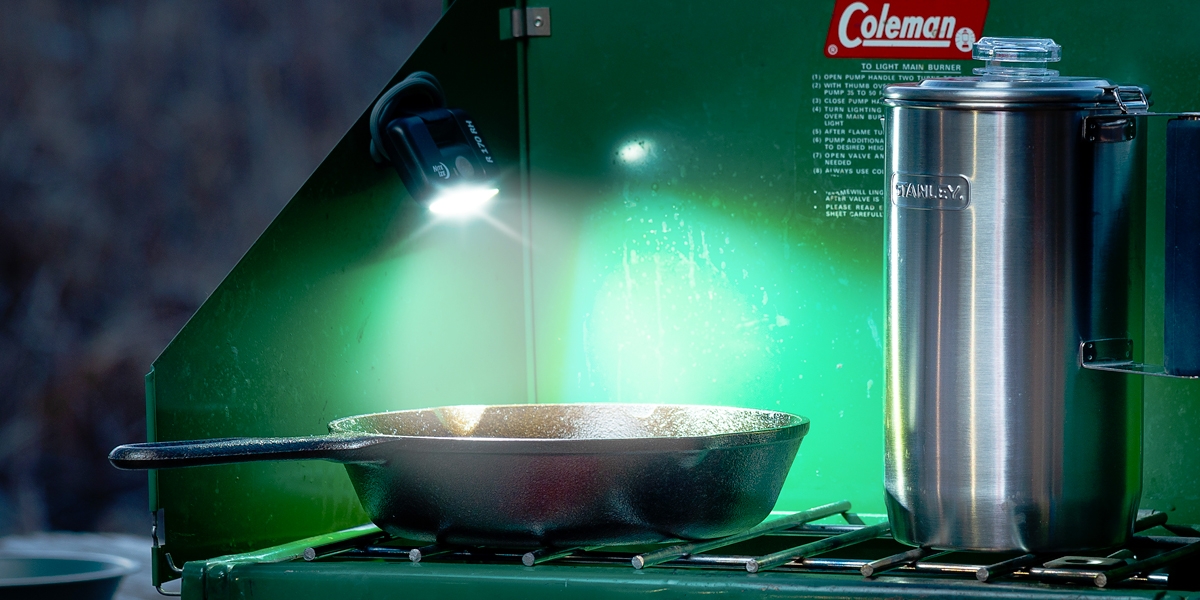 When the sun sets before you finish cooking dinner, you'll need some extra light in just the right spot. Our Radiant 170 Rechargeable Task Light is perfect for the job. Not only can you stick it to any metal surface (like your camp stove), you can also use the attached Gear Tie to wrap it around branches, posts, poles, and more. Then, just tilt the beam wherever you need your light.
Now tell us your favorite camp recipes in the comments below! What's your family-favorite camping meal?