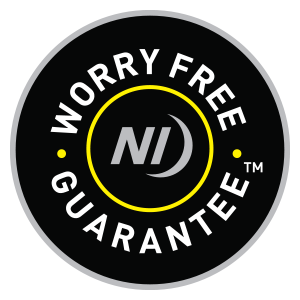 Thank you for purchasing a Nite Ize product - we hope you love it. Please know that we stand behind our products and quality controls 100%. If you are not satisfied with your purchase at any time during the first two years you own the product, don't worry, we've got you covered - simply give us a call for a repair, replacement, refund. Although we strive to use the highest quality materials and craftsmanship, some products will eventually wear out.
The Worry Free Guarantee also applies to any Nite Ize product that has stopped performing during the first two years you own the product, so please give us a call and we promise to make it right.
Please note that because we are unable to control the quality of our products sold by unauthorized sellers, unless otherwise prohibited by law, the Worry Free Guarantee applies only to products purchased from Nite Ize directly or its authorized resellers. The Worry Free Guarantee is also limited to the original, end-user purchaser.
To submit a Worry Free Guarantee claim, look for the Help button on the bottom right corner and choose the Worry Free Guarantee form or email us at info@niteize.com with your comments or questions and we'll respond shortly. Please provide information regarding when and where you purchased your product.
If your request is approved you will then need to provide receipt or other acceptable proof of purchase (if you have not already done so), and may be required to mail your product to Nite Ize or submit photos of your product. Please note that you are responsible for any costs incurred in mailing materials to Nite Ize. You must submit your Worry Free Guarantee request within two years of the date of original purchase.
Nite Ize reserves the right to verify information, require a valid proof of purchase, and to deny Worry Free Guarantee requests in its discretion in cases of suspected fraud or if customer has abused the Worry Free Guarantee.
If you have any questions regarding whether a seller is an authorized Nite Ize seller, please click on the Help button on the bottom right corner or email us at info@niteize.com.