As many of us prepare to travel home for the holidays, the dreaded task of packing looms near. These days with airfare and lost baggage on the rise, and overhead space limited, flying with a carry-on seems to be the preferred option. But how to efficiently pack what you need for a week's time in a small carry-on suitcase?
Follow my tips below. After years of holiday travel, I think I've solved the packing puzzle.
1. Compress that clothing
Here's my secret weapon for my overpacking struggles: RunOff® Waterproof Packing Cubes. These cubes are 100% submersible and airtight with easy-gliding TRU® Zip waterproof zippers. If you've ever opened your luggage to a shampoo explosion, you'll understand exactly how clutch this is. And they're transparent, so you can spot what's in each cube easily.
For clothing, I use 2 Large Packing Cubes. They both fit perfectly on one side of your carry-on, keeping clothes separated and organized. In one cube, I'll fold in my 'formal' clothes: this includes a couple pairs of jeans, a dress, a flannel, and any formal tops for events. In the other cube, I'll fold in my 'cozy' clothes: a hoodie, pair of sweats, and a few pairs of pajamas.
And yes, this all fits in a couple cubes. Simply fold everything in, zip it up (but not fully), then compress it all down to remove extra air. Now, you can zip it fully with the stopper in the garage for a perfect seal.
2. Separate socks + undergarments
For socks and underwear, you can always use the mesh divider in the center. However, I find that the divider ends up taking more depth than I have space for once all is packed in. Instead, I use a Medium Packing Cube and store it on the other side of my suitcase. In one of these, I can fit more than enough undergarments, thick winter socks, a bathing suit, and even a couple beanie hats. Same process as before: Zip it nearly closed, push out the extra air, and zip fully to shrink to its smallest size.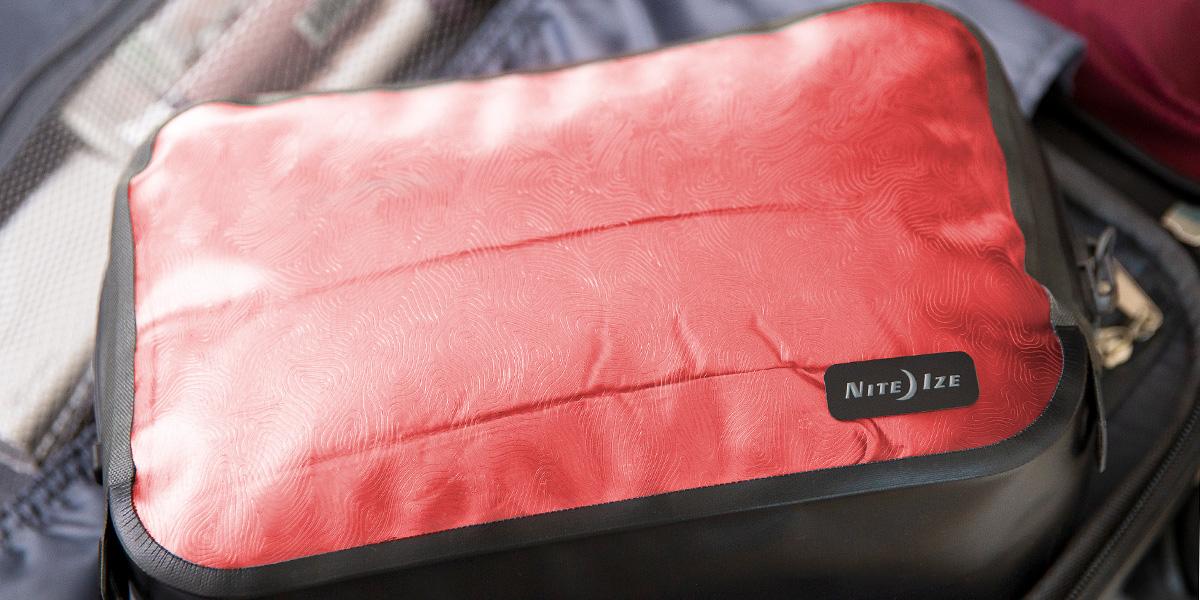 Bonus tip: Pack an empty large cube to stow dirty clothes in, or reuse one of your cubes as you start to wear your planned clothes. It's such a game-changer to be able to clearly see what you have left to wear for your stay without digging apart your suitcase. And it keeps your germy airport clothes separate from your clean ones.
3. Seal in cosmetics + toiletries
My makeup gets stashed in a Medium Cube and set on the other side of the suitcase. If you're a makeup lover like me, this is the right size, but a Small Packing Cube is ideal for more natural wearers. The cube easily fits my clunky powder and brushes no problem, and the TRU Zip airtight zipper holds up to my rather rough application style (where I'm usually in a rush and yanking the cube open).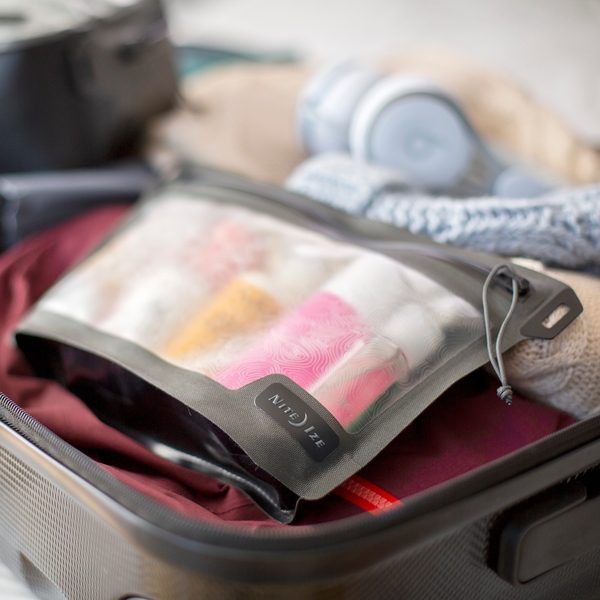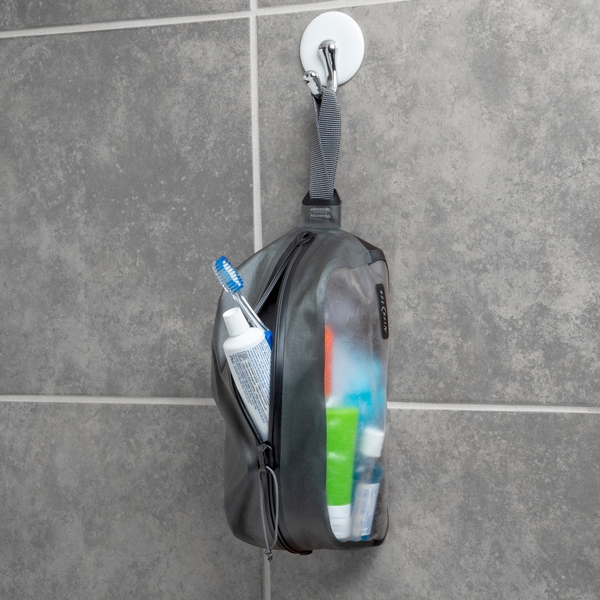 I put my liquid foundation, skincare, travel shampoo/conditioner, toothpaste, and body wash in a RunOff Waterproof 3-1-1 Pouch, which is designed to fit TSA's carry-on liquids rule. On top of breezing through TSA, you won't have to worry about a skincare spill in your luggage thanks to the waterproof seal. This also fits on the other non-clothing side.
Pro tip: If you're traveling by car and not bound to TSA's rule, swap the 3-1-1 for the Toiletry Bag to hold full-sized liquids.
4. Still space for shoes
This packing method leaves just enough space in your suitcase for shoes on the non-clothing side. Here's my pro-tip with packing shoes: Wear your favorite daily shoes on the flight, bonus points if they're boots to save space. And pack just one pair of your nicer shoes. I know, I know. 2 pairs of shoes are not enough. They are, trust me.
Here's how I pack it all in on hyperspeed for those with short attention spans.
5. Link that personal item
Last but certainly not least: your personal item. A large purse or backpack is allowed for free on flights, so long as you can stash it under your seat. This is what I pack last, saving my headphones, book, charging cords, wallet, and any random items I couldn't fit. I like to clip my bag to my rolling carry-on with a G-Series® SlideLock® #4 for easy moving through the airport. Additionally, you can clip a hat, empty water bottle, or hoodie to your luggage with a G-Series for easy access.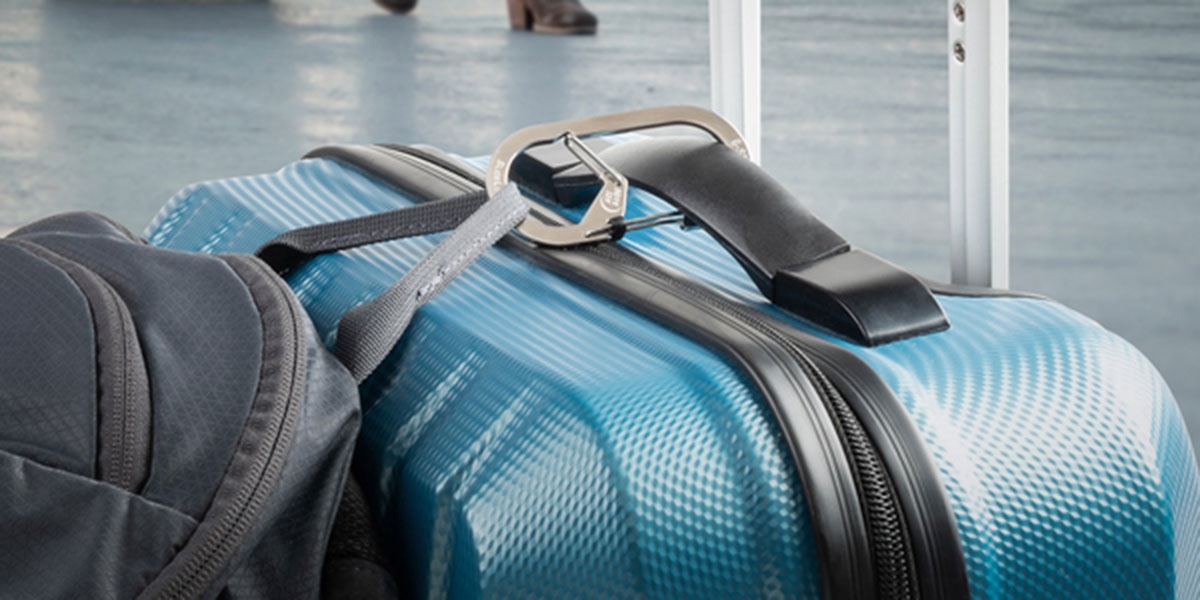 The beauty of this system isn't just in the short-term trip to the airport and to your destination—it's just as useful on your actual stay. Clothing stays organized and easy to spot, toiletries stay leak-free, and frankly, I just get a kick out of looking at my perfectly packed suitcase. As a former destructive, squish-in-everything-you-can packer like me, I never thought I'd see the day where I actually kept a tidy suitcase. If I can do it, you can too!
Final pro tip: Ship all your family's gifts to them directly or to a singular home (parents perhaps) and wrap the day before to save space. Or keep it light with gift cards! It's what everyone wants anyways.
Safe travels, and happy packing!