Winter is officially coming, and many of us might be dreading this one more than usual. If you live in a part of the country that doesn't exactly get a lot of patio-weather days during this time of year, you might be desperately seeking safe ways to get out of the house. The great outdoors has been an absolute gift throughout 2020 to help us stay sane while saying safe. So, let's think about winter recreation to help fill your free time – maybe you can even try something new!
Of course, you'll have different options depending on where you live. Here in Colorado, ski and snowboard season is ramping up. In the upper midwest, snowmobiling, ice fishing, and snowshoeing are popular pastimes. Whatever activity might be up your alley, we'd like to share some of our favorite products that help us enjoy our sport of choice better.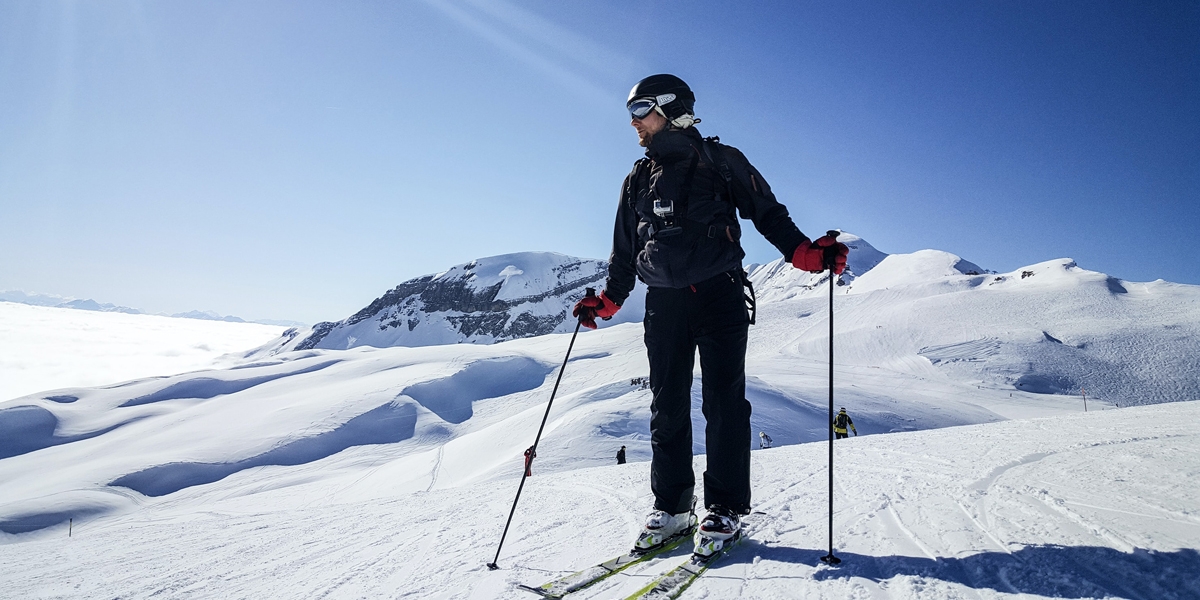 My winter sport of choice is skiing, and it's the one I have the most personal experience with. I ski with a small hydropack backpack, which does not give me a lot of storage space. For this reason, I always use the RunOff Waterproof Wallet because of its slim design, and because it keeps my cards and cash nice and dry in case of the occasional "yard sale." (Hey, I never said I was a goodskier!)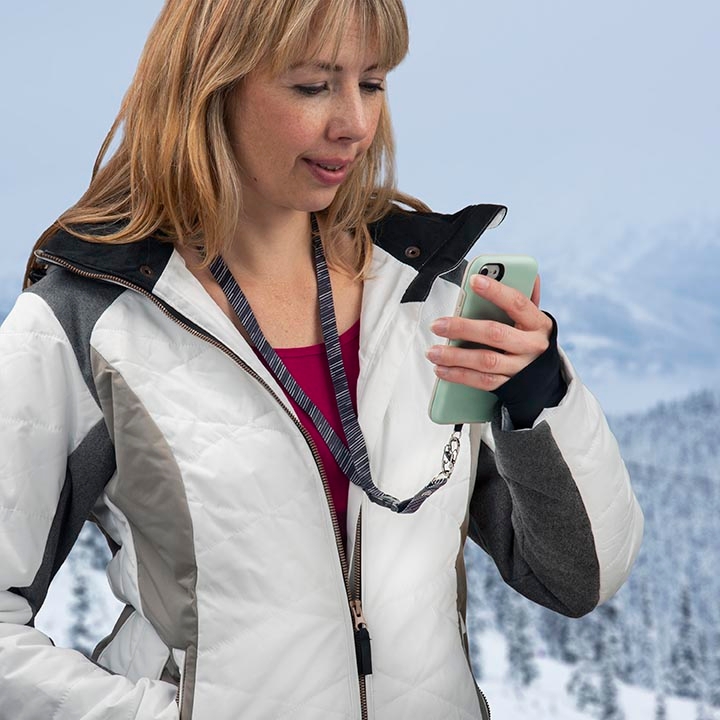 I also like to keep my phone handy to snap photos, but fumbling with it while on the lift always makes me nervous (Jerry alert). I started using the Hitch Phone Anchor + Lanyard for days on the mountain because I know I won't lose it through my butterfingers, and it also makes it easy to pull out of my jacket whenever I want to check my season pass app or take photos. The Hitch Phone Anchor + Tether is also a popular choice for this use, and you can attach the S-Biner MicroLock to an anchor point on your jacket, or the belt loop on your pants.
My third essential for skiing is S-Biners. Did I mention my pack doesn't have much storage? I keep a couple S-Biners clipped to it to hold like my gloves or helmet when I head into the lodge for a toddy. You can also use one to attach to your lift tickets or season pass to your clothing or bag.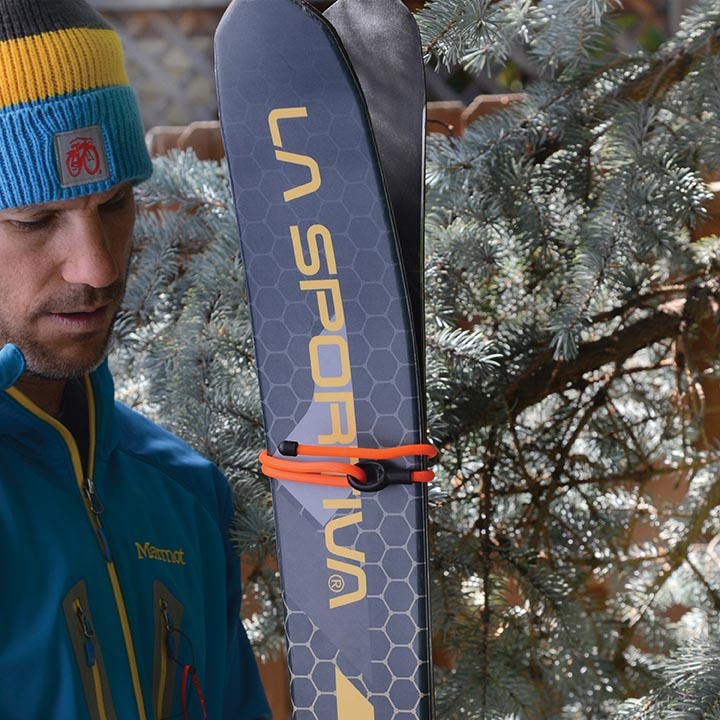 Finally, I always keep my skis and poles bundled with Gear Tie Loopables at each end for transporting and storing.
Because we're lucky enough here in Boulder to live driving distance to the ski slopes, many of our team members are avid skiers and snowboarders. I asked a few of them what products come in handy for days on the mountain, and here's what they had to say:
Cinch-A-Lot Stretch Strap: Great for attaching gloves that don't happen to have loops, bundling poles, or holding small items like lip balm or hand sanitizer.
GearLine Organization System: If you're staying in a hotel or rental unit, this is indispensable for organizing gear and drying out wet clothing.
RunOff Medium Travel Pouch: The perfect size RunOff bag for your paper trails map, so it doesn't wind up soggy after you end up in the deep stuff. (I always carry a paper map as a backup just in case my phone runs out of battery or I lose signal.)
DoohicKey+ Key Tool: Good to have around for emergency repairs (or… emergency bottle-opening).
INKA Key Chain Pen: Keep this handy as a quick-use pen for signing bar receipts or making notes on your trail map. But the real bonus here is the pressurized cartridge with waterproof ink, allowing you to use it at any altitude, any angle, and in wet conditions.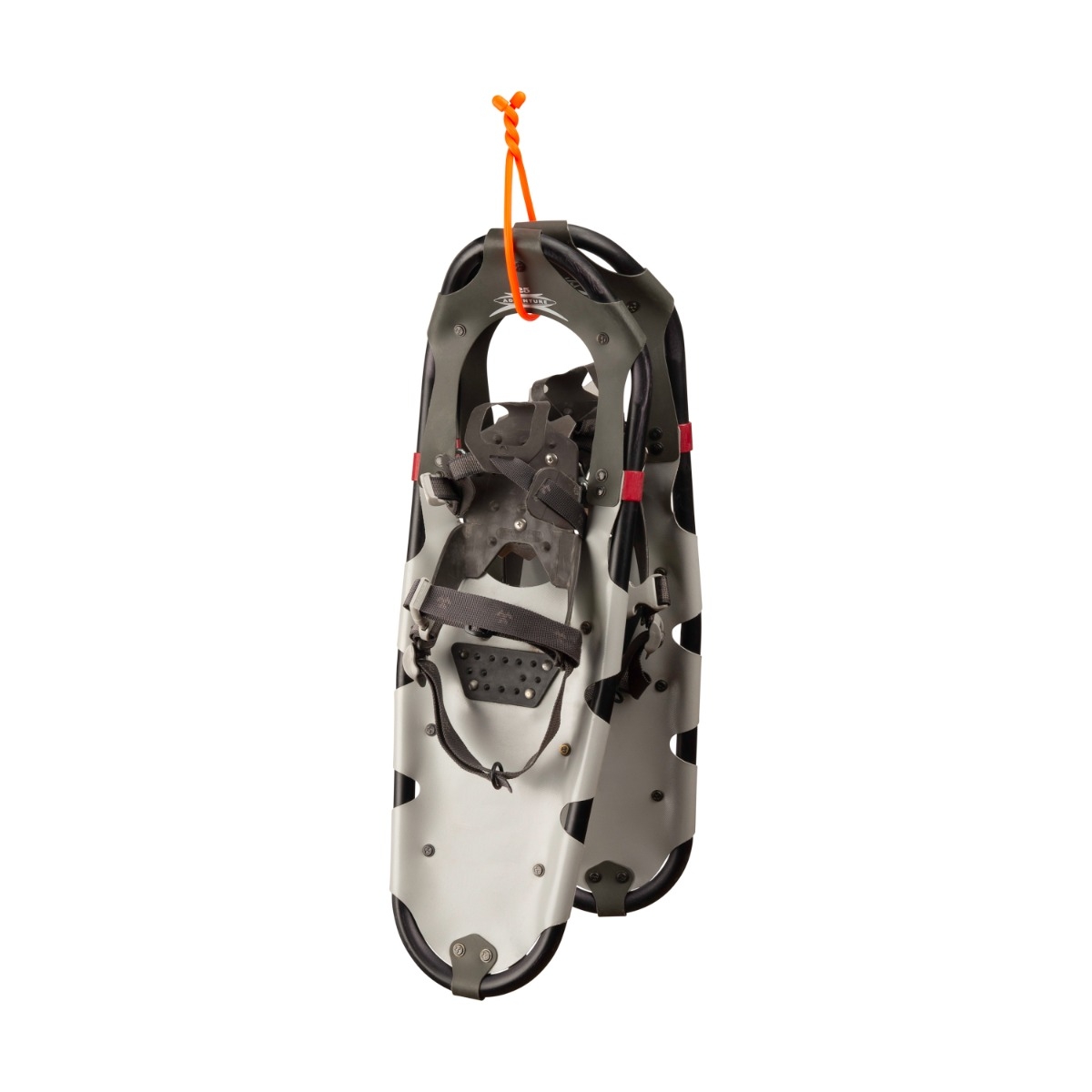 If you live somewhere that has great hiking trails that are now covered in a blanket of snow and ice, you might give snowshoeing a try! You can rent a pair at many equipment shops, but you can also buy yourself a pair at reasonable prices.
Snowshoeing is a great way to get out, connect with nature, and enjoy the winter wonderland. For this activity, you'll definitely need a backpack full of safety and survival essentials – always be prepared for the worst! Here's a helpful guide of gear you'll need to bring along, which includes a first aid kit, headlamp, and knife. Better hook an S-Biner on your pack too, because you never know when that will come in handy. For storing and transporting your snowshoes, wrangle and hang them with a Gear Tie.
No snow in sight? Go on a chilly hike! Bring those essentials, layer up, and hit the trails.
TRY CROSS COUNTRY SKIING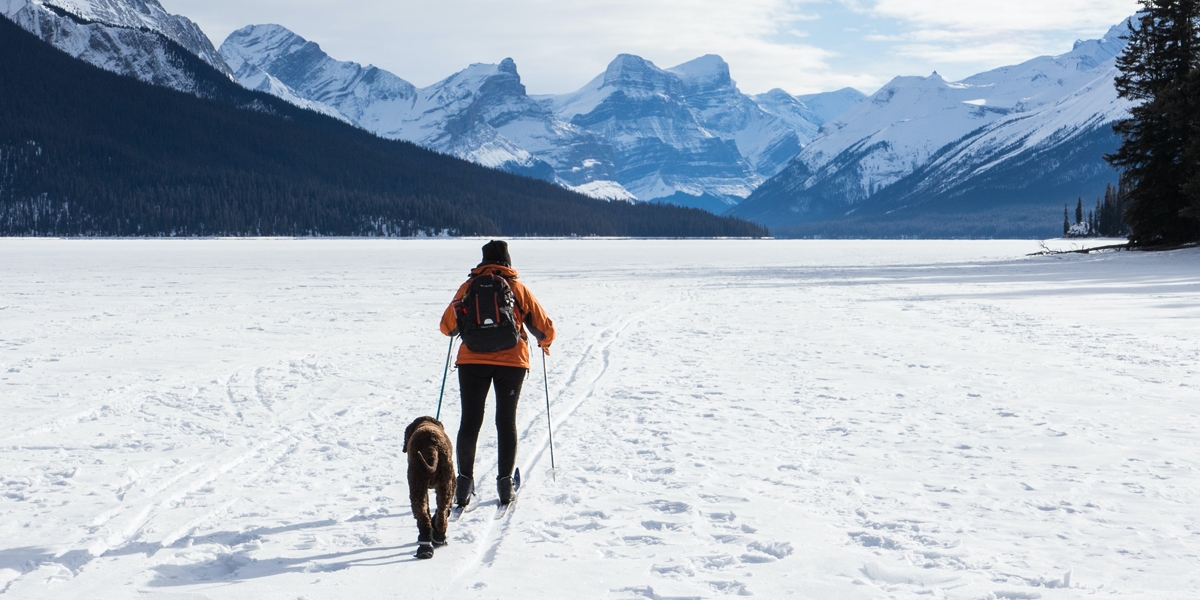 If you've never had the opportunity to try cross country skis, it can be a fantastic way to spend a bluebird day. Dip your toe in with some rental gear and head to a nordic center, or research some Cross Country spots in your area. Much the same as snowshoeing, you'll need a pack filled with your essentials so you're well prepared for any unexpected scenario.
CHILL OUT IN AN ICE FISHING SHANTY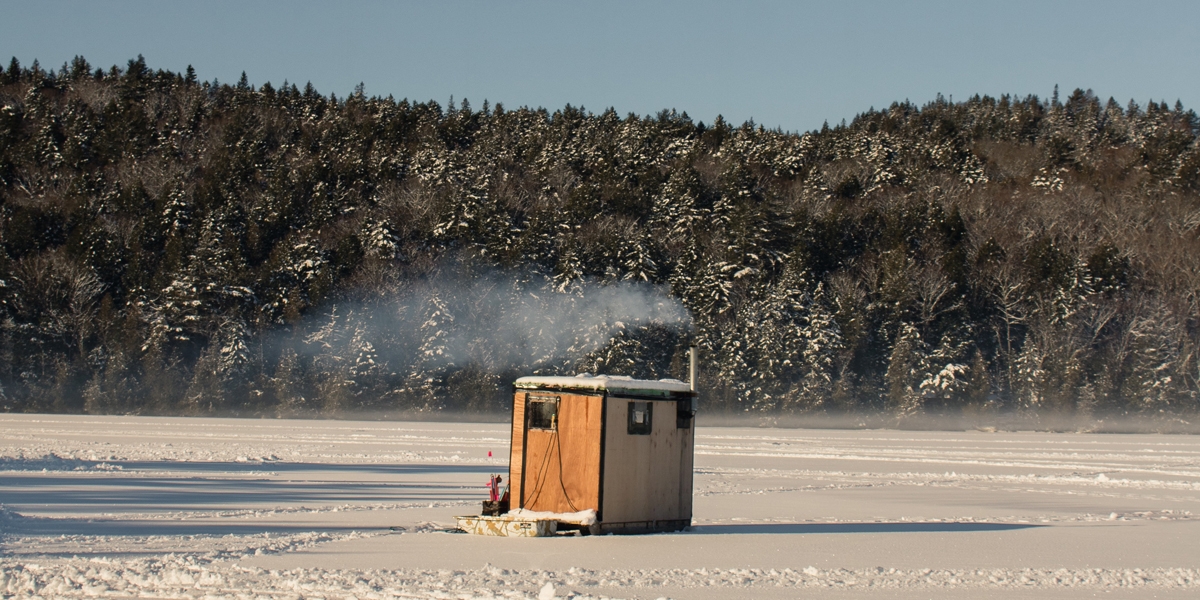 f you live in the upper midwest, you may already be familiar with the winter pastime that is ice fishing. Whether you catch a big one, or just spend the day hanging out in the shelter with family, it's sure to be an unforgettable experience. While you're waiting on the fish to bite, you'll need a beverage. Use a SlapLit LED Drink Wrap to keep your cold drinks cold, your hot drinks hot, and click on the light for some colorful flair. A GearLine will come in handy inside the shelter to hang and organize your equipment and damp clothing. You'll need some light inside your shanty, so bring along a lantern or two. A DoohicKey FishKey is a perfect multitool for any angler, and can help with tasks from fixing rods to opening bottles. For hauling your shanty to and from your lake of choice, our Dual CamJam Tie Down Systems will be perfect for the job.
GET YOUR THRILLS ON A SNOWMOBILE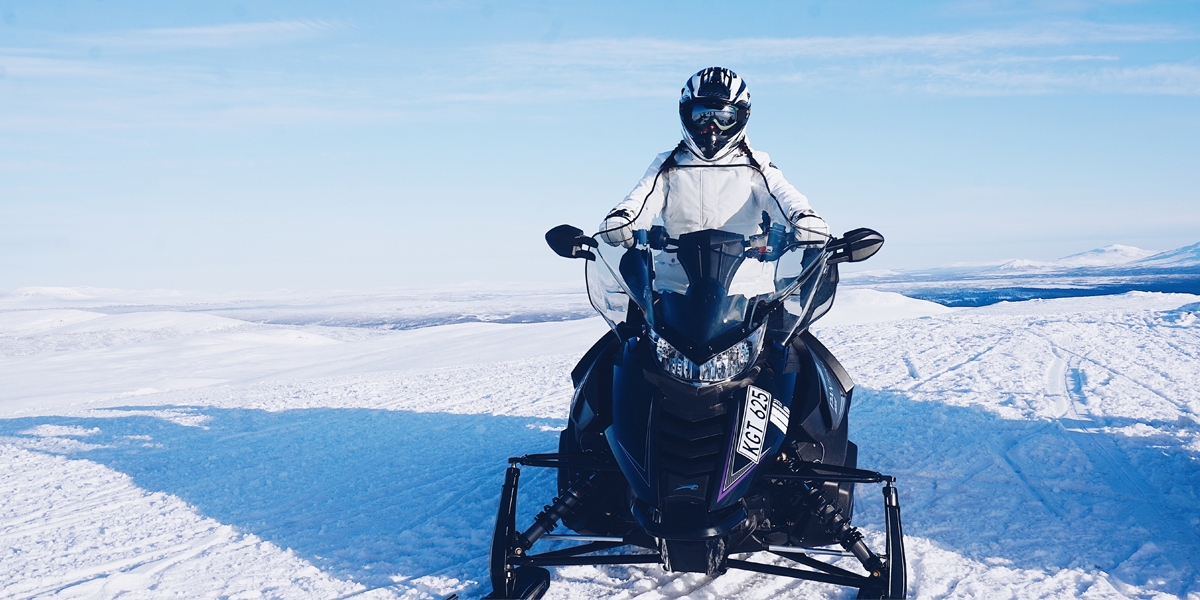 Adrenaline junkies will love the thrill of snowmobiling, whether you're in the mountains or the great plains. Rent a vehicle for a day to give it a try, and if you love it, you can always think about buying one of your own someday. Remember that everything your bring along may get wet! Protect your things in the safety of a RunOff bag or packing cube, and secure it to your ride with a Gear Tie.
GIVE FAT TIRE BIKING A GO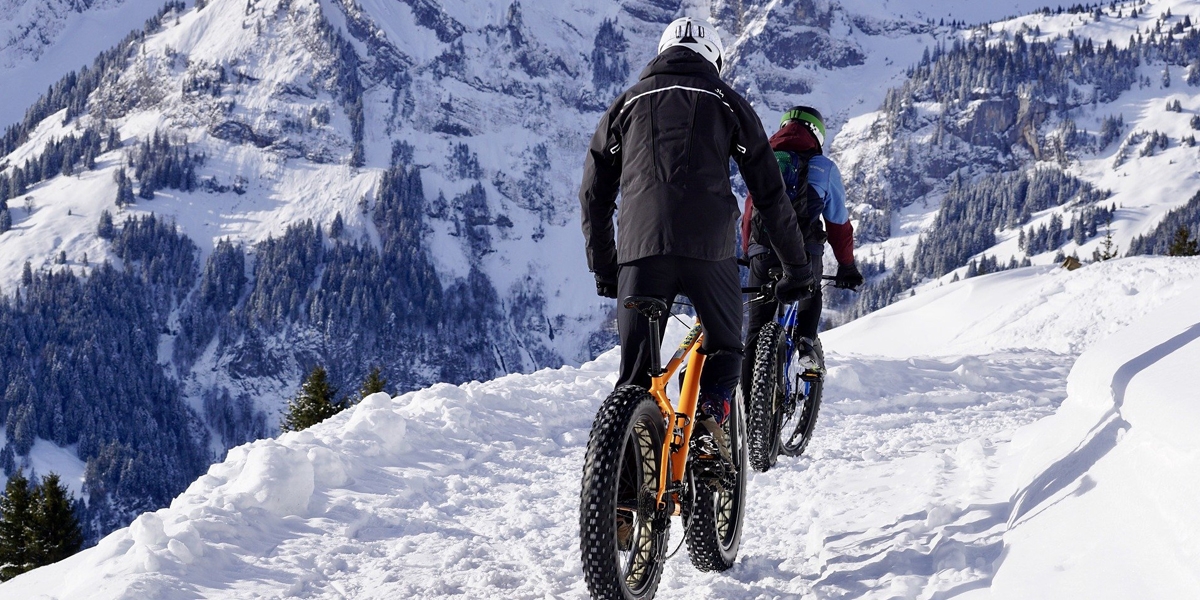 If you're an avid cyclist, you might be getting that sad feeling when the weather turns snowy. With the new fat tire bikes built for snowy conditions, you can turn that frown upside down. Fat tire biking is a fun way to explore off-the-beaten-path trails, and you get a great workout to boot. You can rig a RunOff Bag with a couple of Gear Ties to create a waterproof handlebar bag full of your snacks and essentials. Because daylight is fleeting these days, be sure your fattie bike is equipped with front and rear lights, just in case you get caught out at dusk (or if you're on dawn patrol).
FIND YOUR PERFECT SLEDDING HILL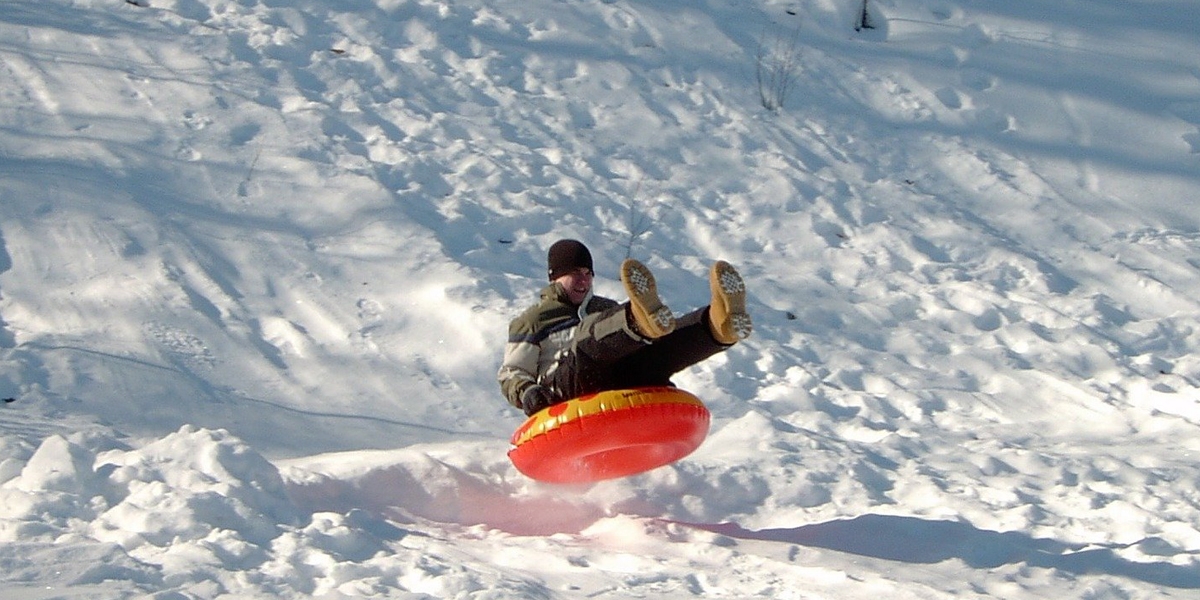 On those magical mornings when you wake up to a blanket of fresh snow, grab a sled or tube and head for the hills! I would advise you to know your sledding location of choice at the very beginning of the season, so you know exactly where to go and won't waste precious downhill time driving around for a hill. Because we know you'll want to capture the fun on video, bring a RunOff Waterproof Phone Case. It will keep your device dry, and you can wear the included lanyard around your neck so you don't lose it in the snow on your way down.
What winter activity are you most looking forward to? Report back, and give us a shout if you discover a new Nite Ize hack that helps you along the way.