This past June we announced 13 exciting new products joining our product line this late summer/early fall. Now comes the exciting time we fill you in on all the details now that they're in stock and ready to ship! From robust new headlamps and lanterns to new ways to keep your pup glowing all night long, this product drop is packed with exciting gear we can't wait to tell you about. Let's take a look.
Make a splash with touchscreen convenience
Are you and your phone attached at the hip? Now you can take your device from the city to the lake and never miss a beat. The RunOff Waterproof Hip Pack uses the game-changing TRU Zip technology to create a completely submersible bag (tested to IP67) that has enough space to hold phones of various sizes, as well as small essentials (such as cards, cash, keys, and/or lip balm). The Hip Pack can be worn around the waist or cross-body with its detachable, adjustable strap. The front is clear and touchscreen-friendly, so you can text and use apps without removing your phone from the pouch. This pack is the perfect companion on your next beach vacation, float trip, lake day, and beyond.
Shining innovations for outdoor adventures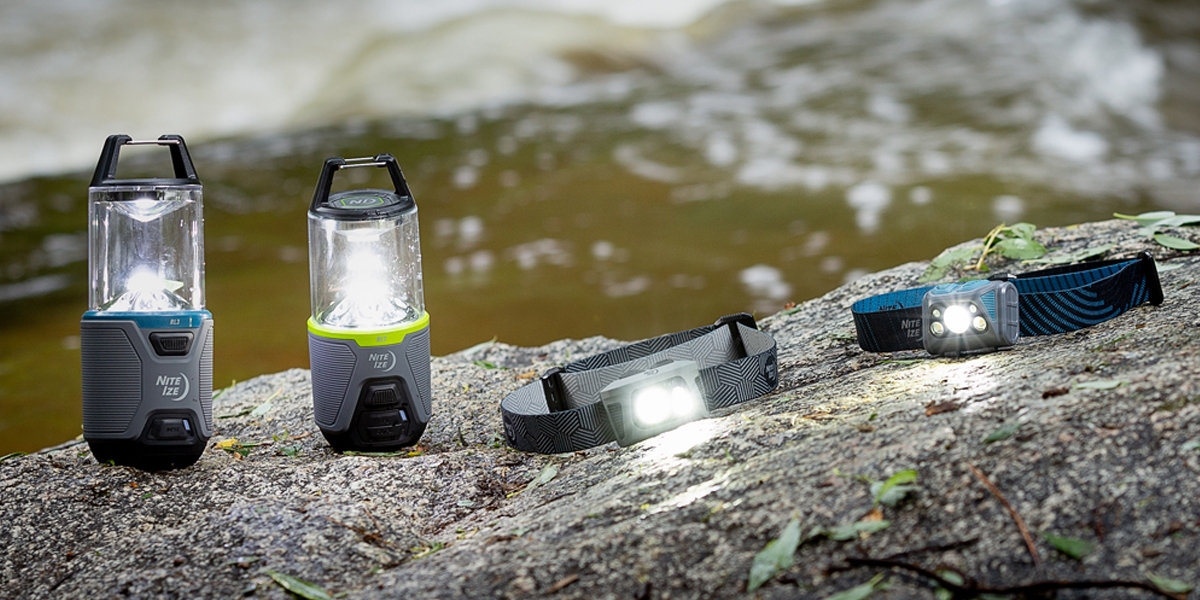 Though Nite Ize has been in the headlamp and lantern game for years now, this new family of Radiant lights might be the most luminous yet. From campouts to cookouts to power outages, these small but mighty lighting solutions will shine bright through any adventure.
Radiant RH1 and Radiant RH2 PowerSwitch Rechargeable Headlamps
Fusing multi-mode functionality with lightweight portability and PowerSwitch rechargeable and alkaline battery versatility, these headlamps are our most robust (and compact) yet. Both models boast these key features:
Flood and spot beams, red and white LEDs
Two power sources: Rechargeable lithium-ion battery or three AAA batteries
Headlamp body tilts up to 90 degrees
Textured dual button for selecting modes
Included removable battery pack recharges via micro-USB

Here are the unique features to each...
600 lumens
7 modes (plus lockout): Spot (low, high, blast) and Flood (low, high, red, flashing red)
Water-resistant (IPX4)
Impact resistant (drop-proof to 1 meter)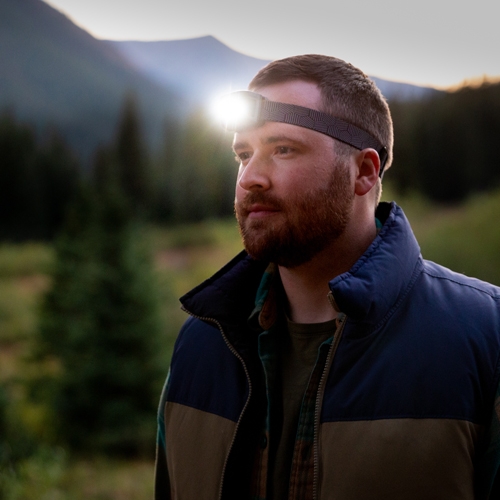 700 lumens
6 modes (plus lockout): Spot (low, high, blast) and Flood (low, high, red)
Waterproof (IPX7), submersible up to 1m for 30 minutes
Drop tested to 2 meters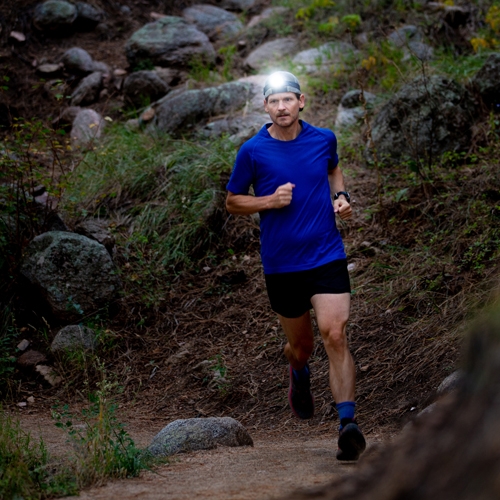 These new lanterns trailblaze the category with device-charging convenience, multi-mode functionality and a flame-like amber flicker. Providing a fire-like ambiance, ultra-low modes for extended runtime and USB output for device charging, they are the ultimate companions for both adventure and emergency prep.
Shared features include:
6 modes (plus lockout): White LED (moonlight, low, medium, high) and Amber LED (flicker, high)
Input/output charging ports
Weatherproof (IPX4)
Impact-resistant (drop-proof to 1 m)
Light-diffusing storage bag
Built-in carabiner clip for convenient hanging
USB-C rechargeable
The key differences are while the RL2 Lantern tops out at 400 lumens, the RL3 can crank it up to 500. Additionally, the RL3 Lantern's built-in PowerSwitch reserve battery compartment allows users to extend runtime with 3-AA batteries (not included). When inserted, the lantern will automatically switch to alkaline power when the rechargeable battery runs low, lasting up to 16 days on moonlight mode.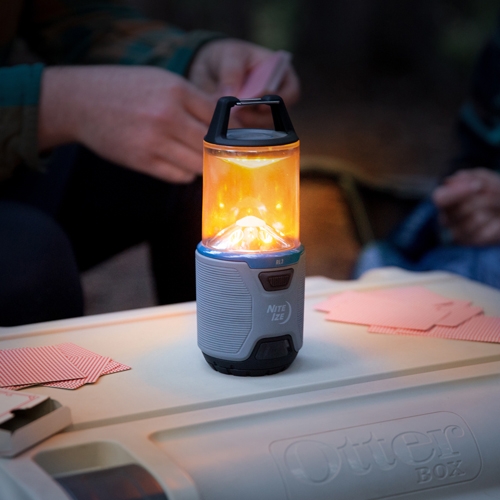 If you're looking for a flashlight that can shine a beam crazy far (like 1 kilometer far) and crazy bright (1220 lumens to be exact)? Look no further than this triumph of engineering. The precision-engineered aerospace-grade aluminum body, military-spec Type III hard coated anodized finish, mountable charging cradle, and protected optical system make the INOVA T4R Long Throw fit for professionals, first responders, outdoorsmen, and flashlight nerds alike.
Nighttime safety, but make it disc-o
Our most versatile visibility light
Our new innovation for compact lighting is the GoLit Rechargeable Visibility Light. From bikes to backpack straps to strollers and more, there are countless applications for this low-profile light. Equipped with a weather-resistant, impact-resistant polycarbonate housing and an adjustable rubber strap, the GoLit also features a Disco-O Tech module (four selectable colors in glow or flash, plus color-changing Disc-O mode). We can't wait to see the many ways users will put these to work.
New to the NiteHowl family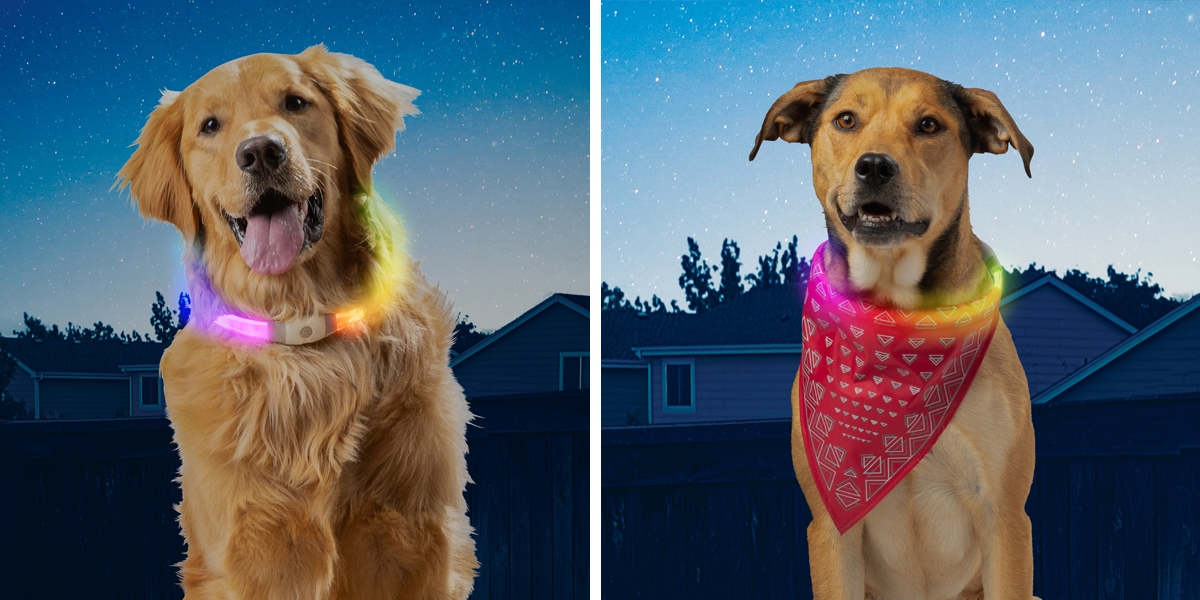 Our NiteHowl Rechargeable LED Safety Necklaces for dogs have been a popular choice for pet owners seeking nighttime safety and visibility. The new NiteHowl Max (a 2023 Pet Innovation Award winner) was made specifically for floofy pooches, since the extra-wide band helps the necklace sit on top of furry coats.
We also introduced the NiteHowl Bandana, which incorporates a reflective, stylish bandana into the fan favorite NiteHowl Rechargeable Safety Necklace. Both products are equipped with Disc-O Select technology, allowing you to choose from three different colors, or a fun color-changing mode. Both models are also micro-USB rechargeable, and the washable bandana is available in either red or grey.
A SpotLit for the most elegant doggos
Discover the keys to key organization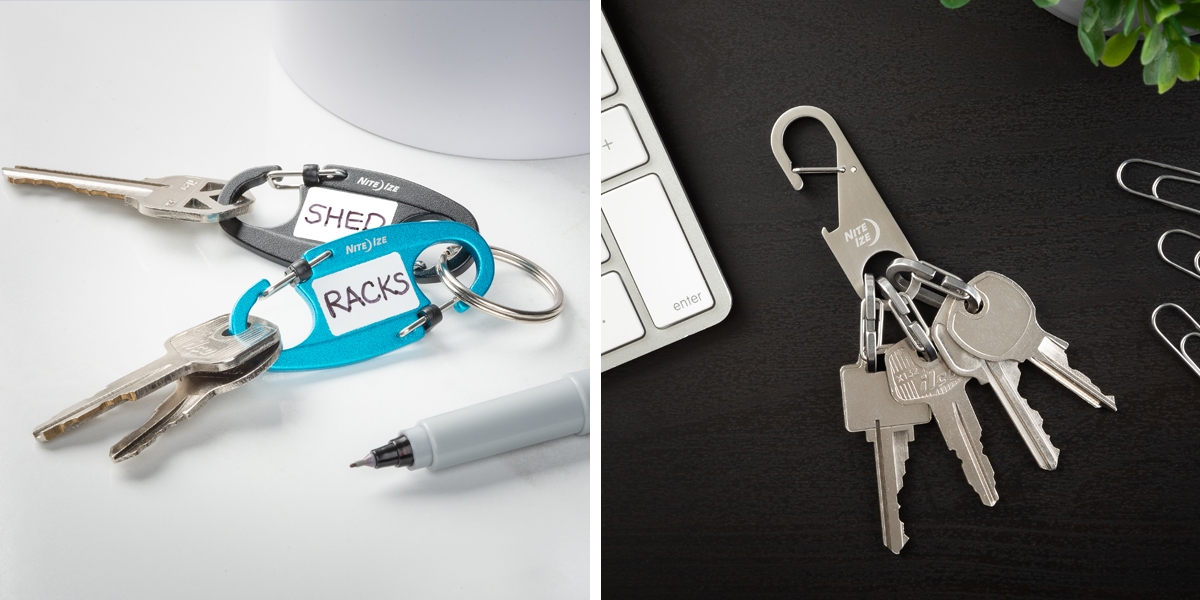 Nite Ize continues to expand upon our line of clever key accessories with the new IdentiKey SlideLock Dual Carabiner and Z-Rack Keychain Bottle Opener. The IdentiKey SlideLock allows you to label, clip and lock keys for easy carrying and identifying. Integrated into the carabiner is a waterproof write-on label to identify keys, and the dual gates lets you clip keys to one end and clip the other to a belt loop, bag or existing key ring.
Ideal for minimalist carry, the Z-Rack features three MicroLink carabiners with a patented gate design that keep keys secure and accessible, as well as a bottle opener.

And finally, we launched a 6-Pack of our popular IdentiKey Covers with new assorted colors.

Whether you're planning for your next camping trip, preparing for a potential power outage, or walks after dark with your favorite furry friend, we hope you'll find something on this list that will help you get organized and light the way.