Most likely you'll opt to take your own car (or a friend or family member's) when you hit the road. Before you roll out, it's a good idea to get your car checked out and serviced. Make sure you've had a fresh oil change and your tires are in good shape.
Another option you might consider is renting a car for the drive. Maybe you need something with a little extra space, or maybe you don't want to add extra miles to your own car. You could also consider renting a camper van so you don't have to use hotels or bring your own camping gear.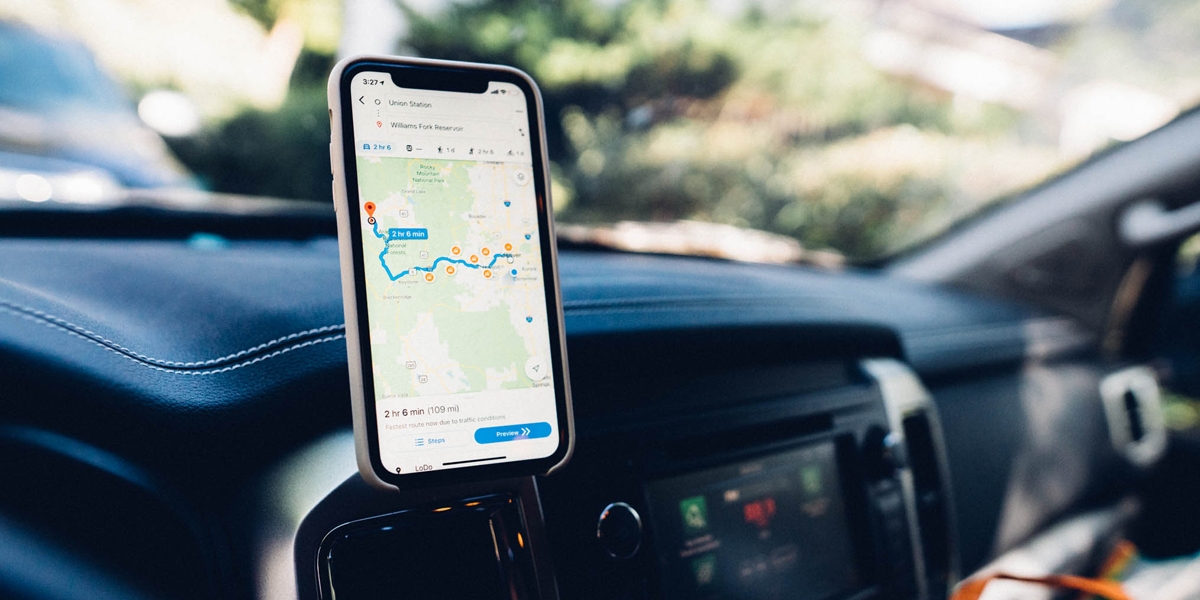 After deciding where you're headed (National Parks make for great destinations), you'll want to map directions. You might consider taking a scenic route and hitting some points of interest along the way. Check out the site roadtrippers.com to discover fun places to stop and see along the way – all you need to do is enter your start and end points. You can even edit your route accordingly on the site. When you're ready to hit the road, load it up into your Google Maps.
You'll also want to keep your phone handy for GPS and music without causing distractions while driving. Steelie magnetic phone mounts are perfect for the job, with several options to fit your needs. My personal favorite is the Steelie Orbiter Dash Kit because the metal plate lays flat on your phone case. If you're renting a vehicle, you can use the Steelie Vent Kit, which just clips right onto the vent of any car.
3. BOOK YOUR ACCOMMODATIONS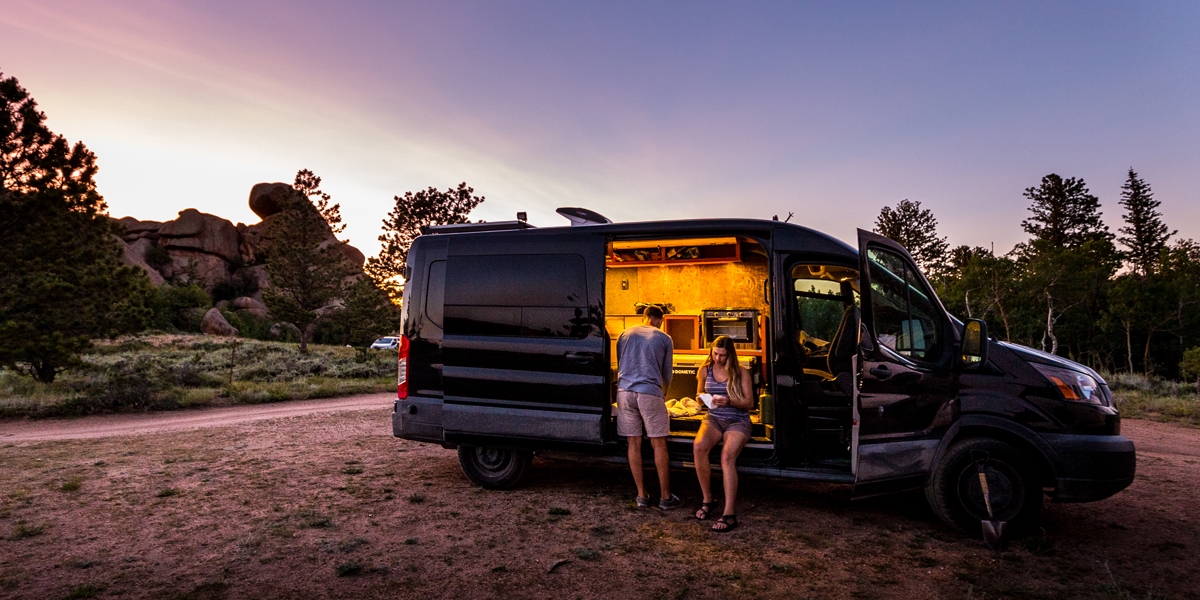 Whether you're opting to camp along the way or take advantage of some local stays, planning your accommodations ahead is important. For camping (or van camping/RVing) you'll have to research where you can stay, and make reservations. (Don't count on walk-up sites being available, especially in the busy summer months.) If you're relatively new to camping, we have a great guide to help you get started here.
You can also check vacation rental sites like Airbnb or Vrbo to check for any unique and budget-friendly stays along your way. There are a plethora of hotel deal websites out there these days, but when I don't have a specific hotel in mind, my go-to is Hotwire. They don't show you the name of the hotel until after you book – just the area it is located in and the review score – but the deals are worth it if you make sure you book one with great reviews.
4. CURATE THE ULTIMATE PLAYLIST
No road trip is complete without an epic soundtrack. Take some time before your travels to curate your playlist on iTunes or Spotify. You can also ask your travel buddy (or buddies) to make their own as well so you can take turns and share your favorite songs (although generally speaking in my car, the driver gets to pick the music). You can also download some of your favorite podcasts, or an audio book for the ride to add some variety to your listening.
If you're using Spotify, keep in mind that cell service could get spotty on the drive, so it's best to download your playlist directly to your phone to keep the tunes rolling.
5. PREPARE FOR THE UNEXPECTED

Although fingers crossed you won't need it, it's important to be prepared for things that could go wrong. Make sure to keep a first aid kit in your car (we have a handy guide on making your own here.). You should also keep jumper cables, a backup phone battery, blanket, flashlight, knife, and a few other essentials for an Emergency Car Kit.
I also check that my AAA membership is up to date in case I run into any car trouble.
I always stock up on my favorite Trader Joe's snacks (and lots of water) before a road trip. I like a balance between healthier snacks like nuts and dried fruit and some indulgences (for me, cheese crackers and chocolate). We also like to pack some beers in a cooler so we have a cold refreshment at the ready when we make it to our destination. (Pro tip: how many times have you arrived at your hotel room equipped with brews only to find there's no opener? Save yourself a failed party trick and clip an Ahhh… Bottle Opener onto your cooler.) I often prep some PB&Js and stick those in the cooler as well, in case we get hungry while driving through an extended stretch of nothingness.
7. PACK IT UP PACK IT IN
Without going into a lengthy list of items to pack (I found a great one here), I do want to talk about how to pack. It seems whenever it's time to hit the road, I always have a hard time fitting everything in the car (add in a dog and a kiddo or two and it gets even harder). My RunOff Waterproof Packing Cubes are now a must-have when it comes to consolidating my clothes. As a notorious over-packer, these have saved me on numerous occasions. They keep my clothes organized, and I can compress them down to fit inside my suitcase or duffel bag.
Still running slim on car space? If you have a roof rack, you're in luck. Strap some luggage on top and secure it with a Dual CamJam Tie Down System to be sure it doesn't become roadkill.
8. BRING YOUR FURRY FAMILY MEMBERS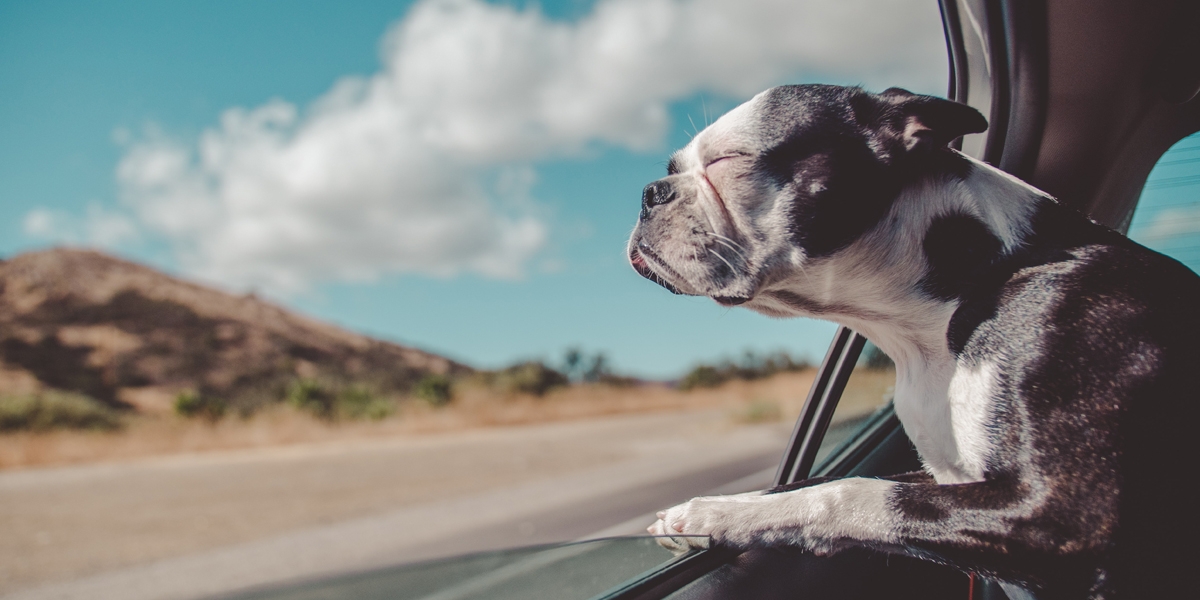 When I'm traveling by car instead of plane, I try to take my dog along for the ride if possible. If we're camping, I double check the campground's website to make sure dogs on leash are allowed. If I'm booking a hotel or Airbnb, I look for places by checking the "pet friendly" filters. A handy site to bookmark if you're traveling with dogs is bringfido.com. You can put in the city or town you're visiting and it will give you restaurants, breweries, stores or parks you can visit with your pooch in tow. They also have an app that gives you on-the-spot results based on your location!
If this is our dog's first road trip or you're not sure how he or she will do on the ride, check with your vet beforehand and they might prescribe a sedative or something to settle an upset stomach. Make sure the drive is safe for them too, by investing in a dog seatbelt or car seat so they don't go flying if you have to make an abrupt stop. When it's time for a bathroom break, a Pack-A-Poo on your leash will make sure you're ready to clean up the mess. Before you load back up into the car after a pit stop, offer them some water (they need to stay hydrated too). I keep two of the RadDog Collapsible Bowls in my dog's travel kit – one for water and one for food. They pack down super small so you don't have to worry about large dog bowls taking up space in the car. Last but not least, clip a SpotLit onto your dog's collar before you set out so they can be visible after dark for nighttime walks and potty breaks.
If you're anything like me these days, your wallet carries a lot more plastic than paper. It's always a good idea to have cash on hand while traveling in general, but especially when you're on unfamiliar roads. Not all highways are free, and there's a chance you could run into some tolls, so it's best to arrive prepared. Not to mention that many National Parks and campgrounds accept cash only.
10. DOCUMENT, DOCUMENT, DOCUMENT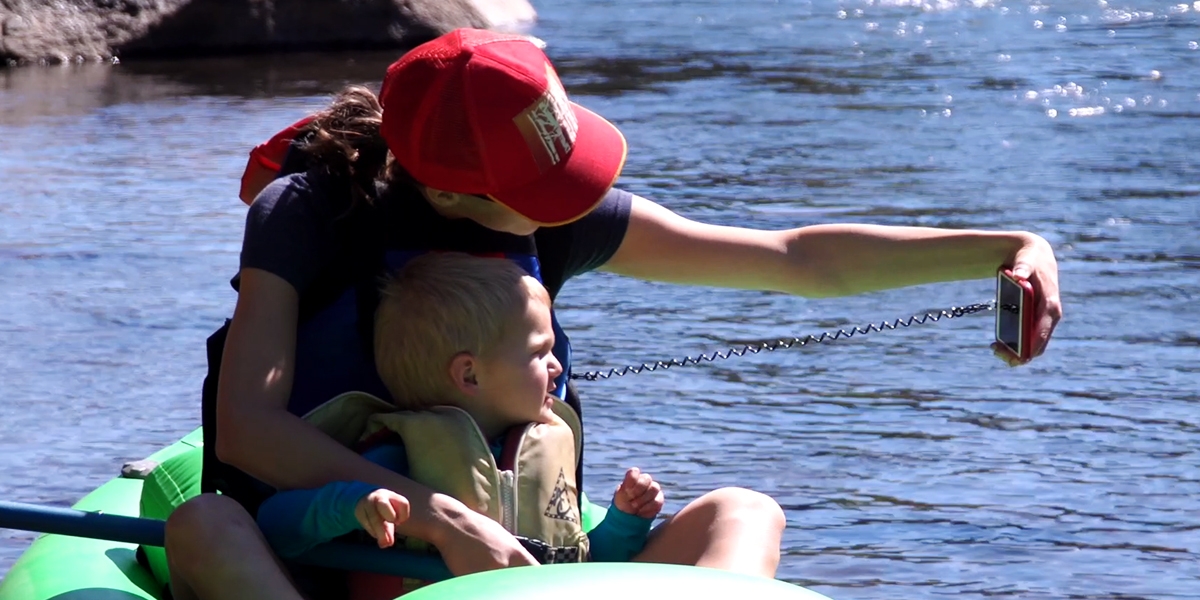 Last but not least, make sure you take lots of photos along the way. I can't tell you how many times I've regretted not taking enough pictures on a trip, and when I do stumble upon photos from vacations 10-20 years ago, it's always a welcome reminder. The FlipOut Phone Handle + Stand is great for snapping perfect selfies or scenic shots, and the stand comes in handy for catching up on your latest Netflix binge once you're ready to relax at your destination. I'm also a big fan of the Hitch Phone Anchor + Tether, which acts like a "leash" for your phone. This helps me carry my phone around on my wrist when my hands are full, but also ensures that I don't drop it off the side of a cliff while trying to capture the moment.
Now that your vehicle is in top shape, your route is planned, the car is packed, the tunes are cued up, and your snacks are in reach, it's time to hit the open road. My final word of advice? Watch out for speed traps, especially in rural areas. Keep note of speed limit signs because if there's one thing that will ruin your fancy-free vacation mood, it's a speeding ticket. What are your road trip tips? Share with the community in the comments section below. Have fun and stay safe out there!