Buying a flashlight can be tricky, and often people tend to settle for the least expensive light with the biggest numbers on the packaging only to be disappointed later when the light stops working after a small drop onto the floor. Fear not! I am here to help you sort through all the marketing jargon like "Turbo Mode" and to better understand what really matters; like, what's a lumen? And, what type of flashlight should I buy for…(insert activity here)?
The first thing to know when shopping for a high-quality flashlight is that all reputable flashlight manufacturers test their flashlights according to the FL1 Standard, and clearly include these specifications on the product packaging. The FL1 Standard, sometimes called ANSI/NEMA FL1 or ANSI/PLATO FL1, specifies the testing criteria that manufacturers must follow when calculating light output (Lumens), beam distance, impact resistance, runtime, and water resistance.
Ultimately, the FL1 Standard allows consumers to directly compare flashlights. I won't go into the details of each specification as there are plenty of good resources online that define each specification (like this one from LED-Resource.com), however, I do want to talk about lumens, as I haven't found a resource that clearly breaks down what a lumen is in a way that's easy to digest.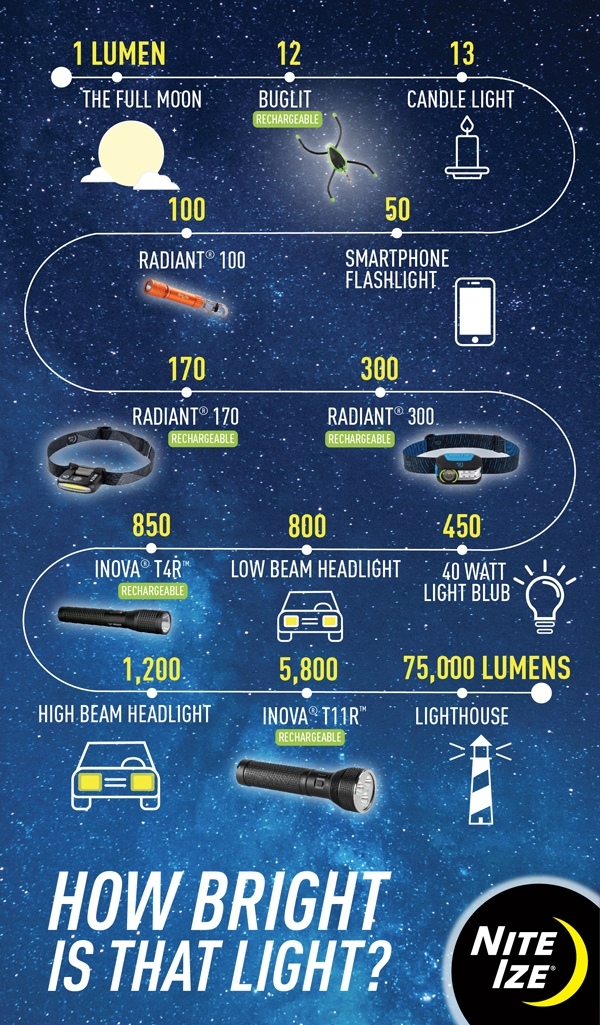 SO, WHAT'S A LUMEN?
If you look up "lumen," you'll quickly learn that a lumen is defined as a unit of luminous flux that equates to the perceived power of light. In basic terms, lumens equal brightness. The larger the number of lumens, the brighter the light. It seems simple, but how bright is 300 lumens? Or, how bright is the flashlight on my phone?
To help deconstruct lumens, we have created this handy-dandy chart with things that most people are familiar with and some of our best-selling flashlights and headlamps to help make buying your next flashlight a little easier. Knowing that the full moon on a clear night is 1 lumen, your phone's flashlight is 50 lumens, or that a low beam car headlight is around 800 lumens makes it much easier to understand how bright a flashlight is.
Other than lumens, there are some other factors that should be considered when finding the high-performance flashlight that is right for you. Here you will find some decision-making criteria to consider along with my personal suggestions for flashlights that fit a variety of uses.
---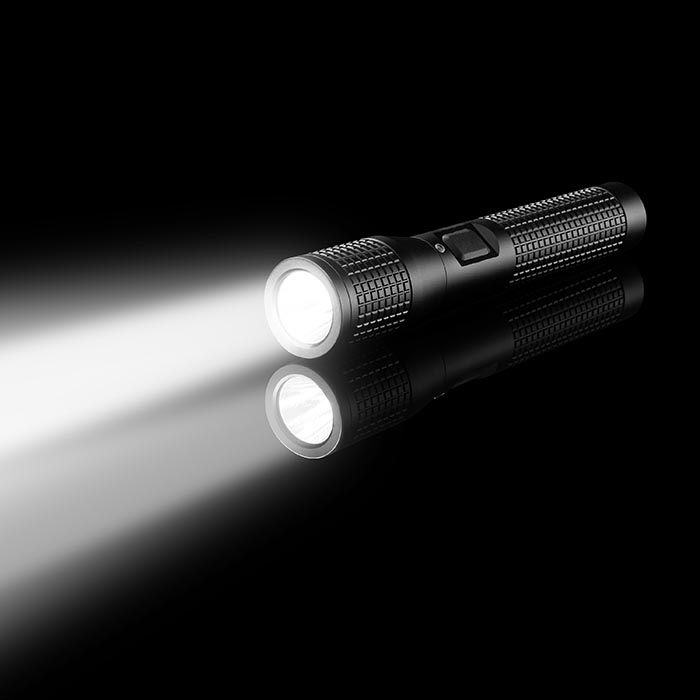 BEST FLASHLIGHT FOR DIY + MECHANICS
Mechanics can be hard on their tools and a flashlight is no exception. Look for flashlights with impact resistance of at least 1 meter and solid aluminum construction to ensure that the light holds up to rigorous daily use (Pro Tip: make sure the manufacturer has a good warranty policy). Rechargeability is also a preference for many mechanics along with higher lumen outputs, as they are often using a flashlight during the daytime when there is more ambient light to compete with. Flashlights above the 700 lumen mark are great for this type of daily use, and my pick for best DIY + Mechanic flashlight is the INOVA T4R Rechargeable Tactical Flashlight.
---
BEST FLASHLIGHT FOR CAMPING OR HUNTING
Brighter is not necessarily better when it comes to playing in the outdoors at night when your eyes have adjusted to the darker surroundings. Being able to cast soft lighting around your campsite or to illuminate that noise in the bushes with a spotlight are equally important at times. As is having a light that is more compact and that will not weigh you down if you are backpacking or hunting (Pro Tip: look for weather/water resistance in case you're caught in a downpour). For campers and hunters, flashlights in the 250-700 lumen range are a great option and I like the INOVA T7R PowerSwitch Focusing Flashlight as my top pick. This compact flashlight offers a focusing beam that allows you to transition between a bright spotlight or broad flood beam. It's like having two lights in one.
---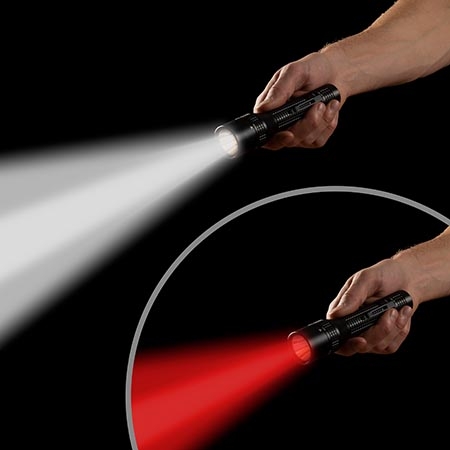 BEST FLASHLIGHT FOR EMERGENCIES
When it comes to emergencies, any light is better than no light. So rather than thinking about the lumens, I like to consider the power source of the flashlight. Rechargeable lights can be a great option during an emergency, especially when your power is out for an extended period. Then again, if you do not have a way to recharge the flashlight once it has drained the battery then you'll be back in the dark in no time. My suggestion: seek out a dual power source light that can operate off of a rechargeable battery or disposable battery like the INOVA T8R PowerSwitch Flashlight, which uses a rechargeable lithium ion battery or two CR123 lithium batteries, allowing you to keep extra batteries at the ready in the event that you cannot recharge the flashlight. This brings me to my last point: Lithium batteries are superior to alkaline batteries when it comes to emergency situations. Lithium batteries have a longer shelf life, can stand up to more extreme temperatures, and are lighter than alkaline batteries. Oh, I forgot one important detail. The INOVA T8R also has an SOS mode!
---
BEST FLASHLIGHT FOR EVERYDAY CARRY (EDC)
Compact, bright, and durable are the name of the game here. Whether you have a flashlight in your pocket next to your pocket knife, or always have one handy in your glove box, you'll want a flashlight that is conveniently accessible at a moment's notice that also packs a nice punch. For this, I like flashlights in the 200 lumens range and my current favorite is the Radiant Rechargeable Pen Light. Just slightly larger than your average pen, the Rechargeable Pen Light packs 235 lumens – that's way brighter than your phone's flashlight, and unlike your phone, can easily be held with your mouth for those times you need hands-free lighting.
---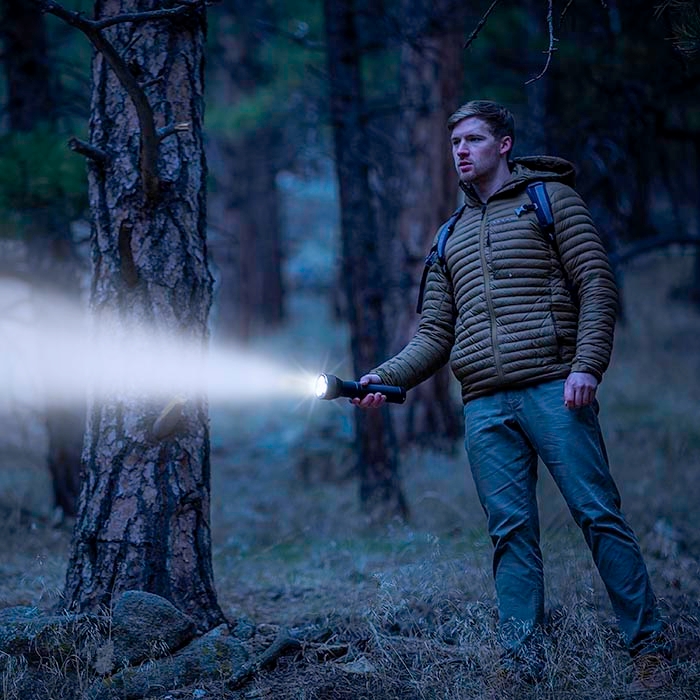 BEST TACTICAL FLASHLIGHT FOR SEARCH AND RESCUE
Unbeatable performance, high impact resistance, far reaching beam distance, a long runtime and water resistance are the hallmarks of the best tactical flashlights for search and rescue teams around the world. To that extent, they come with a higher price tag and in this case, you get what you pay for. At minimum, search and rescue teams require a light that's brighter than your standard car's high beams at about 1200 lumens each (2400 lumens for both headlights). At 5800 lumens, with a runtime up to 110 hours and the ability to cast a spotlight over a quarter mile (400m), the INOVA T11R Rechargeable Tactical Flashlight + Power Bank is our top of the line flashlight. To put it lightly, the T11R is a beast! Trusted and tested by some of the hardest working frontline workers around the world.
---
WHY BUY A HIGH-END FLASHLIGHT?
If you're looking to own a flashlight with serious reliability and optimal performance, you'll likely need to spend a few extra bucks. What's the value in shelling out for a more expensive flashlight you might ask? Allow my friend Tom to explain:
---
When it comes to flashlights, there is no "one size fits all" solution and the suggestions above are recommendations based on my personal experiences. As you prepare to purchase your next hand torch, I encourage you to take a few minutes to think about the primary use for your new flashlight and the features that are the most important to you. By doing so, you'll make a much more informed decision and not be blinded by big numbers or sneaky marketing.
Thank you for taking the time to read this blog, and please let me know what is most important to you when buying a light or why you agree/disagree with any of my points above in the comments below.