Nite Ize Wins Accolades At Fourth Annual Pet Innovation Awards
GlowStreak LED Ball Recognized As Best Ball Toy Product Of The Year
BOULDER, Colo. – September 15, 2022 – Nite Ize®, a leading manufacturer of innovative solution-based products, today announced its GlowStreak® LED Ball was named the Best Ball Toy Product of the Year at the 4th annual Pet Innovation Awards. With over 2,000 nominations from across the globe, the GlowStreak LED Ball stood out from the pack for its innovative, leading LED technology.
"The recognition from the pet industry for Nite Ize's ingenuity in this rapid-growing, competitive sector is incredibly gratifying and a testament to our passion for innovation," said Nite Ize Vice President of Marketing, Brenda Isaac. "Our core philosophy of designing gear that creatively solves everyday problems results in fun products like the GlowStreak LED Ball, perfect for playing all day and night. As Nite Ize has grown, our focus on engineering functional and trusted gear has seamlessly translated to the pet category, which has seen tremendous expansion during the past two years."
At the size of a tennis ball, the GlowStreak LED Ball features a protected LED core containing a motion-activated module with bright red or color-changing lights. The LED system has an automatic shut-off function after ten minutes without movement, keeping it visible in the dark, while a waterproof, shockproof core houses the LED battery module, enabling it to float.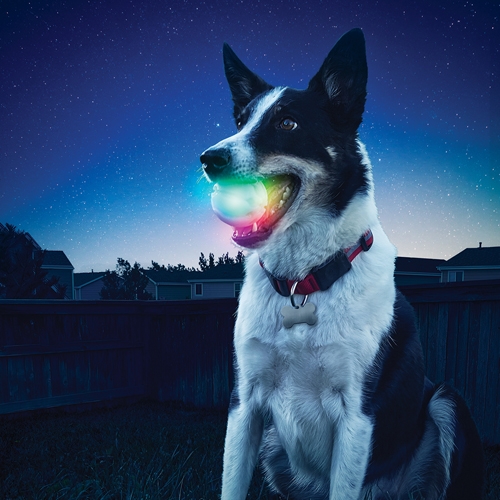 About Nite Ize
Founded in 1989 and headquartered in Boulder, Colorado, Nite Ize designs, manufactures and globally distributes innovative, inventor-driven products that creatively solve everyday challenges. Nite Ize offers more than 500 products across various channels including: Waterproof Protection, Mobile, Tie-Downs + Bungees, Key Accessories, Illumination, Bike + Fitness and Pet. Led by original founder Rick Case, Nite Ize team members are passionate about their products, customers, partners and the environment. For more information, visit NiteIze.com.