Q: Hi Melissa! First off, tell us a little about yourself and how you got into mountaineering.
Sure! I have lived in Boulder, Colorado the last 8 years where I've been enjoying the Rocky Mountains, but am originally from California where I grew up exploring the Sierras and Cascades. I work as a water resource engineer and hydrologist, and feel lucky to work in a profession in which I can connect to the outdoor places I love. Although I enjoyed the outdoors growing up, moving to Colorado after college multiplied the opportunities for getting outside. I made a conscious effort to try every activity that sounded fun and at least a little bit terrifying, all of which led me to appreciate the numerous dramatic peaks in the Rockies. I had the opportunity to learn how to ice climb, started overcoming my fear of heights by scrambling (climbing low-grade exposed rock without a rope), then transitioned from resort snowboarding to backcountry skiing to spend more time in the wilderness. Simultaneously, I pushed myself to move higher and further on my trail runs. I started snow climbing after recovering from a near-death accident in order to conquer my PTSD and fell in love with it. I realized that all of these activities could naturally blend together as interesting and fun mountaineering objectives.
Q: Why did you apply for the AWE x Nite Ize Summit Scholarship and how did it feel to win?
The AWE x Nite Ize Summit Scholarship embodied my journey into outdoor independence. Although I found great outdoor communities, nearly all my foundational experiences in the outdoors relied on a male partner. I often depended on a significant other to plan objectives and felt like I needed him there to feel secure in challenging environments. If I wasn't invited on outings or my partner wasn't available, I felt like I couldn't do the things I wanted to. After being excluded from a series of trips that I felt prepared for because I was told I couldn't handle them, I decided to take charge of the situation by training myself to execute trips independently. I started getting outside more on my own and took classes to educate myself. I realized that many other female friends felt a similar lack of empowerment and began pushing others to do more all-female trips. The AWE x Nite Ize Summit Scholarship emphasizes female empowerment in the outdoors to encourage more equality in high altitude mountaineering and break down some of the barriers women have historically faced in getting into the sport. While I had spent a lot of time building the essential skills for mountaineering, I still wasn't sure how to put together a high altitude expedition. Sunny Stroeer and her partners have recognized that this is a huge factor in the lack of female mountaineers and this scholarship was a great opportunity to break into the sport in a more controlled environment led by a woman that encompassed all of these values. I was incredibly honored to win this scholarship. From what I understand there were women from over 20 countries who applied for this opportunity, all of whom had incredible stories. This speaks to the importance of the work Sunny, Nite Ize, and Lowa are all promoting.
Q: How did you train for the expedition to Everest Base Camp and Island Peak?
Living in Colorado, I am lucky to have access to many peaks in the 14,000 ft elevation range. We had a fairly long winter prior to the expedition, so I spent the spring climbing and skiing the taller mountains in the state using the technical gear (crampons and ice axe) I would use on Island Peak. Over the summer, I got up to 14,000 ft. one to two days a week by squeezing in trail runs and scrambles up high into the dark hours after work and doing longer (7-12 hour) pushes on ridges at altitude on the weekends. I had just transitioned from graduate school to a full time job so efficiency was essential. My main goal was to stay acclimated and prolong my endurance as much as possible. Speed was not as critical as the expedition would require long days carrying a heavy pack at altitude.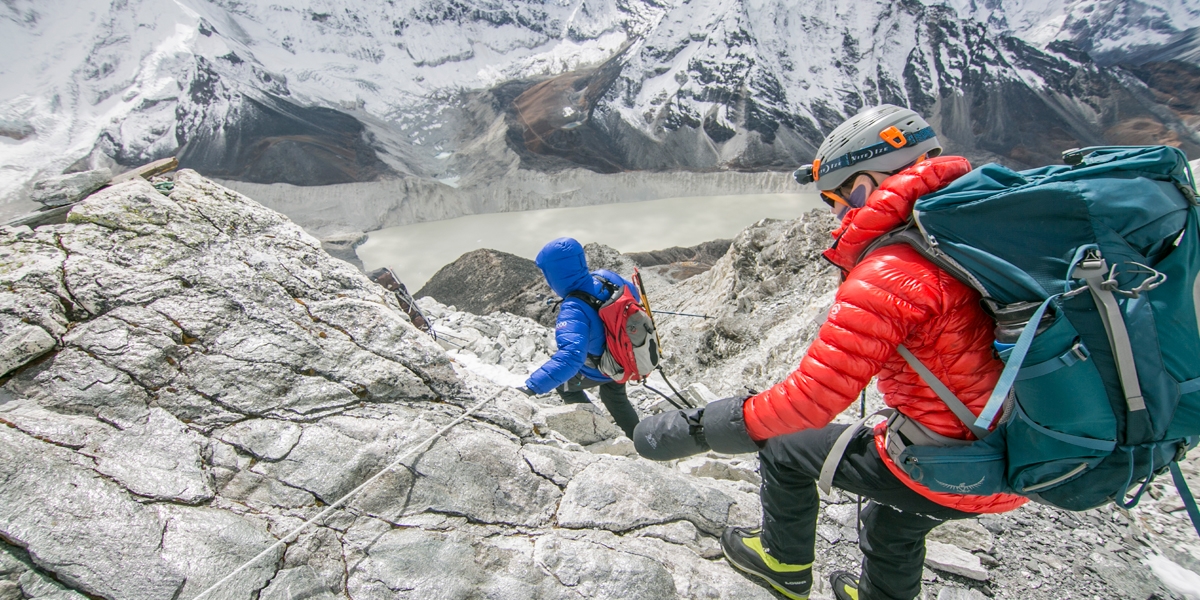 Q: What surprised you the most while on your expedition?
This was my first trip to the Himalayas, and I made a point not to look up photos of the hiking region prior to the expedition apart from the necessary technical aspects of the climb. I was blown away by the dramatic, lush canyons below treeline and the enormous rivers we crossed over precarious suspension bridges. Once we climbed into the alpine, the mountains were on a scale that dwarfed every previous experience I had. It is an incredible feeling, hiking on a plateau at 14,000 ft. and seeing mountains stretch more than 10,000 ft. above you. That said, I think the Sherpa people were just as impressive. They live at elevations up to 17,000 ft. and are the loveliest and most generous people I've encountered.
Q: What was it like to reach the summit?
Reaching the summit was even more satisfying and fulfilling than I anticipated. I say that because I had tried not to put too much pressure on myself to reach the summit so that I could embrace the experience regardless of the outcome. However, at about 19,000 ft. I really began to struggle physically with the altitude and wasn't sure if I could finish the route. I think I had become weaker from having issues with sleep apnea at altitude a few days before summit day in which I would stop breathing at night and wake myself up. The final push is a 1,000 ft., steep headwall on which you need to simultaneously ascend with a jumar in one hand while climbing with an ice axe with your other hand. My team noticed that I was starting to deteriorate and provided an enormous amount of emotional support to help boost me up the final part of the climb. Pushing through that mental barrier was huge for me in recognizing my potential. It was also wonderful to celebrate with the team on the summit with a 100% success rate. One of our Sherpas celebrated by taking his shirt off (at 6,000m!) and opening a can of beer to share with the team. And I suppose I should mention that the views were spectacular!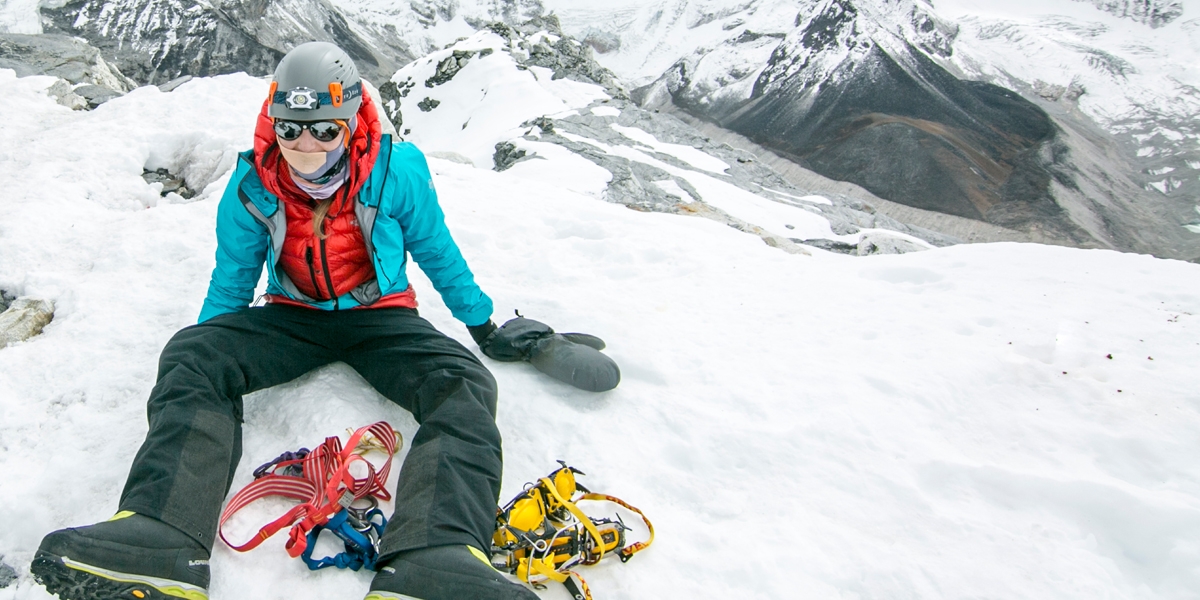 Q: What Nite Ize product came in most handy on the trip?
I enjoyed using a variety of Nite Ize products on the trip, but I really relied on the headlamp. Throughout the trip we had minimal to no lighting at night in our teahouse rooms and on our summit day we spent the first many hours hiking in the dark through technical terrain. I have often been disappointed with the brightness and reach of headlamps I've used, but this one is incredibly bright on high power. It also has a dimming feature to conserve power, as well as a red light function to use in the evening at camp when you don't want to blind your climbing team. The other feature that was really helpful was the ability to swipe the top of the headlamp to change the settings and toggle it on and off. On Island Peak I was wearing enormous mittens and usually trying to press a button on a headlamp is challenging, but this technology allows you to have full functionality without exposing your hands. The other great feature is that the headlamp is both rechargeable and uses AAA batteries so you have backup methods for charging. I should also mention that the Nite Ize team was incredible to work with and was very generous in its support of this scholarship.
Q: What was your favorite part of the trip as a whole?
Everything! But if I have to choose something, I would say the relationships I formed along the way. I shared a room and tent with Kerry, one of my new role models and the other female participant on the trip. We bonded over our suffering, laughed at the deteriorating state of our cleanliness and ultimately pushed each other up the summit. I had wonderful talks with Sunny and her husband Paul, a climbing icon himself, about making goals happen and about general life wisdom. Alex, the only male participant kept the climb light-hearted with his humor. This team of strangers quickly became more like a family to me and I know these relationships will last the rest of my life. On top of that, our two Sherpas, MIngma and Phurba, introduced me to a completely new culture and became good friends. These two had climbed Everest multiple times as well as many more technically challenging peaks – coming from the land of super-athletes in Boulder, this was definitely a humbling experience.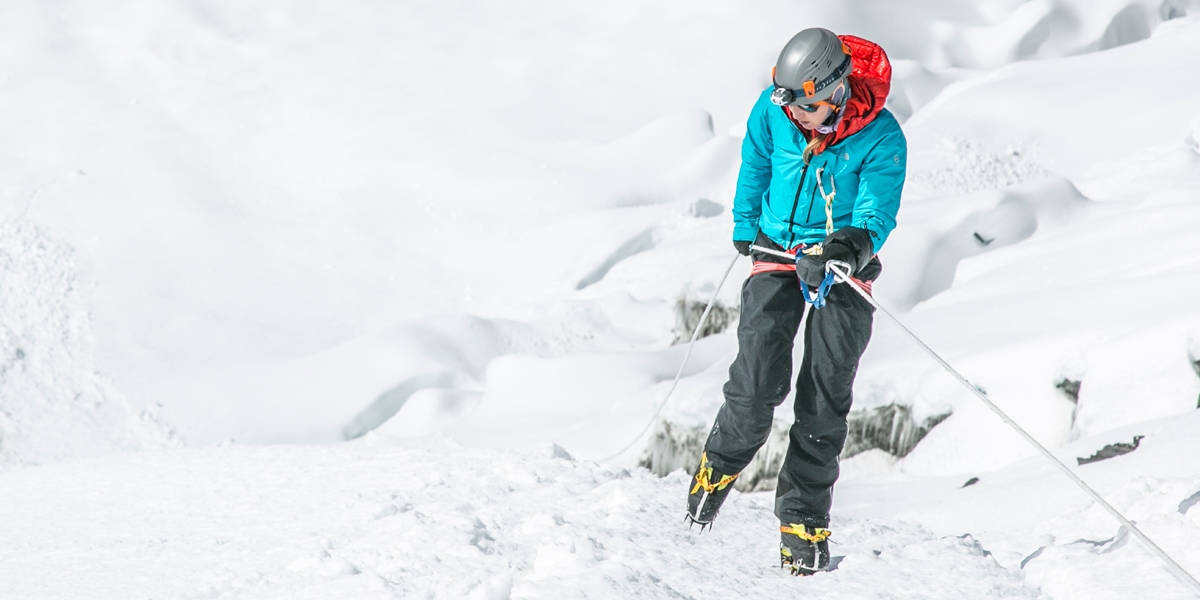 Q: What's the next adventure you hope to tackle?
This year I have a few smaller objectives including skiing a few more of the volcanoes in the Cascades and completing the longest and steepest ultra running race I've done. However, next year I would like to try to ski Denali. It is almost exactly the same elevation as Island Peak, but has more relief and more objective hazards. I love Alaska and think skiing a high altitude peak would be incredible. Immediately after the trip I thought I wouldn't be interested in more high altitude climbs because of the health challenges, but my memory seems to change over time…
We're excited to take the Summit Scholarship into year two by sponsoring one woman to join AWE on their expedition to climb Kilimanjaro this fall! If reading this has piqued your interest, applications are open on www.awexpeditions.org from March 16th – April 15th, 2020.