It's no secret, I love to travel! Whether it's for business, vacation, or to visit friends and family, I take advantage of every opportunity I can to get out of the house. For me, one of the most stressful ways to travel is by air. During my travels, I've learned some tips and tricks from fellow travelers that have made traversing through airports easier and less stressful. After many trips for both business and pleasure, I've put together a list of my favorite travel hacks for the navigating the airport, while on the airplane, and once I've reached my destination.
TRAVEL HACKS FOR THE AIRPORT:

I know what you're thinking, this isn't a travel hack. Well, nothing is more stressful than running through the airport in fear of missing your flight because you didn't give yourself enough time to get to, and through, the airport. I like to get to the airport one-and-a-half to two hours early. This leaves plenty of time to check bags, get through security lines, go to the bathroom, and to find my departure gate without feeling rushed.
ORGANIZE YOUR LUGGAGE WITH PACKING CUBES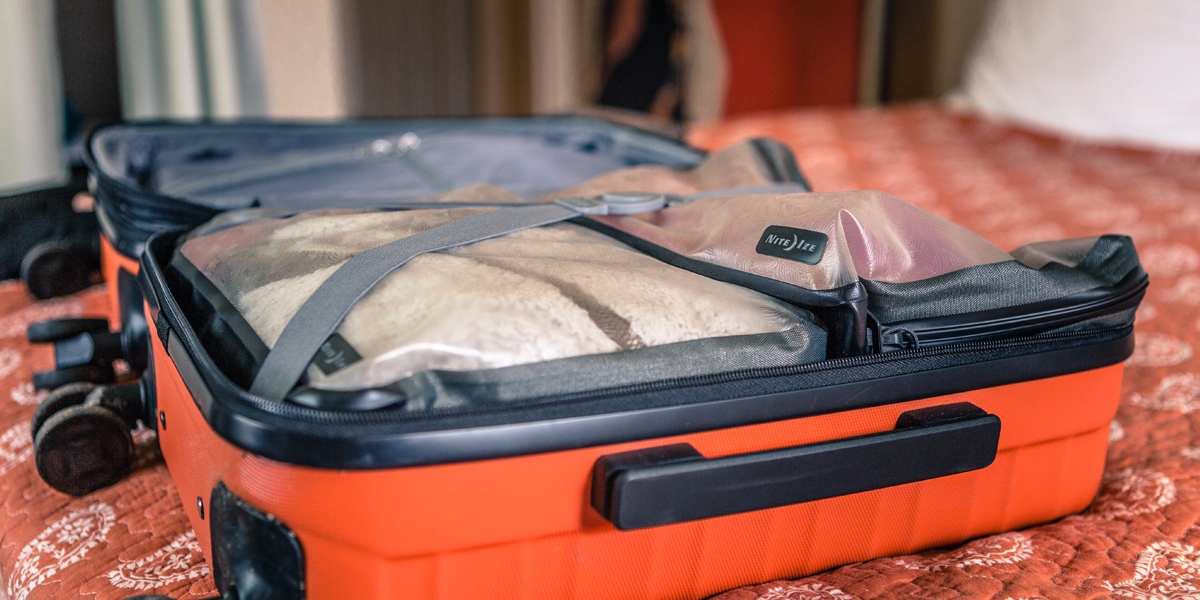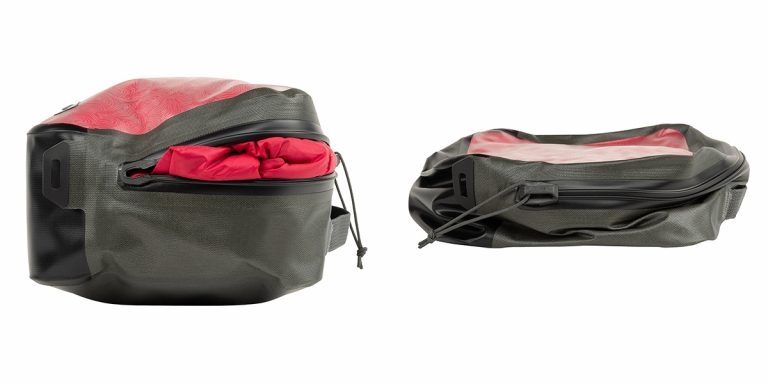 Packing cubes are a great way to keep your suitcase organized and tidy, especially when you're planning to carry-on your luggage. My favorite are the RunOff Waterproof Packing Cubes which come in various sizes and, because they are air tight, can be compressed to save space in your bag. I use separate bags for my tops, bottoms, and undergarments. The RunOff 3-1-1 Pouch is another must have for my toiletry items and has saved my clothes from being covered in shampoo when I had a bottle explode during a trip. Packing cubes also work great for protecting your clean
SECURE YOUR LUGGAGE WITH EASE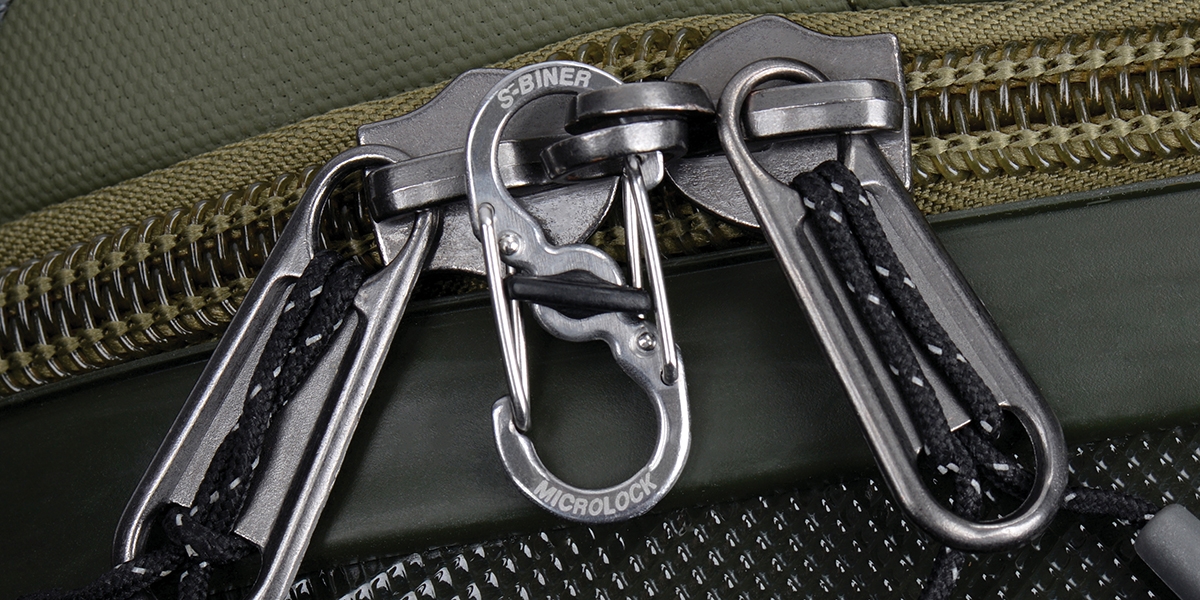 If you're checking a bag during your flight, be sure to lock the zippers on your bag together to prevent your bag from opening accidentally and spilling your gear. My favorite way to do this is by using the MicroLock S-Biner, a less expensive and just as effective alternative to luggage locks. The truth is, Transportation Security Officers may inspect your bag if something funky pops up during a security scan. As such, they will open your bag by any means necessary including cutting off a lock that they do not have a key for. This has happened to me on a few occasions. The good news is that if they are able to take the lock off of the bag without cutting it that they will put it back upon completion of their inspection along with a note inside the bag informing you of the search.
WEAR SLIP-ON SHOES (WITH SOCKS)
If you are not signed up for TSA Precheck or CLEAR, then chances are that you will have to take off your shoes, jewelry, belt, and any other accessories to get through the security checkpoint. Do yourself a favor by wearing shoes that are comfortable and easy to take on and off to get through security more quickly. Oh, and wear socks. Nobody wants to be barefoot in the airport, and airplanes can be downright chilly.
BYOB (BRING YOUR OWN BOTTLE + S-BINER!)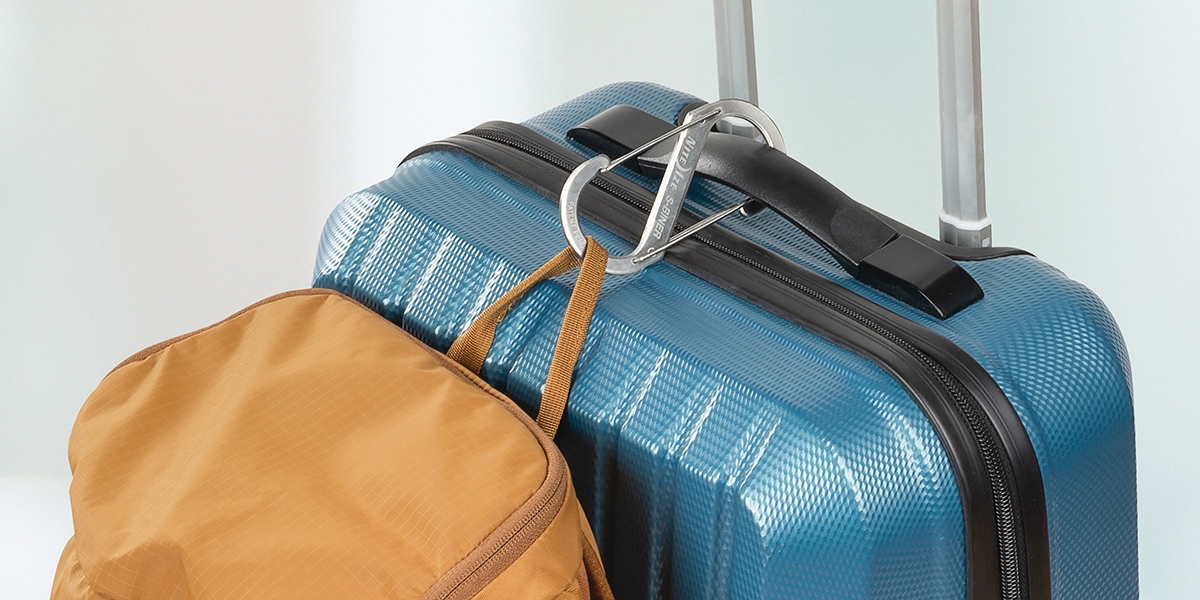 Buying anything at the airport can be expensive, especially something as simple as water. I always bring my own bottle to fill up at the water fountain once I've made it through security, and attached to the bottle a double gated S-Biner. The size #4 S-Biner can be used for all sorts of things from securing my bottle to my bag, attaching my backpack to my suitcase, and for hanging my bottle on the seat back in front of me on the plane rather than stuffing it into the pocket so that I can maximize my already cramped legroom.
GEAR UP FOR THE FLIGHT
CHARGE YOUR DEVICES + PREPARE TO BE OFFLINE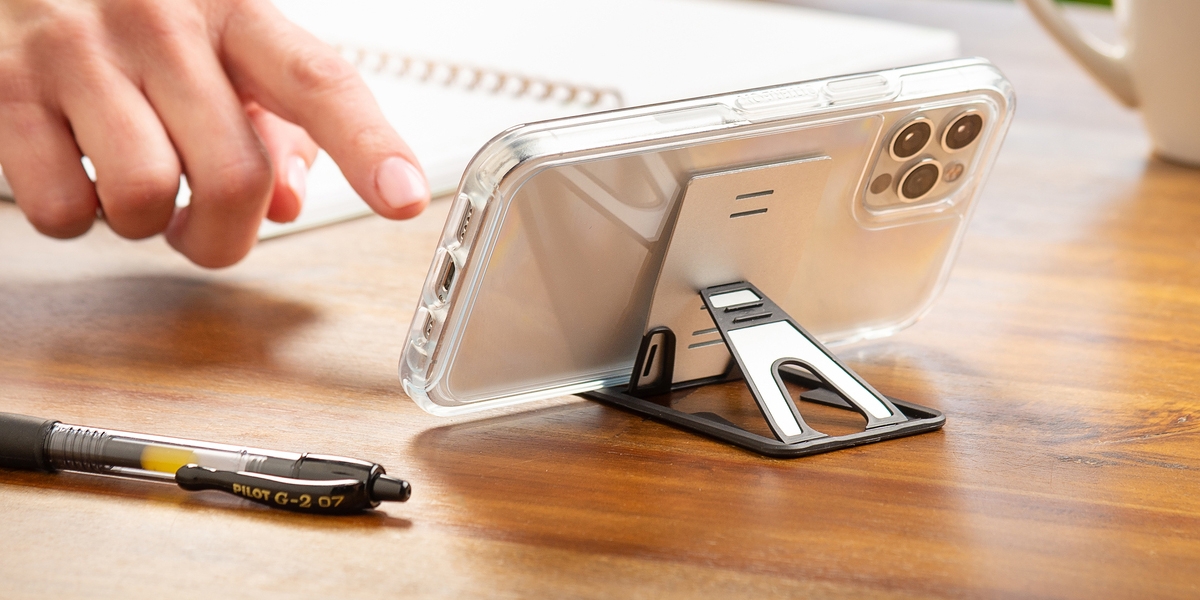 Head to the airport with a fully charged phone and, if you have one, battery backup because finding places to recharge your devices in the airport can be challenging. You'll also want to make sure that you've downloaded music and movies that you want to watch and listen to during your flight. In addition to loading up my phone with music and videos, I like to have a way to prop my phone up for hands-free viewing. The QuikStand or FlipOut Handle + Stand are my favorite pieces of gear for hands-free viewing on the plane.
PACK SOME FOOD IN YOUR CARRY-ON
I'm not sure that I've ever heard of anyone having a great meal while on a flight. I certainly haven't and many flights these days either charge you extra for in-flight for food or don't offer a meal at all. Be prepared by packing your own snacks or bringing your own meal. You'll be the envy of other passengers when you pull out your favorite footlong sub sandwich or poke bowl mid-flight.
WET WIPES + HAND SANITIZER IS A MUST
Even pre-pandemic, wet wipes and hand sanitizer were essentials in my carry-on bag. Airport and airplanes are germ factories and I question how well a tray table was cleaned before I board a flight. Erase your concerns by bringing your own wet wipes to sanitize your tray table before enjoying your poke bowl and in-flight movie.
PARENT PRO TIP: BRING EXTRA CLOTHES + TOYS FOR YOUR KIDDO
You never know what to expect on a flight, or with a first-time flier for that matter. Eating and drinking on planes can be challenging for children, and if they haven't flown before, they may get motion sickness. So, bring a change of clothes for those "just in case" moments. Also bring plenty of things for them to do during the flight. Coloring books and new toys can be a hit during a flight. Toys and activities that children haven't played with before are perfect for capturing their attention and keeping them engaged during a flight.
ONC
ONCE YOU'VE REACHED YOUR DESTINATION:
Gear Ties are great for more than cord organization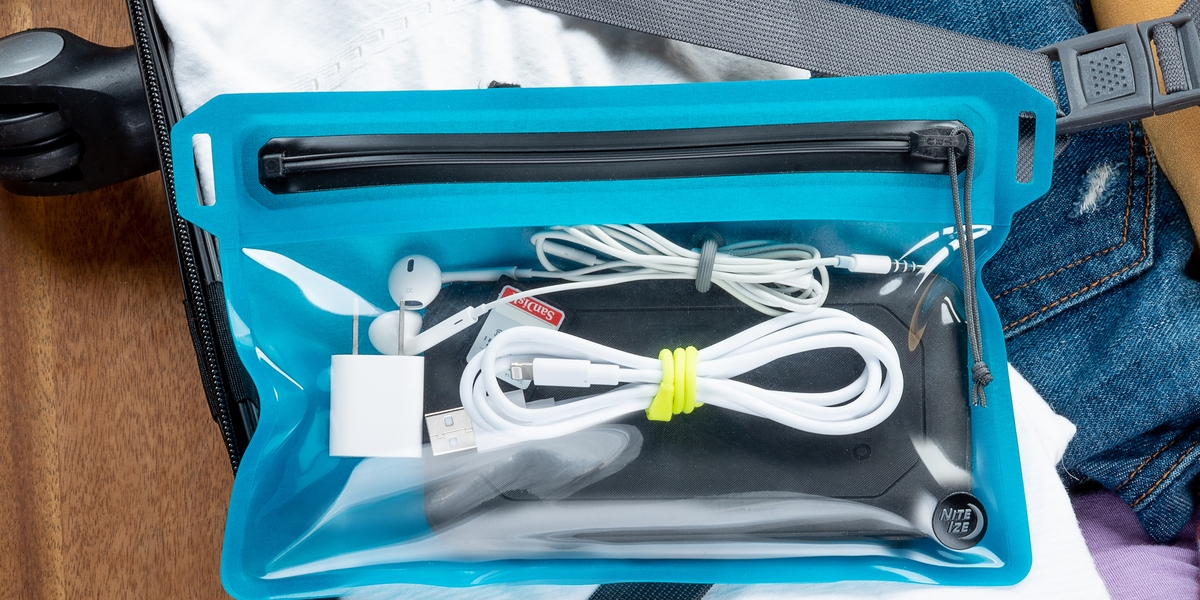 Bottom line – you're going to want a handful of Gear Ties for traveling. The smaller Gear Tie 6" and 12" sizes are perfect for wrangling your charging cables in your suitcase, attaching items to your bag, and for wrapping the handle of your suitcase in order to quickly identify your bag from someone else's on the luggage carousel in the baggage claim area.
NAVIGATE YOUR WAY THROUGH A NEW CITY LIKE A PRO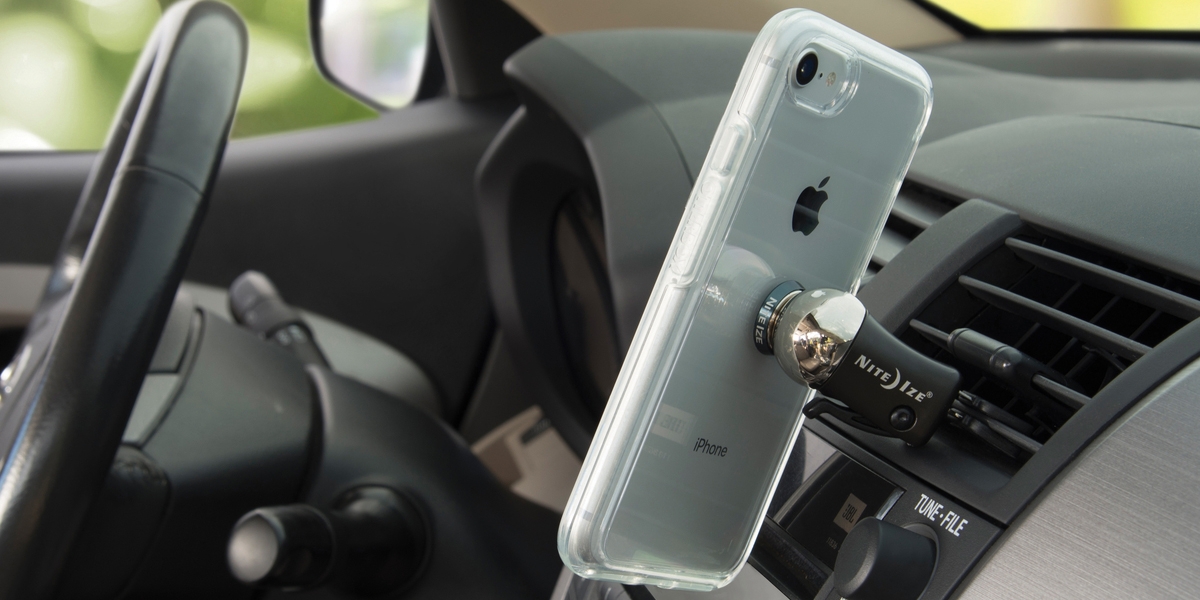 Why would you pay extra for GPS in a rental car when you already own a smartphone with GPS capabilities? Instead, bring along a phone car mount like the Steelie Vent Kit to use your smart phone in a rental car to navigate the city like a local. The compact size is easy to pack and can also work as a kickstand for your phone during your flight. Just be sure to take the mount with you when you return your rental, since the minimalist design can be easy to miss.
Take some of the worry out of your next flight by planning not only for your next trip but also for the travel itself. Prepping for your next trip to, and through, the airport will help to ensure that your journey gets off to a smooth start.
Are there any travel hacks that you find particularly helpful? Please share them with me in the comments below. I love learning new tips and tricks!