If there is one area of the house that can too easily get out of control, it's the closet. If you're anything like me, you may have the tendency to acquire more clothes, shoes, bags and accessories without getting rid of anything you already have, and before you know it, your closet is jam-packed. On top of it being over-stuffed, you probably haven't taken the time to re-organize your closet in a while, so things start getting haphazardly thrown in without much consideration. In the spirit of OrganIZE – our Big Idea this month – and the start of spring cleaning season, I'm going to share a few tips on how I keep my closet organization game in check.
1. DONATE OR TOSS ANYTHING YOU DON'T LOVE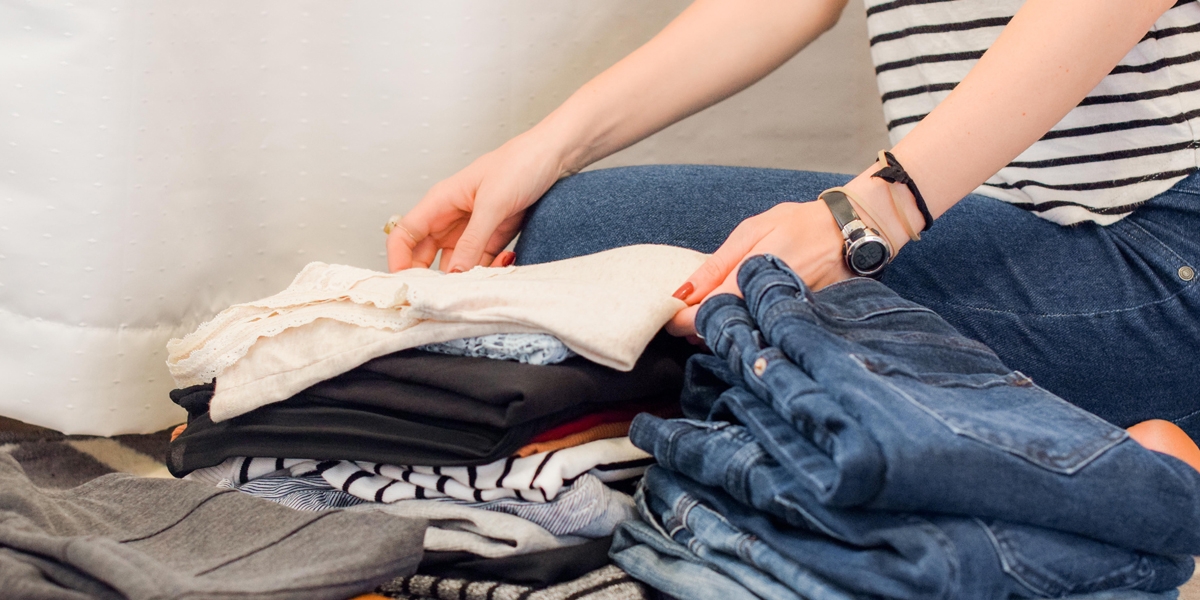 Does it "spark joy?" The phrase made famous by celebrity organization expert Marie Kondo has caught on for a reason. If you don't love a pair of shoes, you probably don't need them gathering dust in your closet. I usually judge what to put in my donation pile based on the last time I wore something. Can I even remember the last time I wore this sweater? If I have to rack my brain on it, it's probably not a keeper. Don't be afraid to part ways with socks or undergarments that are starting to fall apart either – toss them at the sign of the first hole.
A good method to keep your wardrobe in check is every time you buy a new piece, donate something old. This can be a difficult and emotional decision, but it will absolutely keep your closet from getting out of hand. Always have a donation bin handy. If you don't have room in your closet for a designated bin, consider keeping one in your garage or storage space, so it's always on stand by when you come across something that is past its prime in your rotation.
2. BUY UNIFORM HANGERS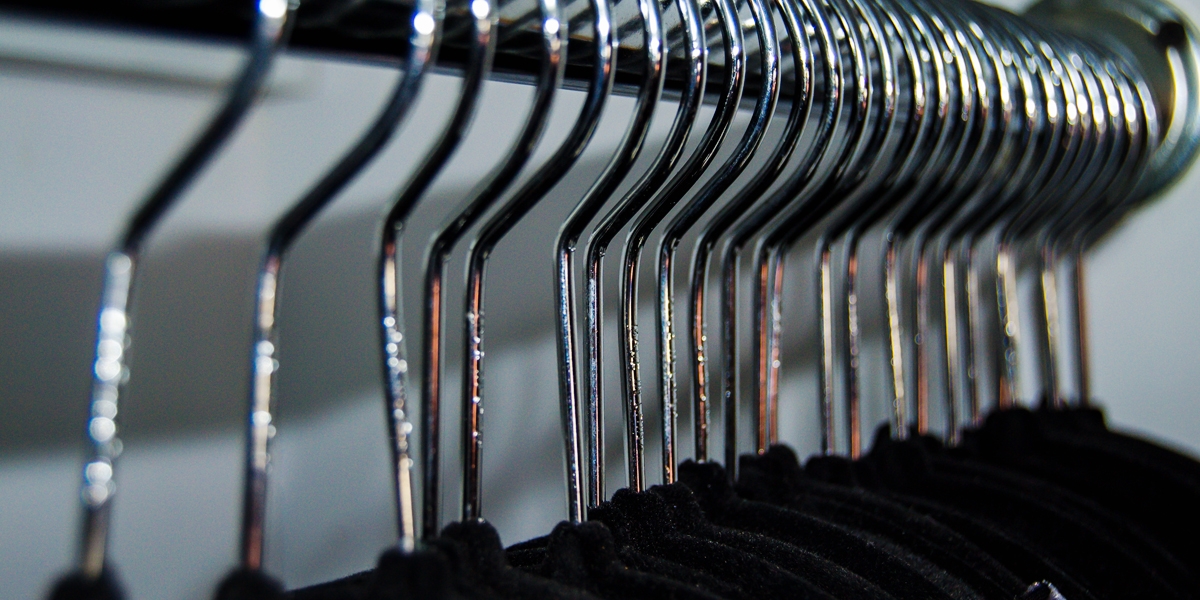 Although this tip is primarily for aesthetic purposes, I promise that it does bring the look of your closet to the next level. Get rid of all your misfit garment hangers and acquire matching ones. I personally prefer the slim velvet no-slip hangers that you can find just about anywhere these days. I tend to find good deals on them at discount stores such as TJ Maxx, so you don't have to break the bank investing in an entire new set of hangers.
3. START FRESH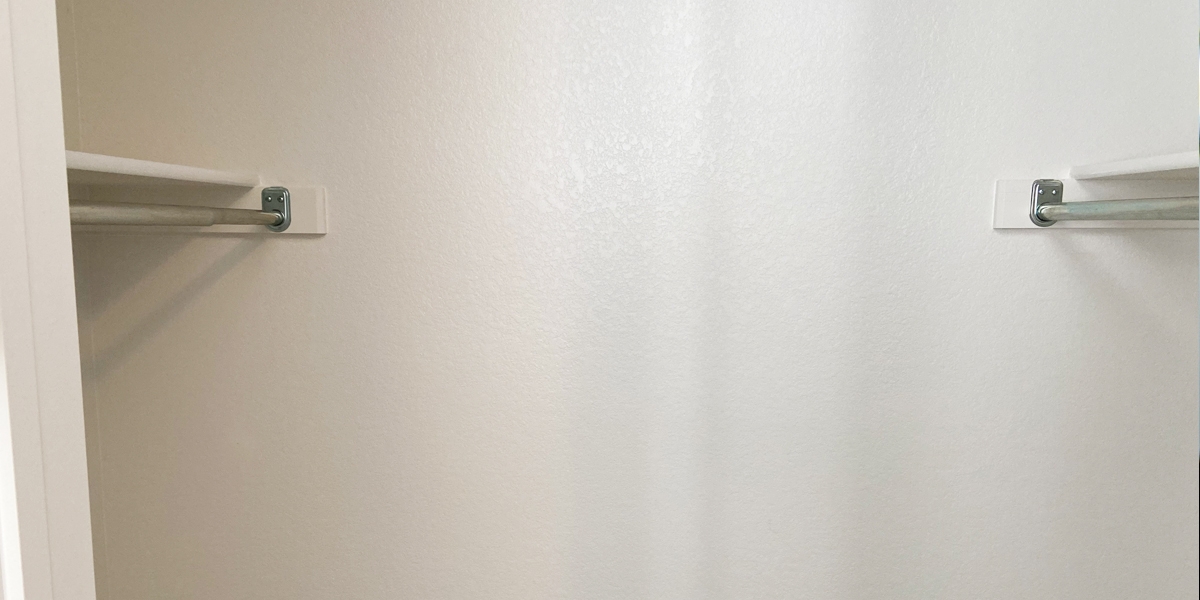 Okay, this might seem a little extreme at first, but hear me out. I always found that I did my best organization right when I moved into a new place. Now that I live somewhere more permanent, I have to remind myself to actively keep things organized (instead of just waiting until my next move like I did throughout my 20s). So, I decided to apply the same method and take everything out of my closet to start fresh before re-organizing. I also apply this method when it comes to re-organizing drawers or bathroom cabinets. You're guaranteed to find even more stuff for your donate pile this way, and you can better re-think your space and how you can make improvements to your existing organization system.
4. ORGANIZE CLOTHES BY STYLE AND COLOR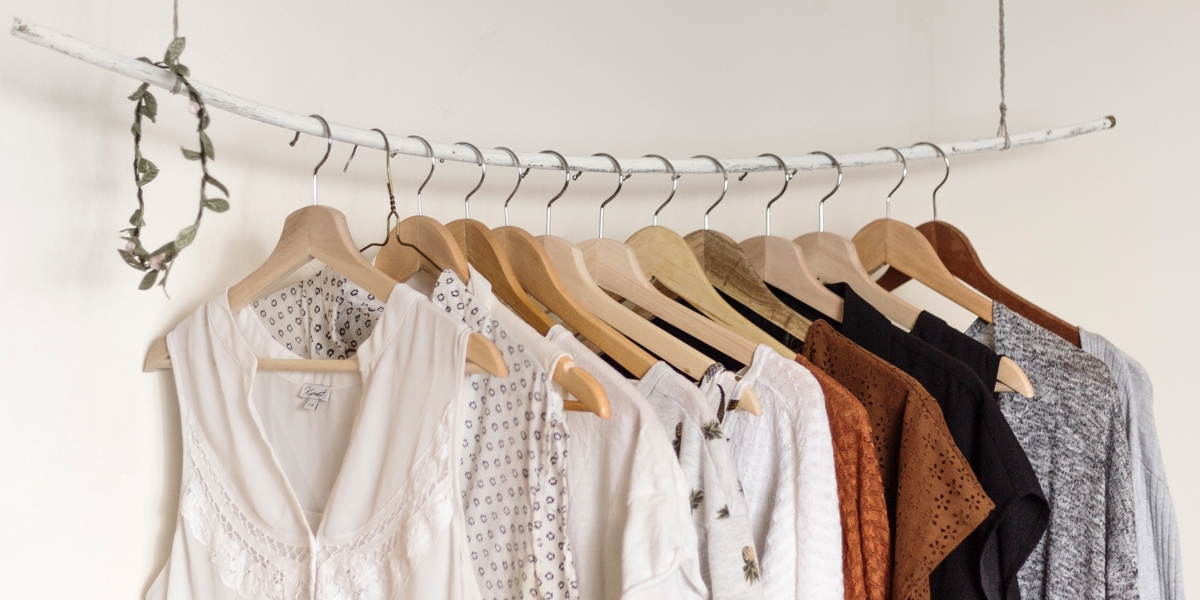 5. MAXIMIZE VERTICAL SPACE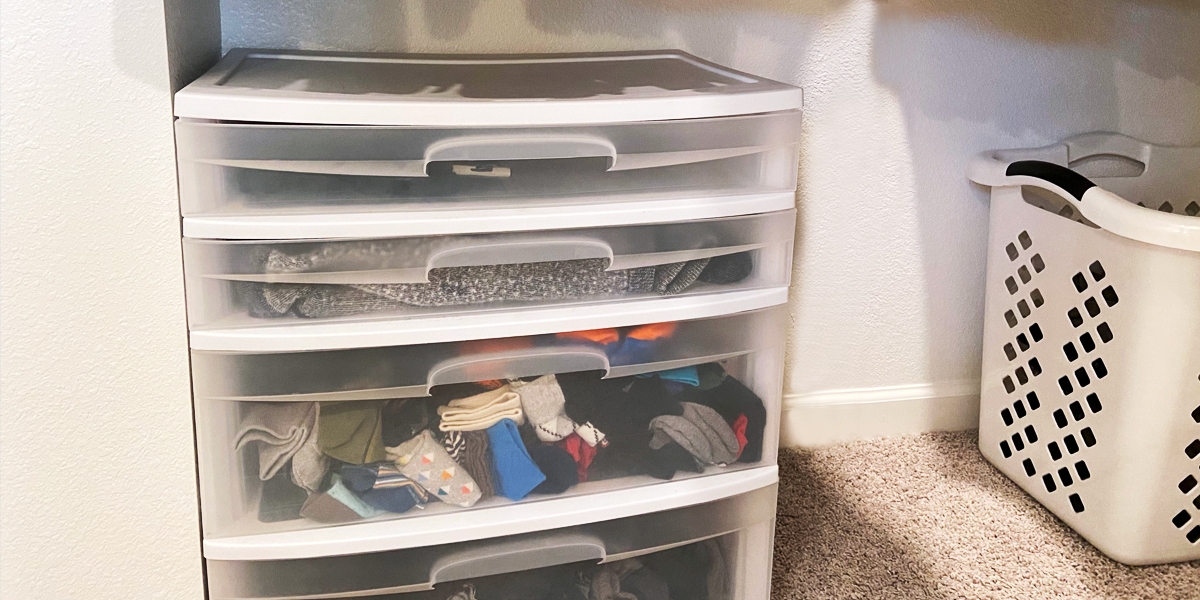 Make sure you're utilizing all of your available space wisely. If you're short on room in your closet, consider adding a lower rod underneath the top rod. Then, when you rotate your wardrobe from winter to summer, you can keep the pieces you'll be wearing more frequently at eye-level. Or, you could use that floor space for drawers, shelving, a shoe rack, laundry basket, or donation bin.
6. TRY UNEXPECTED SOLUTIONS
Let me introduce you to some of my favorite closet hacks that you may not have ever thought about or heard of: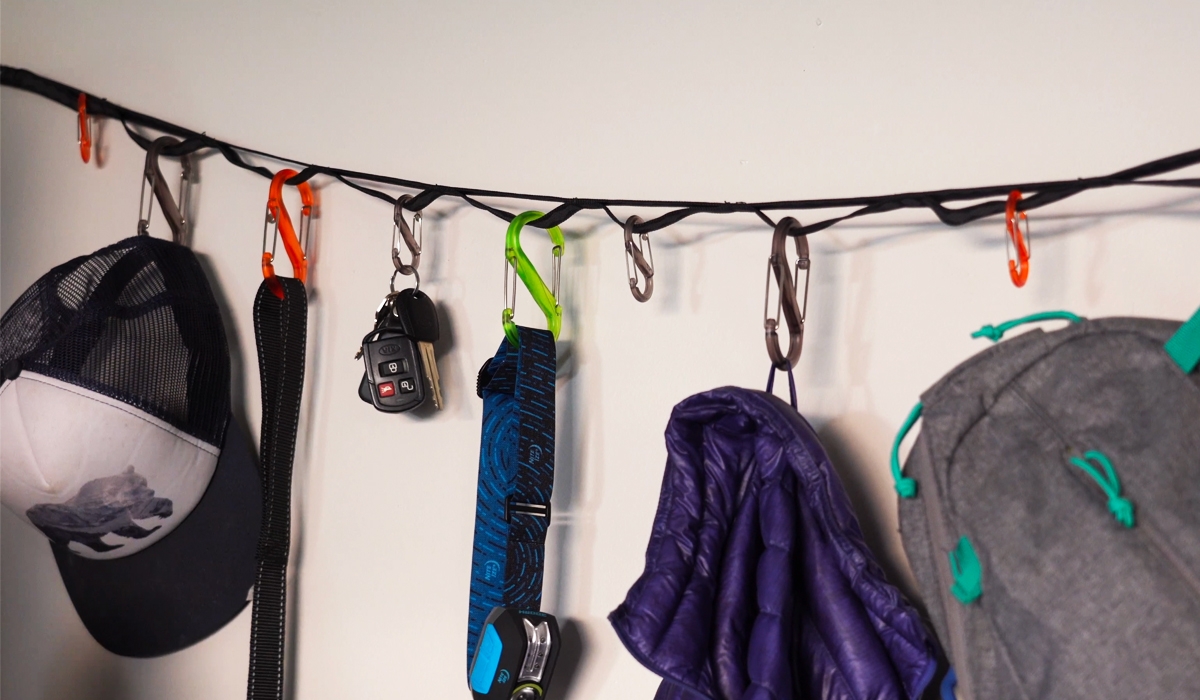 I first bought one of of these for my camping tent to organize gear, which I loved. Then, I bought a second one, to keep around the campsite. Then, I started thinking outside the box – where else might these come in handy? After searching around for solutions to organize my purses, it clicked. I affixed the integrated Gear Ties at either end of the line to my closet bar, then clipped my purses, clutches, and hats to the S-Biners.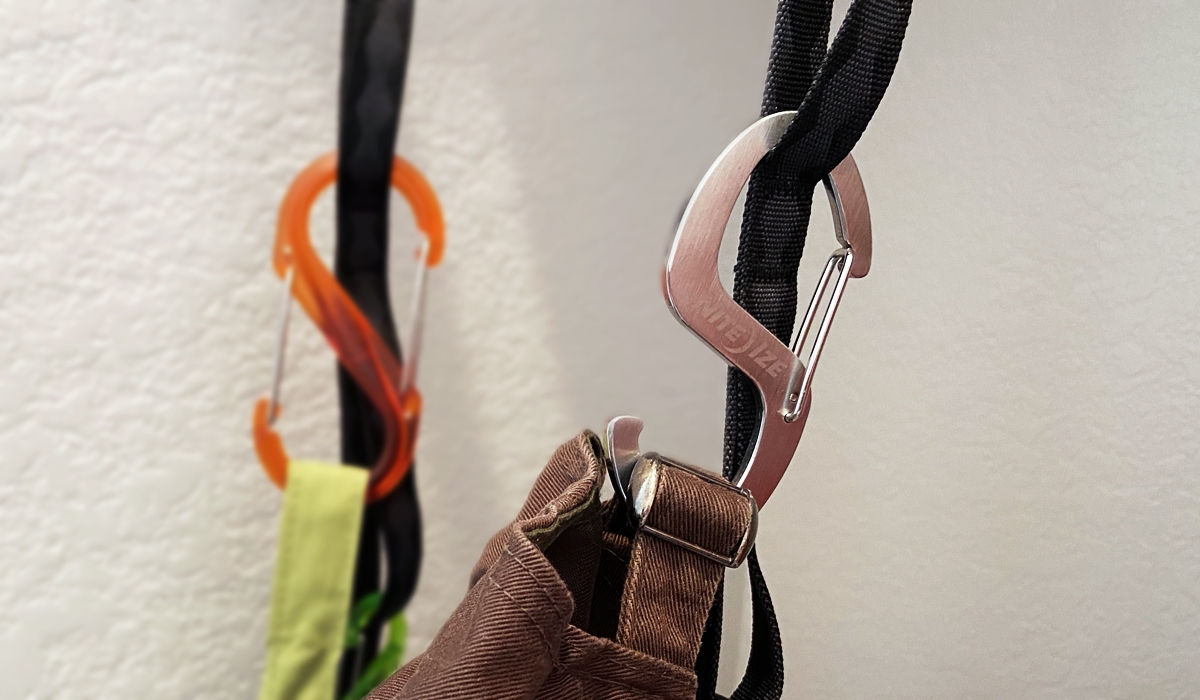 I replaced one of the plastic S-Biners on the GearLine with an S-Biner Hook 'N Hold to hang one of my favorite hats I usually grab for hiking or other outdoor activities. I liked this particular option because I can grab the hat off of the hook quickly without opening an S-Biner gate, and the other side stays clipped and secured to the loop on the GearLine.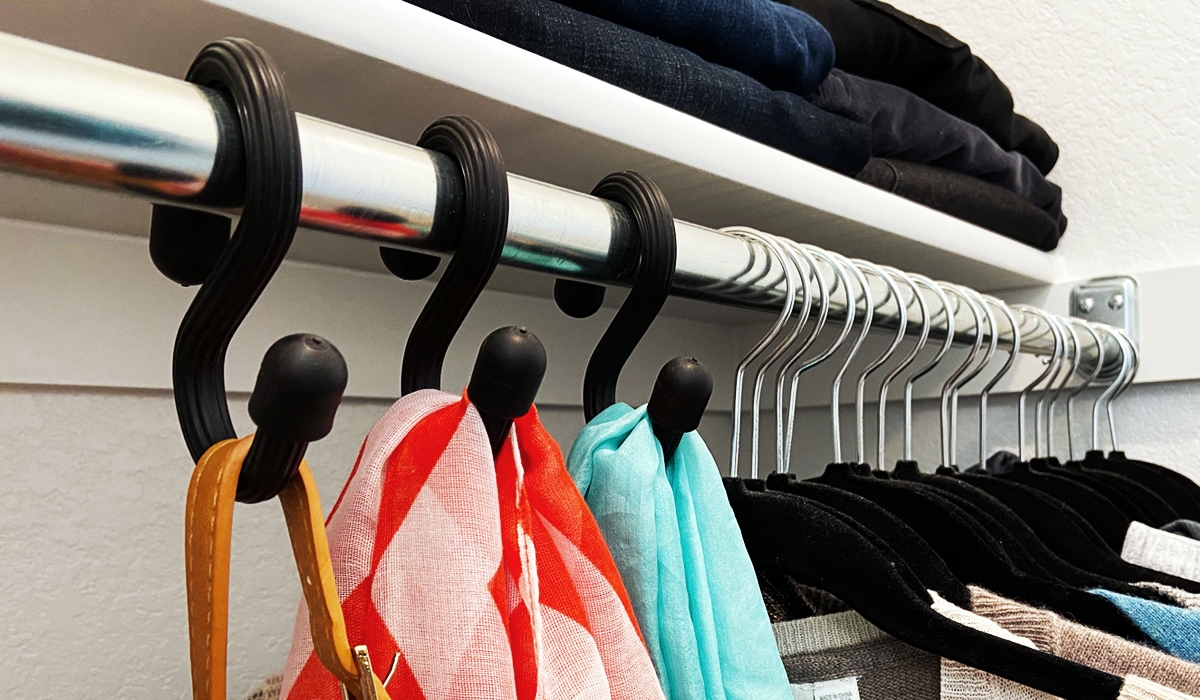 You could say that I'm already "hooked" on this brand new Nite Ize product! I snagged a few of these puppies to hang scarves and bags in my closet and I already want more. The gentle yet grippy rubber coating of the Gear Tie is soft on fabrics while preventing slipping, and the flexible shape gives you options for size and shape. You could, for instance, keep the top part of the "S" hooked onto the bar and bend the lower part to rotate in. You can also squeeze to close up either side of the "S" for a more secure hold.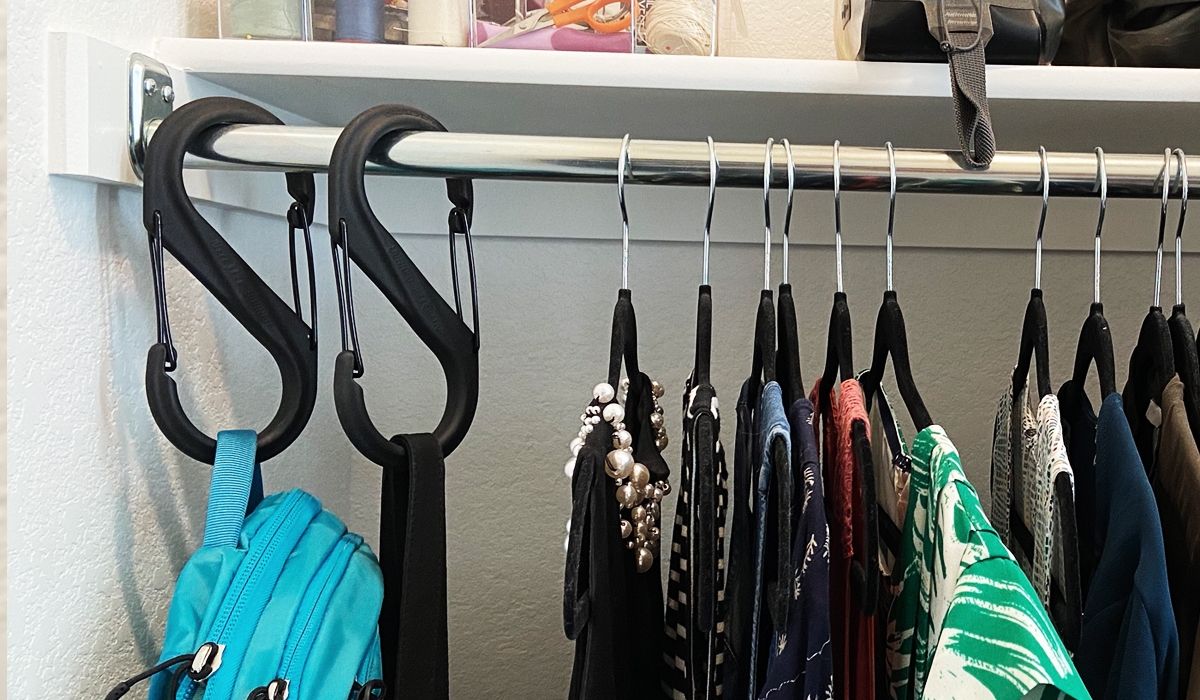 I absolutely love this size S-Biner for hanging backpacks. For bulkier loads, you can also use a #10, but after testing both, I prefer the #8 for my closet and the type of bags I need to hang.
7. UTILIZE WALL SPACE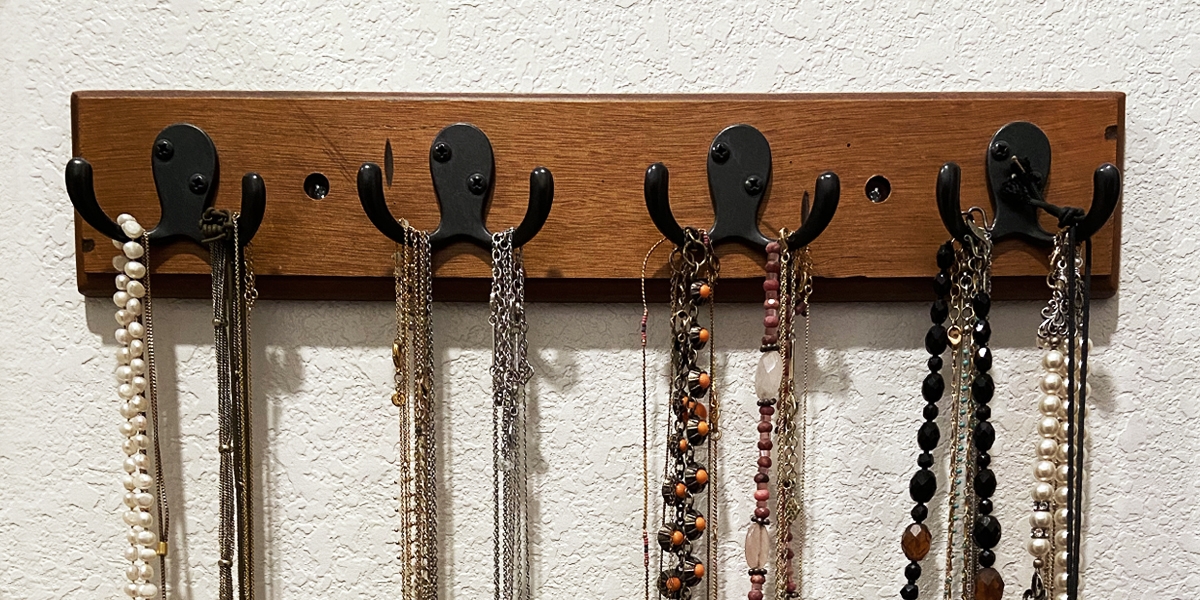 In keeping with the goal of using all your available space, don't forget about the walls. Installing some hooks can be a good use of that dead space – I use mine for necklaces whereas my husband uses his for hats and hoodies. For a simple option with no drills or nails required, I also recommend using 3M Command Hooks. If you have extra space on the wall or back of the door, you can stick some of those on to hang hats, jackets, and more.
8. ORGANIZE YOUR SHOES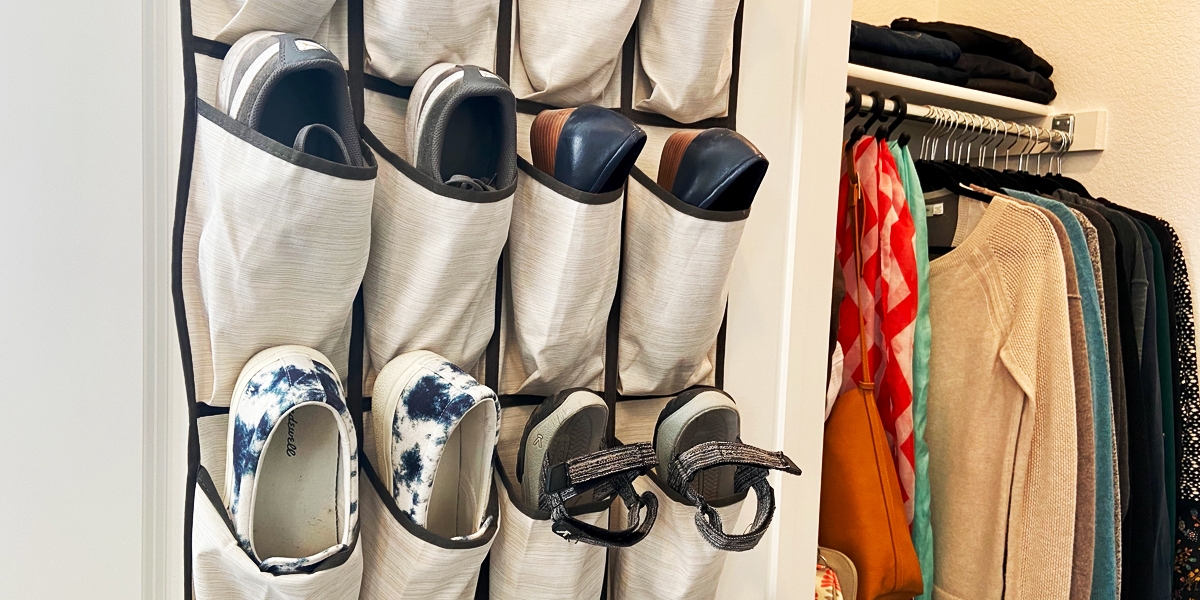 One thing you definitely need is a good shoe organizing solution (especially if you're like me and have a bit of a shoe adduction). My favorite space-saving method is an over-the-door shoe caddy. I use the pocket variety, but you can also find them in wire rack form. Why use an over-the-door shoe organizer? Because again, it's a great use of dead, vertical space. This way you can free up room on your closet rack or on the floor that you might need for more clothing or accessories.
9. STACK JEANS AND PANTS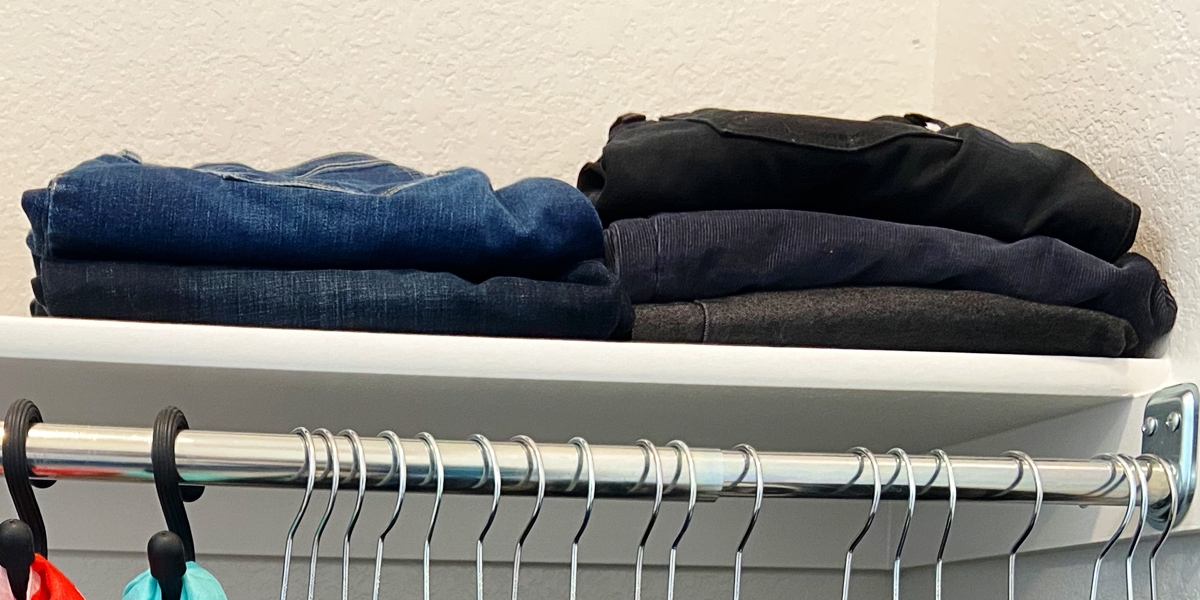 I like to fold and stack my pants and store them on shelving in my closet. It makes them more accessible, easier to see, and saves space on my rack and in my dresser drawers (which I reserve for T-shirts, casual sweatshirts, socks/undergarments, and pajamas).
10. CONSOLIDATE WHAT YOU DON'T FREQUENTLY USE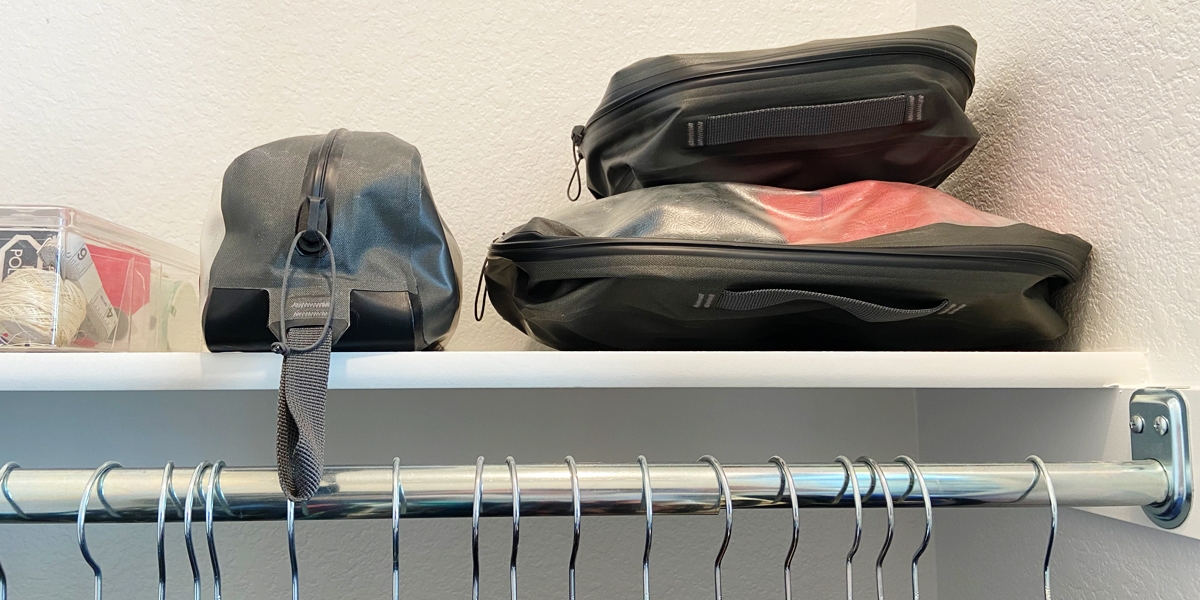 I have a full set of RunOff Waterproof Bags for travel, but even when I'm not traveling, I like to store certain items in the large and medium size Packing Cubes because you can fill them with bulkier items, compress out air, and zip them up. I usually throw some of my ski gear like heavy gloves, neck gaiters, and thick socks into the medium cube, and my base layers into the large cube. This way, I always know where my ski essentials are, and when I need the cubes for packing a suitcase, I just empty out the contents and place them temporarily on the shelf.
Finally, I absolutely recommend rotating your wardrobe based on season. I usually do this twice a year – once in late spring and once in fall. In late spring I stow heavy sweaters and coats out of the way, and rotate my warm weather clothing to the front. Then in fall when the weather decides to turn, I change it back.
Now stand back, take a breath, and look upon your newly organized wardrobe. Is it just me, or do you feel a renewed sense of mental clarity when your storage spaces are in order? What are your personal closet organization techniques? I'm certainly no professional organizer, so I'm always looking for additional advice. Let us know in the comments below, and check out our March OrganIZE collection for products to inspire your inner neat freak. Be sure to tag your Nite Ize organization hacks on social media with #NiteIze for a chance to win a SurprIZE giveaway!