As a seasoned camping couple plus pupper, I can tell you one thing for sure: There's so much I wish I knew the first time around. The dreamy Instagram pics of campers out in the backcountry with their four-legged friends only told one side of the story. I'm here to tell the other side—the nitty-gritty details about what you need to know, pack, and prepare to keep your canine camper happy.
1. KNOW WHERE YOU'RE GOING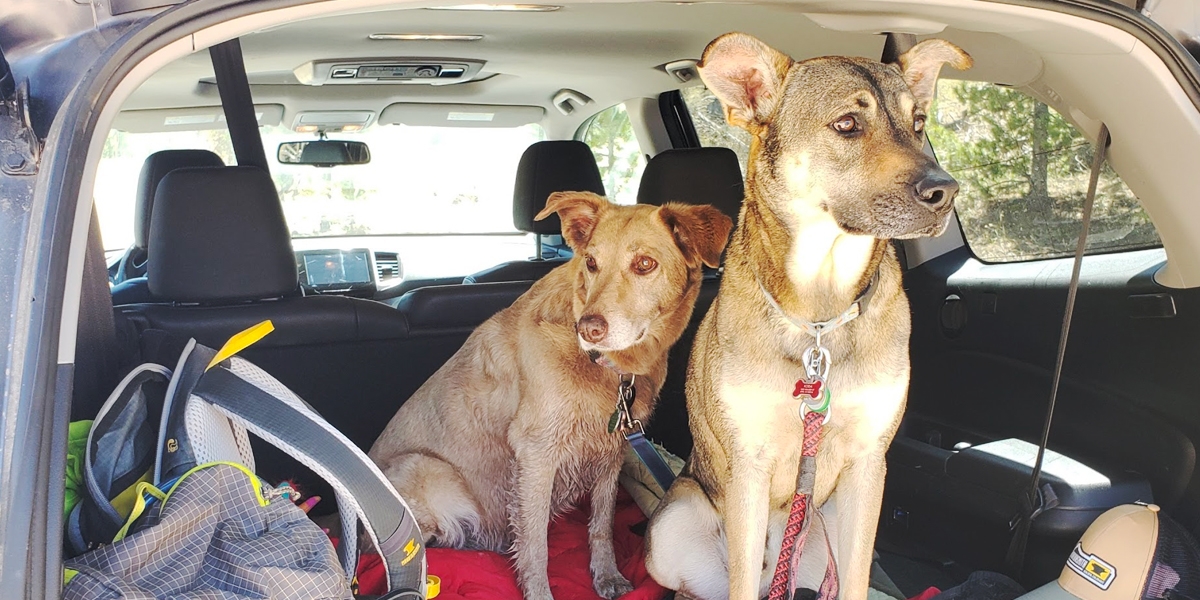 Before you set out, do your research to make sure wherever you're going is dog-friendly. If you're going to a campground, I would also highly recommend making reservations as far in advance as possible. The good spots go quick!
2. KNOW YOUR DOG
As much as it pains me to say this, not all dogs are built to be happy campers. Consider your dog's behavior, temperament, and sensitivities before counting them in. Are they an excessive barker? Injured or easily fatigued? Highly reactive? Always cold? High anxiety? Some of these can be a recipe for disaster at a campsite.
My dog, Teddy (that's us in the photo above), was already a big hiking fan prior to our first trip, so we knew he'd enjoy a night outdoors. Plus, he's a larger dog with great stamina and a love of snow, so we knew he wouldn't mind cooler temps at night.
3. KEEP IT SAFE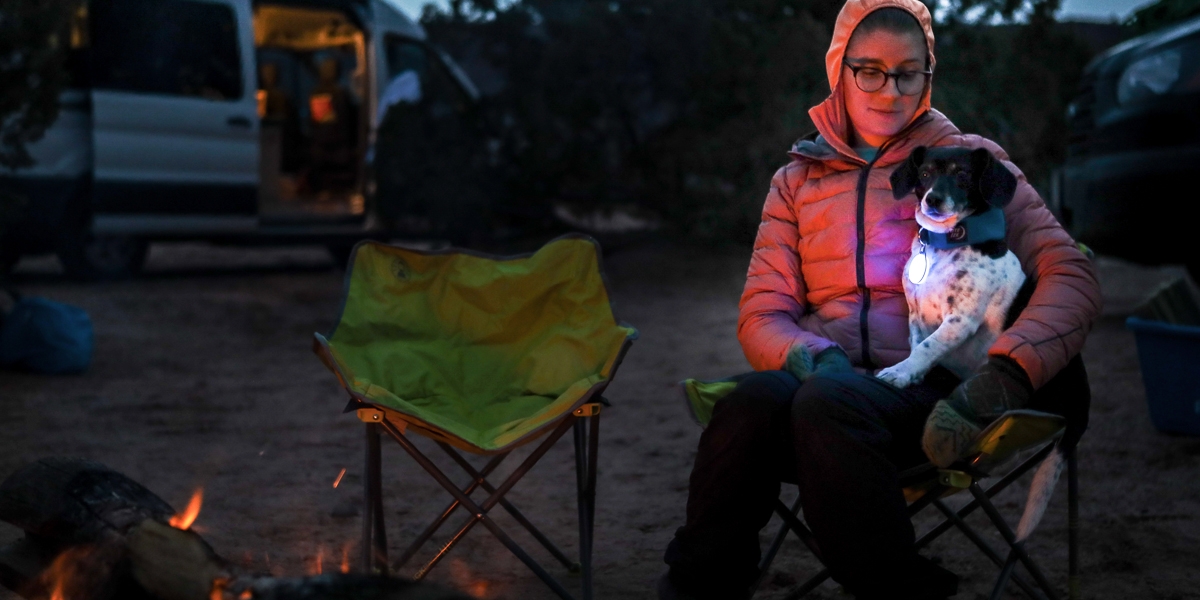 Safety is the top priority when it comes to camping pups. Some pointers include:
CHECK THEIR VACCINATIONS AND OVERALL FITNESS
Is your dog fully vaccinated and ready to embrace the outdoors? Are they protected from fleas, ticks, and heartworms? Have they been showing any signs of discomfort or pain? Might as well schedule a vet visit before your trip or give them a call to touch base.
CHECK CAMPGROUND FOR LEASH REQUIREMENTS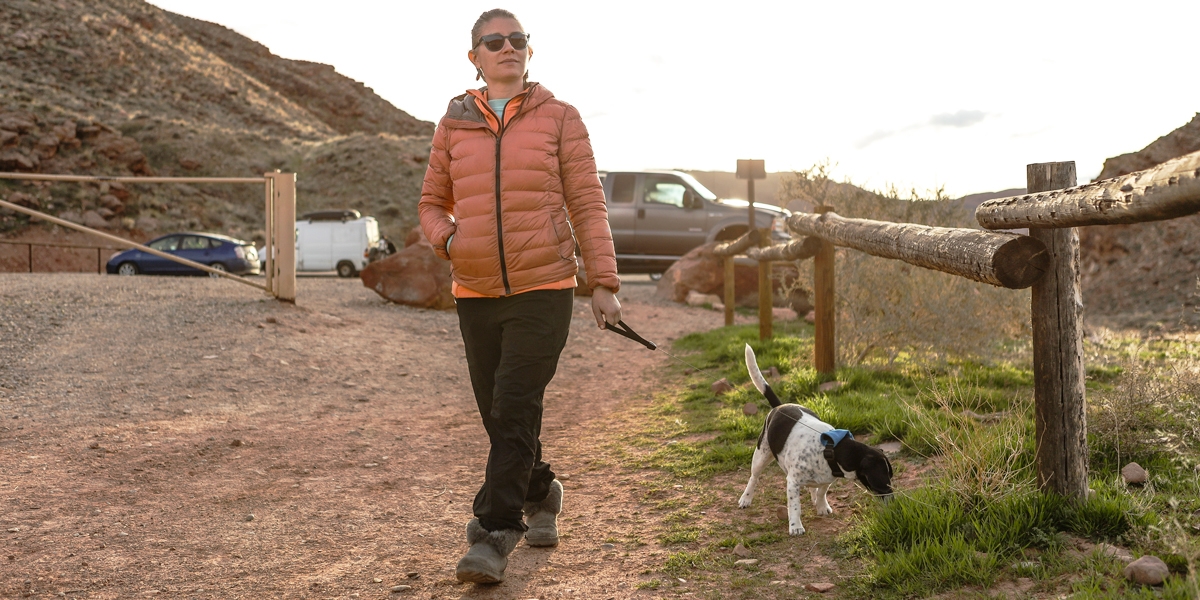 I already mentioned checking to make sure that dogs are allowed at your campsite, but be sure to find out their leash requirements as well. Some sites allow off-leash at your site, but require you to keep them on-leash when walking the grounds. The RadDog All-In-One Collar + Leash was made just for this, and is my go-to during the day for our trips with Ted.
But more than just what the site will allow, what's the right call for your dog? Are they trusted off-leash, or do you have some reservations? And, is the campsite private enough so they won't stray over to surrounding campers? For their first trip, it's a good idea to start with a tether at your site, or in a pinch, attach their leash to a chair, table, or tree with a SlideLock Pet S-Biner.
GEAR UP WITH PET ILLUMINATION FOR NIGHTTIME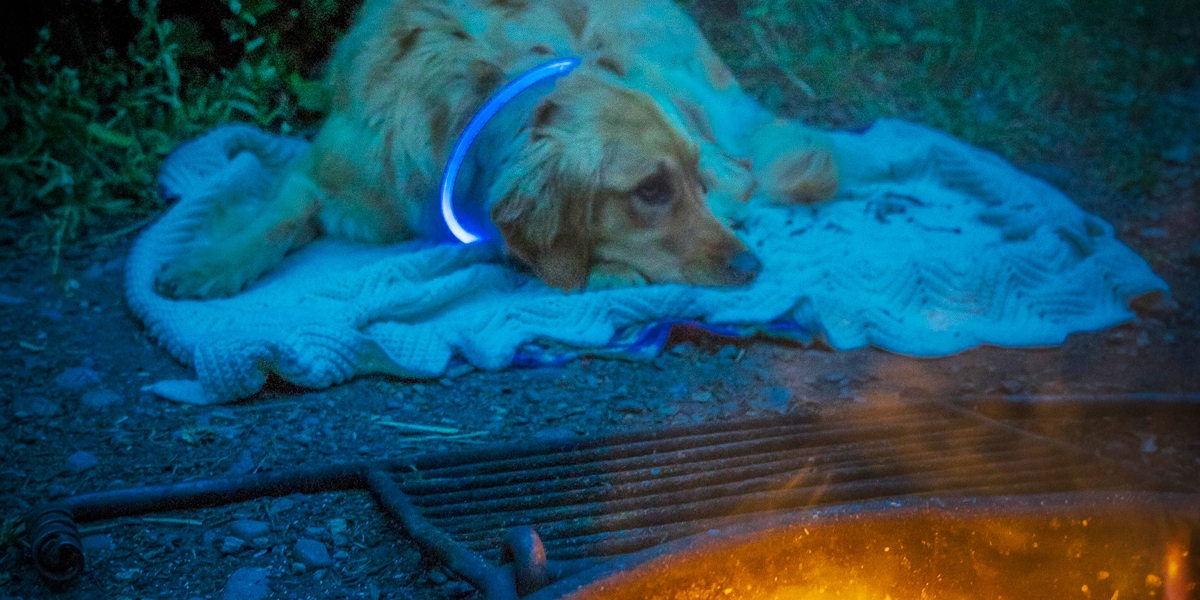 Trust me when I say that campfire light isn't enough to keep your dog seen (and what if you can't have a campfire at all?). The first few trips, we went without wearable illumination for Teddy, and I would constantly panic check for him in the dark—even if he was sitting next to me on leash. A SpotLit Collar Light is easy to clip on after sunset, but a NiteHowl or NiteDog Rechargeable Collar are my preferred option for my off-leash dog so I can spot him anywhere at the site.
BRING A FIDO FIRST-AID KIT
A first aid kit is, of course, an essential item for the human campers in your party, but be sure to pack one for your pup as well. You can purchase a canine-specific pre-made kit (like this one by Adventure Medical Kits), or you can make your own. Check out this guide to learn how to put yours together.
NEVER LEAVE YOUR PUP ALONE
This is a rule most campgrounds specify, but it is too often disregarded. Do not leave your dog unattended in your campsite! Most importantly, it can be unsafe for the dog, but could also be disruptive to nearby campers. There are too many unknowns and risks, so just don't do it. Plus, they'll be happier being with you anyway!
4. KEEP IT CLEAN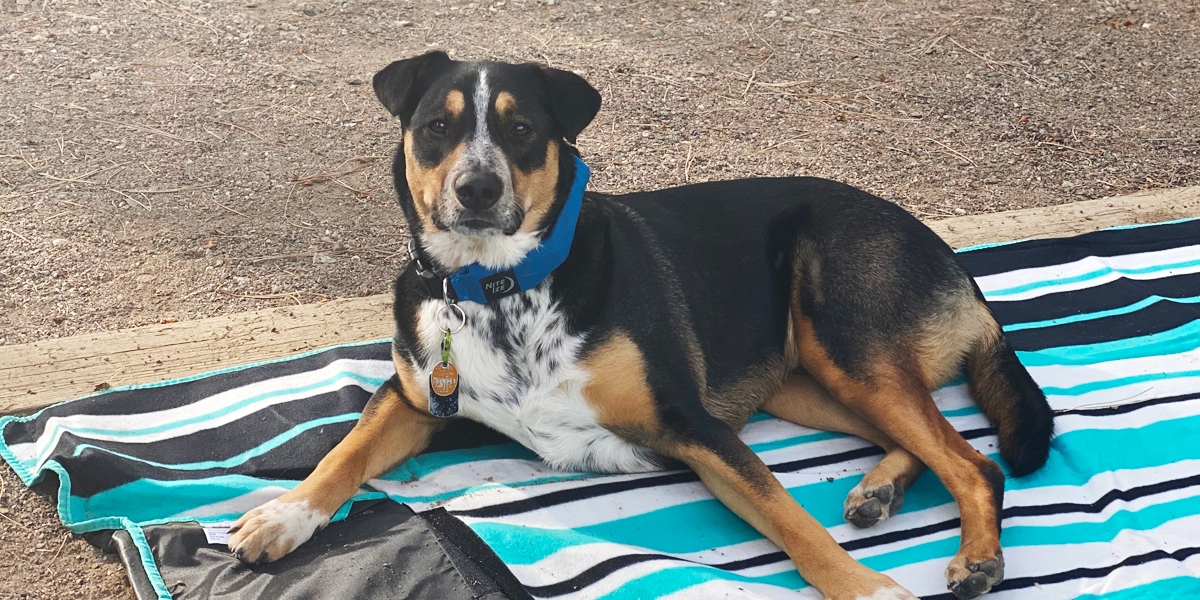 Reality check: There's no such thing as a clean camping trip. And when you throw pups into the mix, you better be prepared for dirt galore.
WIPE YOUR PAWS
We always keep extra towels in the trunk for our dirty pup, whether he needs a wipe-down post-hike, swim, or camp. Before you let them into your tent or car for the drive home, whip out those towels and wipe down their paws, belly, and any other muddy areas.
STAY ON POTTY DUTY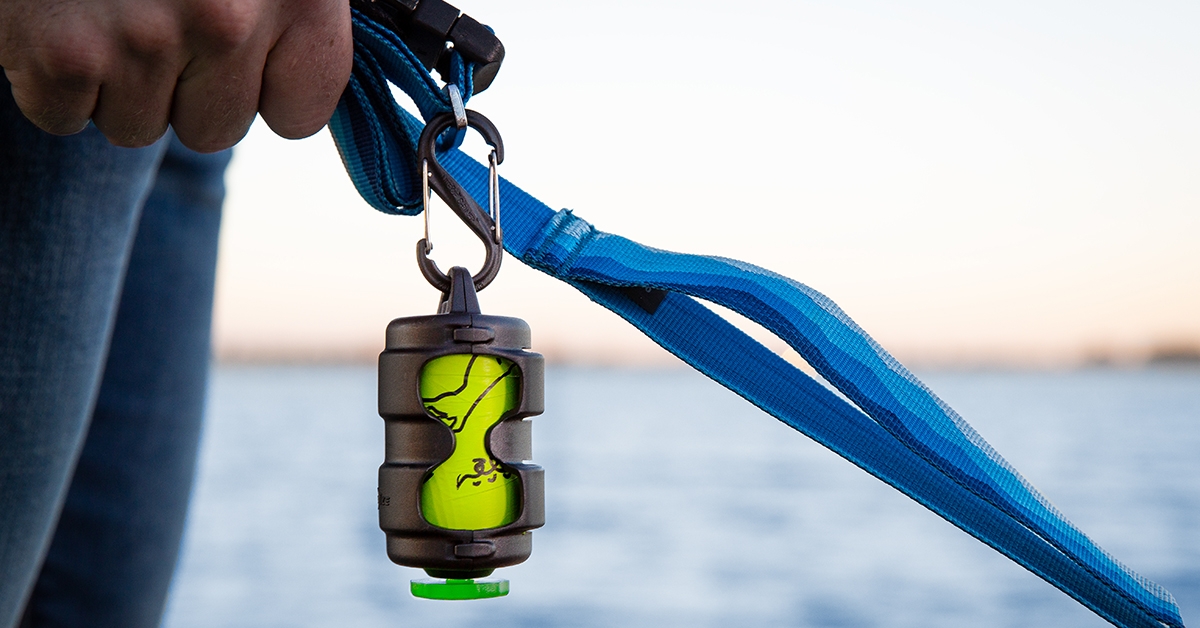 Common misconception: Camping in the great outdoors means you can leave your dog's poop around the site. In reality, our domesticated dogs survive on a diet not native to the area, so an abundance of dog waste left behind can disrupt the local ecosystem, introducing new bacteria, airborne particles, and algae. If you're in a campground with dumpsters, bag their poop throughout the trip and drop it off on your way out using a Pack-A-Poo and waste bags, featuring a roll-up dispenser that clips right onto their leash or collar (or your pack). But if you're in a remote location with no nearby trash bins, kick it old school and dig a hole to bury the evidence.
CHECK FOR TICKS
Before your settle in to sleep, do a visual check for ticks in their coat. I usually just run my hands through his shorter coat to check, but for fluffy pups, pack a lint roller and run it along their coat to see if any ticks come unstuck. Use a handheld flashlight or lantern to shine a light while you check.
STOP THE DIGGING IN THEIR TRACKS
Don't forget to keep your site in order, too—remember this isn't your backyard. Some dogs have that digging impulse when they see dirt (unfortunately mine), so cut that behavior out as soon as you see it.
5. KEEP IT COMFORTABLE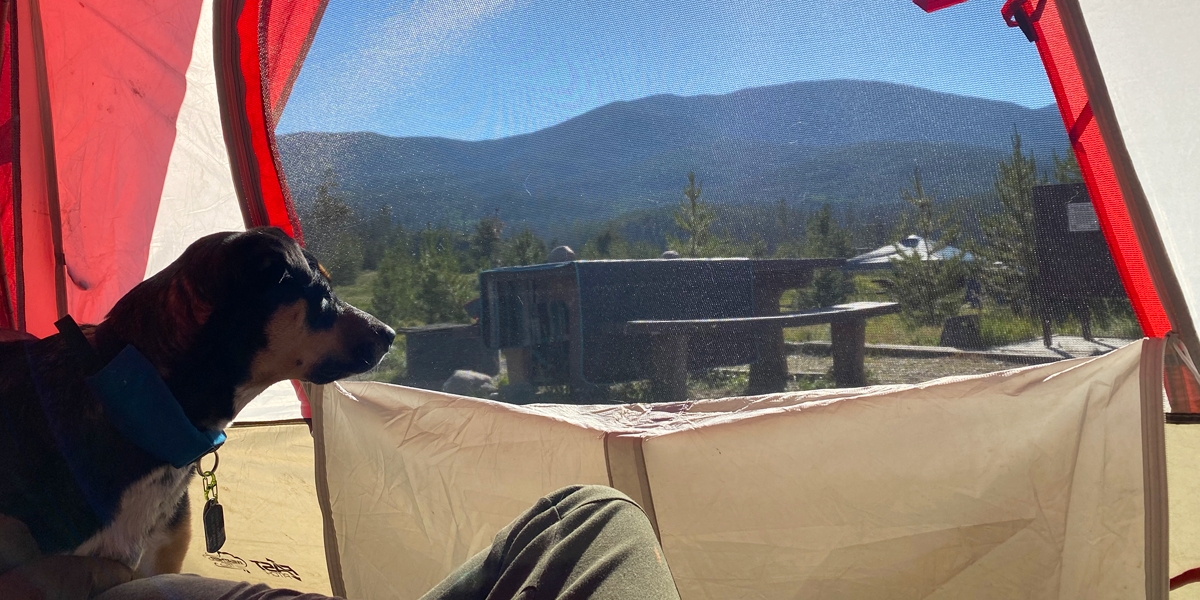 Now that safety and hygiene are out of the way, it's time to make them comfortable for a night full of fun.
MANAGE STRESS WITH TOYS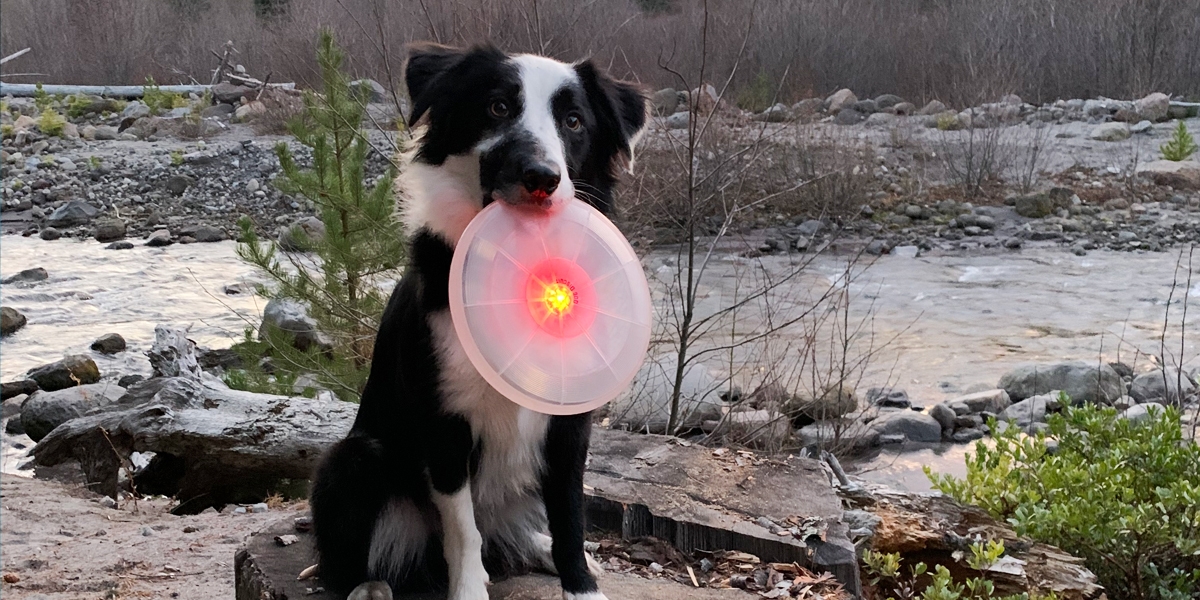 Even if your dog was born to adventure, their first camping trip can be stressful (and all of the trips after that). Keep them entertained and distracted with light-up toys for all-night fetching fun, from the Huck 'N Tuck + GlowStreak Ball to the Flashflight LED Dog Discuit. If they're aggressive chewers, maybe give them a tough bone to wear 'em out.
KEEP THEM WELL-FED AND HYDRATED
Pack enough food for all of the days you'll be camping, plus the drive there and home. And more than food, make sure you have plenty of water to keep them hydrated—pack a water jug or a water filtration system if there's a nearby stream.
I love the RadDog Collapsible Bowls for road trips and camping trips alike because they roll up and clip onto his leash to save space and keep track of his dishes. Don't forget that dog food, just like human food, needs to be safely stored before bed. Keep their extra food safe in a bear locker, bear bag, or return it to the car if it's nearby.
CUDDLE UP FOR A WARM NIGHT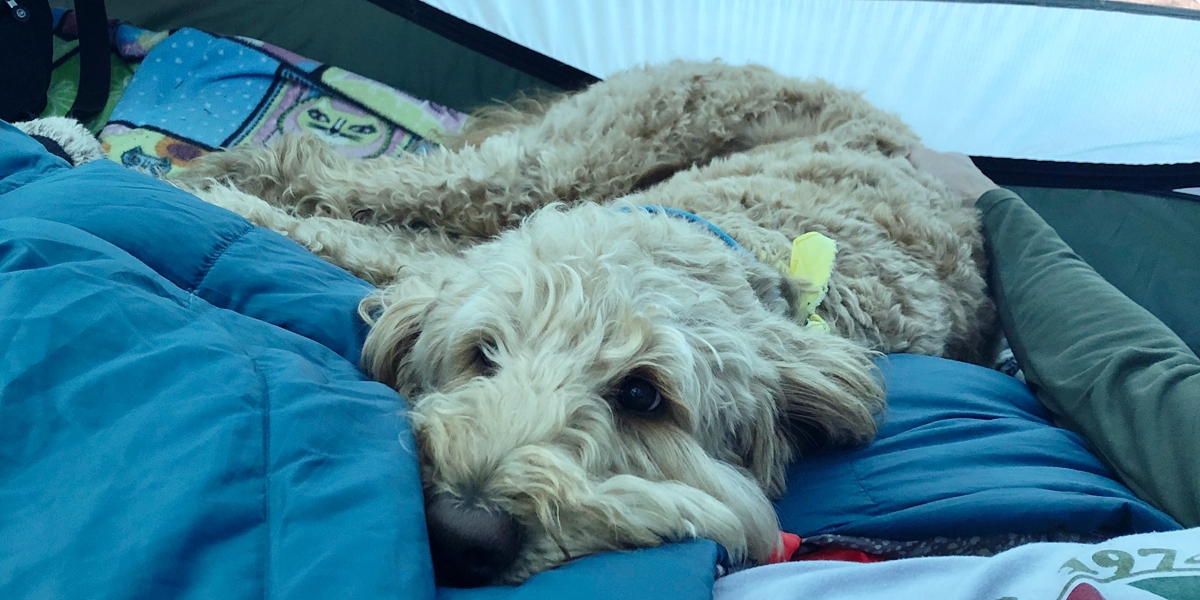 My favorite part about camping with my pup? They're like a built-in space heater! Teddy cuddles between us on trips to stay warm and keep us warm at the same time. Dog sleeping bags are also an option if you're not a cuddler, or are limited on sleeping space. There are also many travel pet beds you can purchase for camping if your bed from home is too big (or too clean) for the campsite.
If this seems overwhelming at first, trust me, it gets easier with time. All of these pro tips have upgraded our trips with Ted, allowing us to camp free of worries and full of fun. I can't wait to break into another camping season with Teddy. I'd love to hear your favorite tips, memories, and locations for camping with your pup below!