"An accessory is only as useful as it is conveniently accessible."
– Rick Case, Nite Ize Founder + CEO
This idea was the foundation of our company's inception, and a motto that continues to guide our way as we launch dozens of new products each year. From the beginning, we've always created products that help you keep your gear where you need it, when you need it, and how you want to use it. So, it was only natural that the Everyday Carry community would find us, and we would be inspired by their love for our gear. It's a beautiful relationship that keeps driving us to make new products that they'll love.
What is Everyday Carry, or EDC? It's the collection of items that you carry with you every day, either on your keys, in your pockets, or in your bag or purse. They're the items you can't live without as you move through your day. Enthusiasts love to take pictures of their own unique EDC set-up and share them online. A quick #EDC search on Instagram yields thousands of carefully crafted images, calling out brands and products that people rely on to get through their day. And, every time we spot an S-Biner, an INKA Pen, an INOVA flashlight, DoohicKey Key Tool, or one of our many other key accessories, it feels pretty good to know that we're a part of someone's trusted daily essentials kit.
The king of EDC at the Nite Ize office is most certainly our CEO & Founder, Rick Case. He's truly an EDC inspiration, and proof that he embodies the idea of convenient accessibility. I'm dead serious when I say that he carries this keychain with him every day:
Sometimes, there's even more attached to it than today. I often see him clipping his gloves, a headlamp, or one of our Runoff Waterproof Bags to it as he's walking through the building. It's the size of a small melon, and weighs about that much too! So, I had to do the traditional laydown photo to show what's in Rick's EDC: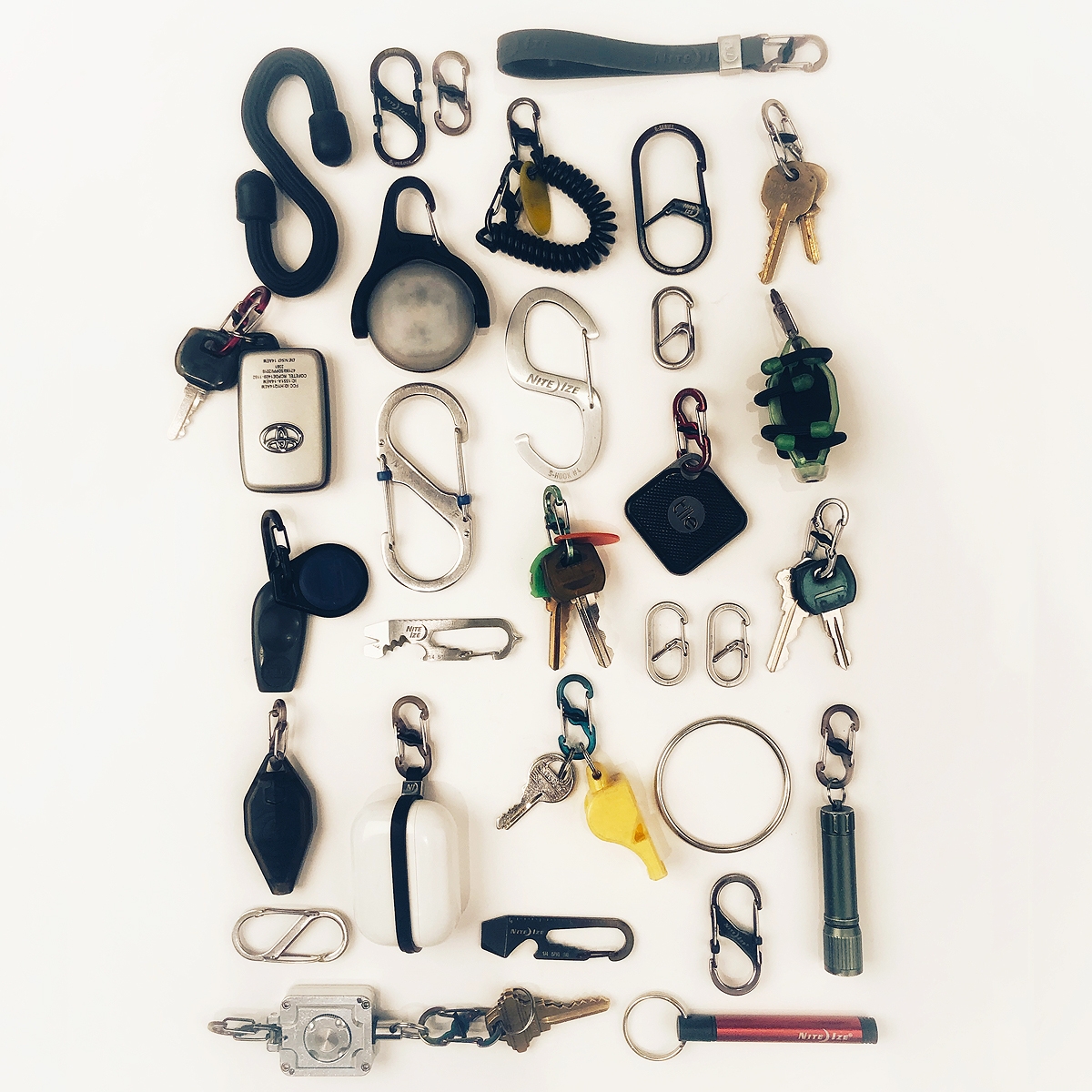 One (1) Gear Tie Bendable S-Hook
Three (3) S-Biner SlideLock Carabiners (assorted sizes)
Sixteen (16) S-Biner MircroLocks (some of these come attached to other products)
One (1) Cinch-A-Lot Stretch Strap
One (1) Radiant Rechargeable Micro Lantern
One (1) Hitch Phone Anchor + Tether
Four (4) G-Series Dual Chamber Carabiners (assorted sizes)
One (1) S-Biner Hook 'N Hold
One (1) BugLit Rechargeable Micro Flashlight
One (1) DookicKey + Key Tool
One (1) INOVA Microlight LED Flashlight
One (1) Cinch-A-Lot Mini Stretch Strap
One (1) Big Ring
One (1) Radiant 100 Flashlight
One (1) S-Biner Dual Carabiner
One (1) DoohicKey Key Tool
One (1) INKA Key Chain Pen
A grand total of 37 items – and that's just the Nite Ize products!
So, if you're looking to add to your own EDC Kit, check out our full collection of products here, and visit our friends at www.everydaycarry.com to learn more about this community of enthusiasts. We're positive you'll find a new addition to your EDC kit that you'll absolutely love. Nite Ize is celebrating 32 years in business this month, and with a Worry-Free Guarantee on every product we make, you know that we aren't afraid of a long term relationship! You can also find an assortment of our EDC gear at many hardware stores or outdoor retailers, so you still have time to pick up an S-Biner for that special someone before Valentine's Day.
What's in your EDC? Let us know in the comments below, or tag #NiteIze on Instagram. We're giving away SurprIZE packages to the best Nite Ize EDC during the month of February! And be sure to check out February's AccessorIZE collection – a curated array of some of our favorite gear for everyday carry.