Over the past year, the great outdoors has become a haven for people looking to escape the confines of the pandemic. Public spaces and lands are thriving as a result, with more people venturing to local trails, waterways, and campgrounds. For many, outdoor adventures are a new thing and a weekend trip to a local campground can be quite an intimidating experience. The good news is that there is plenty of space for everyone on public lands, and with a little research and preparation, a weekend camping trip to your local campground will not feel so daunting.
As a seasoned outdoorsman, I too find trips to new places to be filled with uncertainty, often presenting more questions than answers. During my research of campgrounds, I've noticed that information for the first-time camper is often limited to what is referred to as "the 10 essentials". What is missing are those practical insights that answer important questions like, "Where am I going to poo? Is there a place to shower? And more importantly, will there be coffee?"
Fear not my city slicker friends–I have put together a more practical list of camping tips for the non-outdoorsy. We'll start with the basics, and by the end of this post you will have some great resources to help prepare you for your next, or first, camping trip.
GUIDE TIP #1: DON'T TRUST YOUR OUTDOORSY FRIENDS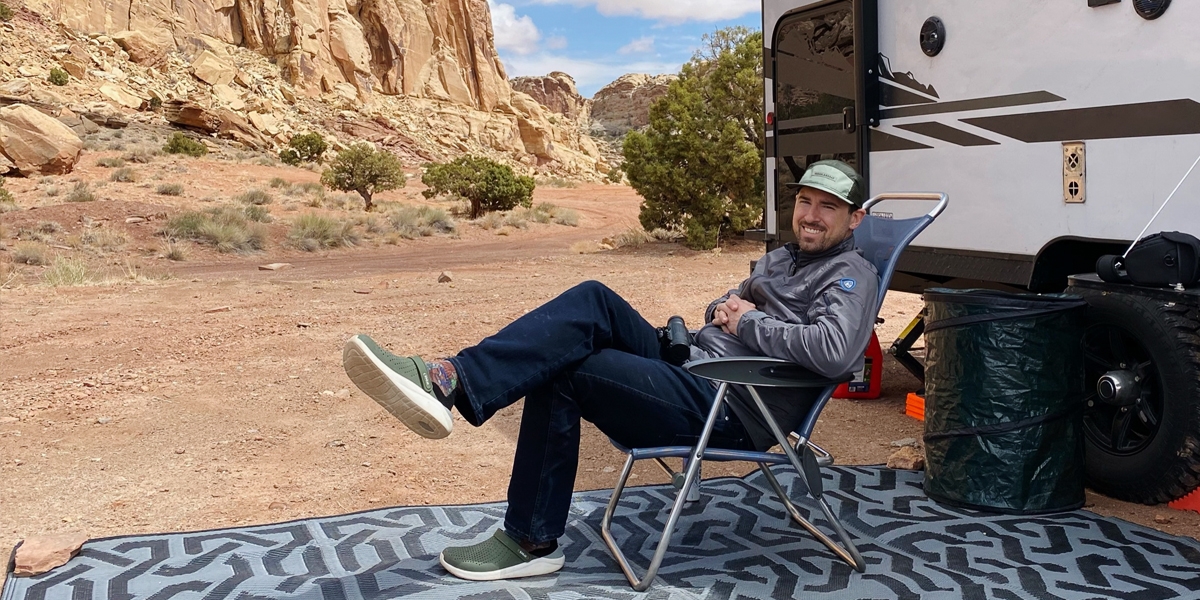 (Pictured here: your outdoorsy friend MJ)
That's right, I'm contradicting myself with tip #1. As your outdoorsy friend, I'm REALLY excited that you're expressing an interest in camping and my brain is racing with images of all of the picturesque places I've been and that I'd love for you to experience. However, that enthusiasm could lead you down the wrong path. While I'm foaming at the mouth to tell you about my secret camping spot on BLM land (Bureau of Land Management), you may not be ready for that. Camping on public lands can be confusing. There are often no designated campgrounds nor facilities and can be miles down dirt roads far from the nearest cell phone signal.
Rather than take your friend's word for the perfect camping spot, do your own research of the area. Search for places where you can make reservations ahead of time. This way you'll be guaranteed a cozy place to camp for the night. Oh, and make your reservations as early as possible. Many campgrounds are fully reserved 3-6 months in advance.
Here are a few camping reservations sites that I have found to be helpful when looking for the perfect place to camp:
Recreation.gov – This site has information for campgrounds of all types and is likely where you'll end up when looking for a campsite at a National Park or with the US Forest Service and Bureau of Land Management.
The Dyrt – The Dyrt's user-generated database has lots of campground reviews and images from people just like you with information about all types of campsites, including some that are well off the beaten path.
HipCamp – Looking for something untraditional? HipCamp is the Airbnb of camping with sites available from private landowners.

GUIDE TIP #2: CHOOSE YOUR OWN ADVENTURE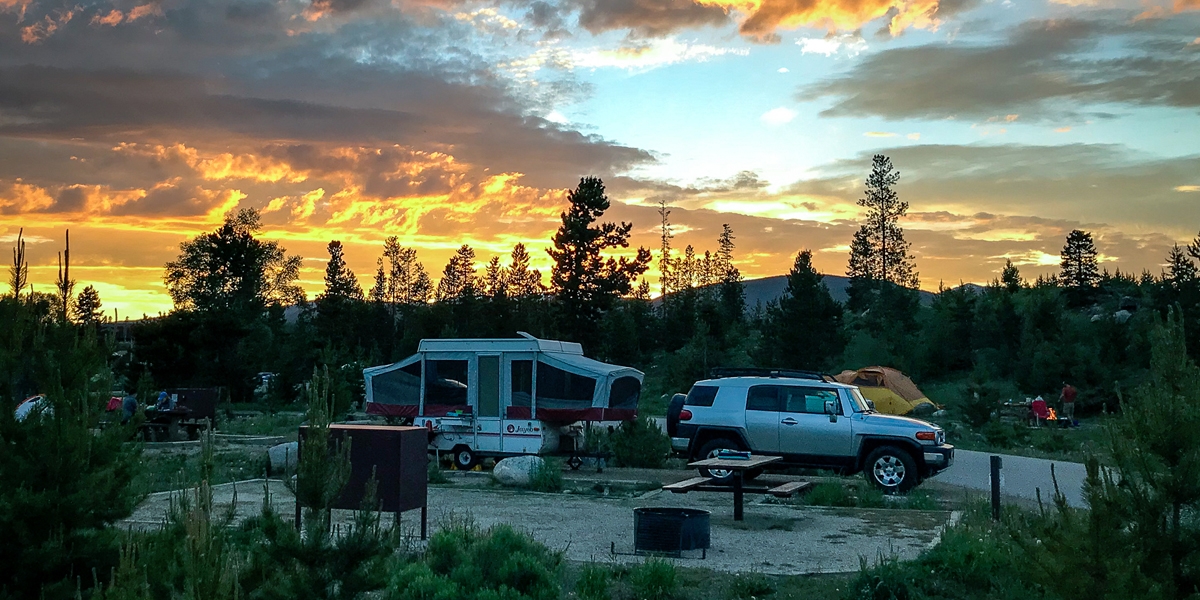 Camping doesn't mean the same thing to everyone. Whether you are looking to rough it in the woods for the weekend or a blissful glamping experience, choose a shelter that most closely matches the experience you are going for. Some shelter options to consider are as follows.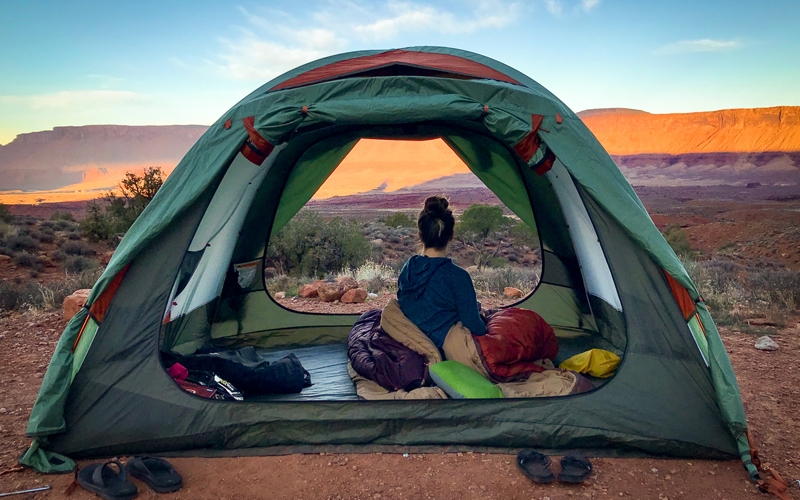 Tent Camping – You'll need the appropriate gear for this method. Other than a tent, you'll need something to sleep in and on. Sleeping bags and sleeping pads come in a variety of styles and perhaps the most important factor for you to consider is what the weather will be like at night. Colder nights call for warmer sleeping bags and insulated pads. As a non-outdoorsy camper, this method can feel intimidating and the cost of all this gear can get expensive. Rather than buying everything you will need, check with your local outdoor store to see if they have a rental program or ask your outdoorsy friends to borrow gear. Chances are that they'll be happy to outfit you with camping gear if they're not already planning to use it.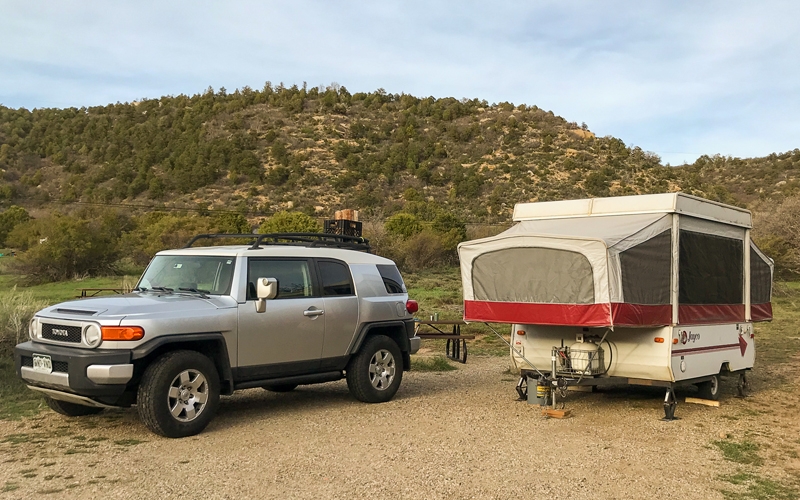 Trailer + RV Camping – For those of you that are not interested in sleeping in the dirt, or that like the privacy of your own bathroom, a trailer or RV rental may be what you are looking for. The website Outdoorsy has everything from small teardrop trailers to large Class A RVs for rent, outfitted with everything you will need for a night out of the city or a week on the road. This is also a great option to consider if you have a fear of unwelcome encounters with wildlife or the weather. Trailers and RVs provide a hard-sided shelter to help minimize those fears so that you can get a good night's rest.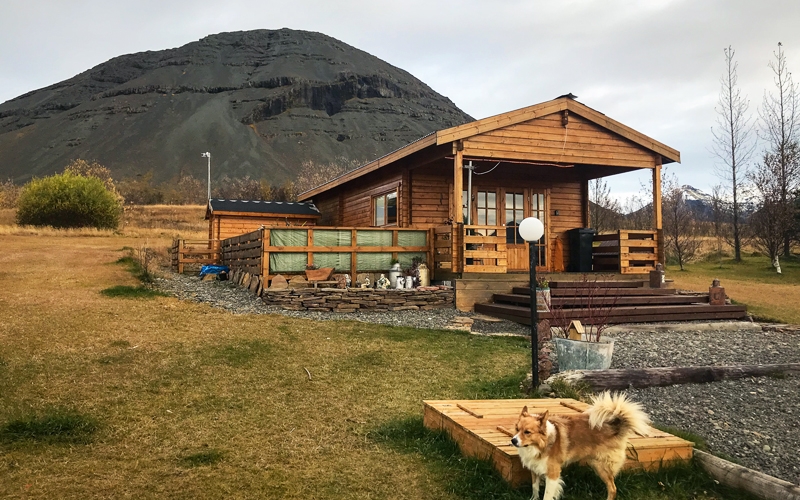 Glamping + Cabin Rentals – Glamping, or glamorous camping, and cabin rentals are a great way for the non-outdoorsy to have a unique experience. These options often have more of those creature comforts we are all used to like running water, electricity, and even WiFi. They can also be pretty swanky! While you can find many cabins on VRBO and Airbnb, the website Glamping.com is a great source for finding those unique, Instagram-worthy places that you see in your feed.
GUIDE TIP #3: OPTIMIZE YOUR GEAR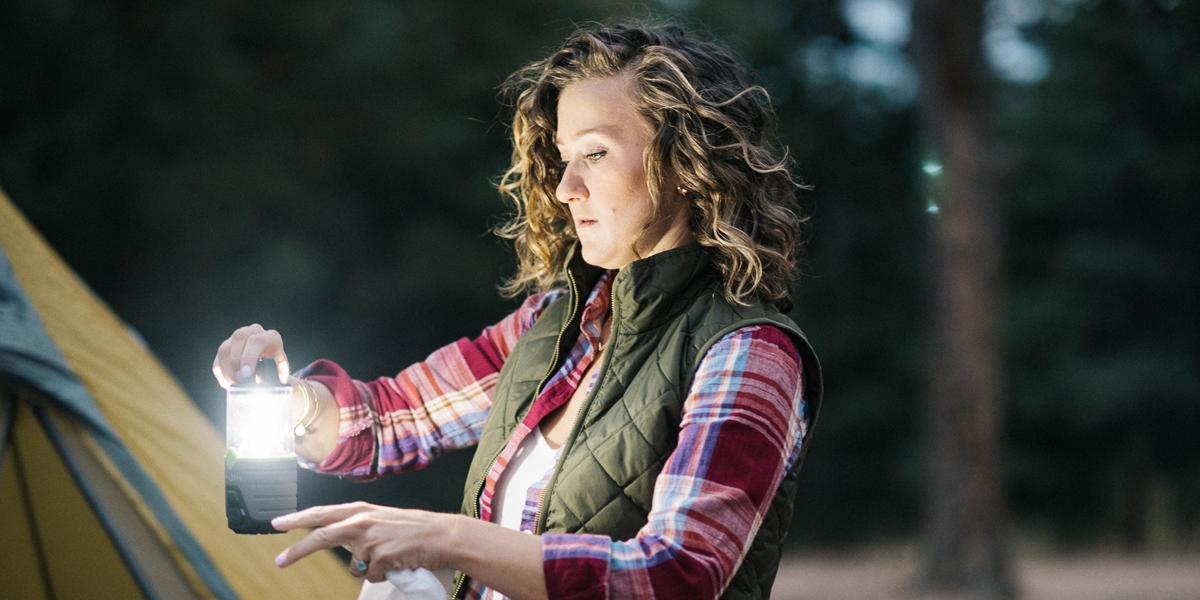 Remember those ten essentials I mentioned earlier? They are a key part of being prepared for any adventure into the outdoors. You'll find the standard list of the ten essentials below along with a few practical essentials from my personal packing list.
THE TEN ESSENTIALS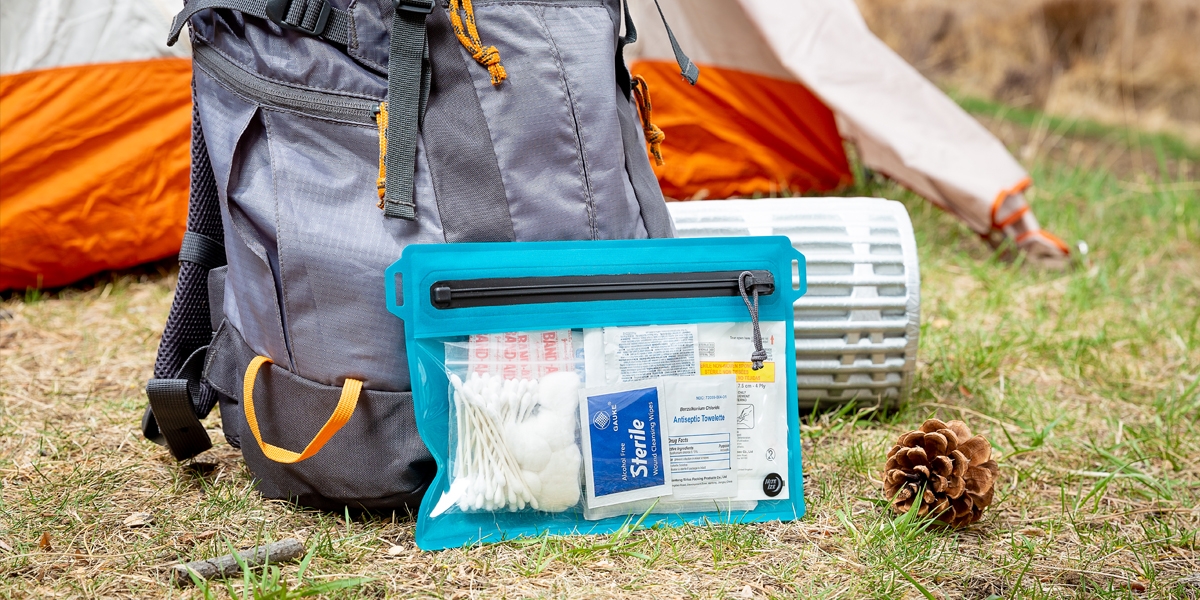 Navigation – If you plan to do any hiking or exploring, you'll want to bring a map along with a compass, GPS device and/or your smartphone with a downloaded trail app like AllTrails or Gaia GPS.
Sun Protection – There is nothing worse than trying to sleep with a sunburn or getting a headache from too much bright light. Be sure to pack your sunglasses, a hat, and some sunscreen. This is especially true at higher elevations where the UV rays are more intense than at lower elevations. Long sleeves and other UV shielding clothing can also be quite helpful while keeping you cool. As a plus, long sleeve shirts are also great for keeping bugs off of you.
Illumination­ – A great headlamp and lantern are enough to keep the party going when the sun goes down. Whether you're planning a game at the picnic table in your campsite or taking a midnight trip to the bathroom, you're going to need a light. My favorites are the Radiant 300 Rechargeable Headlamp and Radiant 314 Rechargeable Lantern. If you want to take your campsite from basic to badass, or add a little fun for the kids, then a rope light like the new ShineLine might be the perfect addition to your campsite.
First Aid Kit – You can buy or build your own first aid kit easily with items you may already have around the house. Things like band aids, ointment, and over-the-counter pain relievers are cornerstones of a basic first aid kit, but also be sure to pack any prescription medications you may be taking as well as bug spray. Bugs can be quite unpredictable and very annoying. Most importantly, if you decide to make your own first aid kit, then be sure to put all of the contents in a waterproof bag like the RunOff Travel Pouch to protect these important items from the elements.
Fire – Are you really camping if there's no campfire or s'mores?! Be sure to bring something to start a campfire, or the grill, as well as a backup way to start a fire in case your primary method doesn't work (I.E. matches, lighter, fire starter). However, bear in mind that many areas may have fire restrictions, so call your campground ahead of time to make sure, and pack a camp stove or propane fire pit instead if traditional fires are prohibited.
Knife – Bring a sharp knife. You'll need a knife to help with cooking in particular, but may also need one for unexpected gear repairs, or to whittle yourself the perfect marshmallow roasting stick.
Shelter ­– You are going to want a place to sleep. Be sure you packed your tent before you leave the house and know how to set it up. A little practice setting up the tent at your home can save you loads of time and frustration at camp.
Extra Food – It's always a good idea to have an extra day's worth of food in case your plans change, or you need a little snack while you're on the way to/from camp.
Extra Water – Other than drinking water to stay hydrated, you will likely be using your water to cook and clean. So, bring plenty and drink lots of water especially if you are going to be active during your camping trip.
Extra Clothes – Layer up! One of the wild things about camping is the temperature swings that you might experience throughout the day. It's not uncommon to be wearing a t-shirt and shorts during the day and a warm jacket and pants at night. Check the weather before you travel to see what to expect, but also be sure to pack for the unexpected. I like to pack clothes that can be easily layered to increase warmth, that dry quickly if wet, and to always have something waterproof like a raincoat. A warm hat, like a beanie, and a baseball cap are also on my packing list. Hats help to keep you warm and shaded, but are also great for hiding your messy hairdo in the morning.
MJ'S ESSENTIALS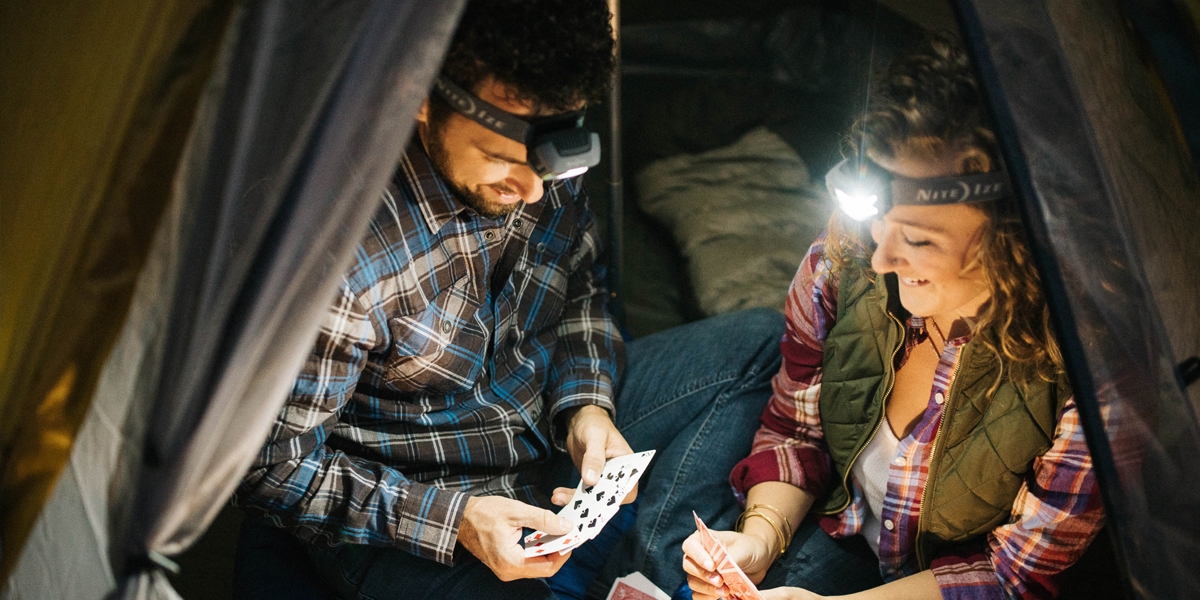 Toilet Paper – Seriously though, don't overlook this. While a campground may have restrooms, I have stayed in quite a few that didn't have toilet paper when I needed it. Pack your own and you will never be caught with your pants down.
Hand Sanitizer + Soap – Before hand sanitizer was cool, it was an essential part of my packing list. A lot of the places I have camped had minimal facilities with vault toilet (I.E. a big hole in the ground with no sink). You'll want a way to sanitize your hands after a visit to a place like this, or before making any meals at camp. In addition to the sanitizer, I also bring biodegradable soap with me that I use to wash my hands as well as the dirty dishes.
Games – Have some fun with this one, there are no rules here! While camping I've played everything from bocce ball, to dominos, to cards against humanity, to two truths and a lie, and catch with the Flashflight Light-Up Flying Disc (a camp time favorite)! Games that are easy to play for a group of people work best.
Coffee – It's easy to overlook this morning staple and there are many ways to make coffee while at camp. Pack accordingly. Some brewing options that are also camp-friendly include a percolator, French press, and AeroPress. If all those options sound like too much work, then opt for some instant coffee. Believe it or not, there are some tasty instant coffee options available these days at your local grocery store. You'll also need a way to boil water for said coffee. The easiest way is to bring a camp stove (or portable burner) and kettle.
Trash Bag – While a campground may have a dumpster, individual campsites do not have trash bins. Bring a few trash bags with you so that you can throw all your trash away at once before you head home.
Wireless Speaker – Not everyone will agree with this but whatever, I want you to have a great time at camp. Adding some music to happy hour while you are prepping dinner can be quite enjoyable at camp. Just be respectful of your neighbors and do not blast the music all night.
Battery Backup – I like to have a way to recharge my headlamp and phone at camp. Like many people, I use my phone for lots of things such as looking up places to hike, for driving directions, and, most importantly, to take pictures.
Crocs – Yup, I said it. Crocs. Slip-on shoes or sandals also work. The point is you are not going to want to wear your shoes or hiking boots all day and night. Having something comfortable and easy to slip on is perfect for lounging around camp, going in and out of the tent, or for a quick trip to the bathroom.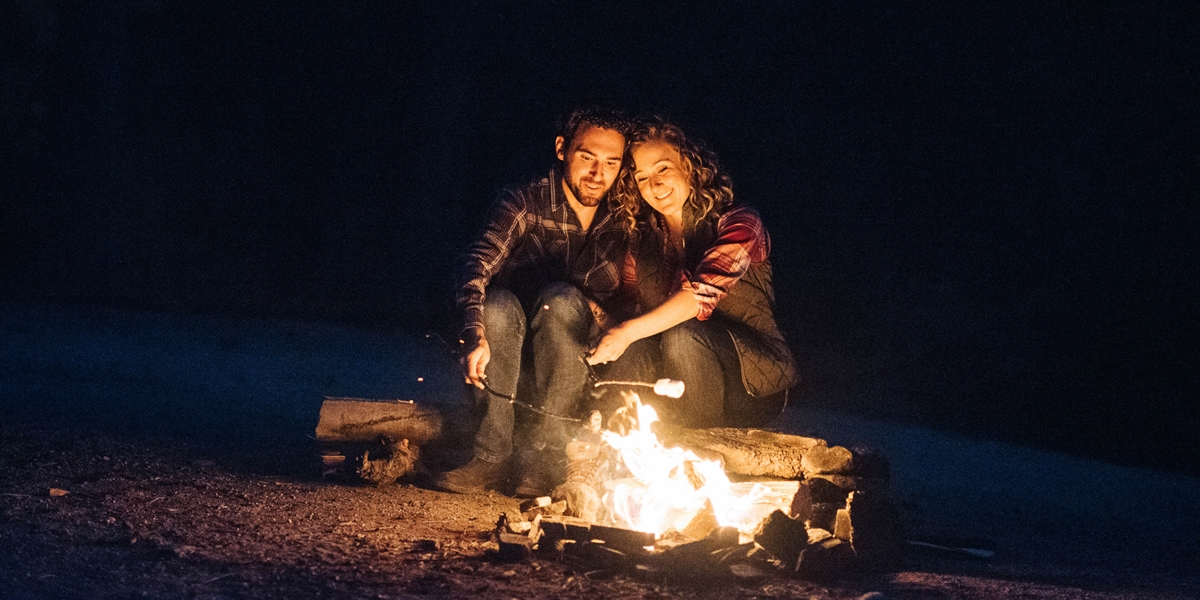 Thank you for reading this not so tongue-in-cheek practical camping list. I am sure there are some things that I've forgotten or that you are still wondering about. Please post your questions or additions to this list in the comments section below to keep the conversation going. If there's one thing the outdoorsy like to do, it's talking about our gear and sharing our knowledge. Also, be sure to check out the Nite Ize OptimIZE collection for some other fun and practical camping gear.
The adventure photos in this post were provided by Ali and Garret Photography.